When it comes to vitamin C, Sonaki is the filter of choice for many. This is because Sonaki's vitamin C filters can remove up to 99% chlorine from your shower water while also adding beneficial vitamins and minerals.
This results in cleaner, softer, and healthier skin and hair. Many people who use Sonaki's vitamin C filters report that their skin and hair feel better after just a few weeks.
Today, we will look closely at the Sonaki vitamin C filter. This includes reviewing its filtration media, compatibility, ease of installation, and more. So, if you have been thinking about investing in a vitamin C filter for your shower, then you'll want to read on.
Filtration Media
While Soanki is synonymous with vitamin C, the 300VPX relies on a dual filtration system to get the job done. This includes a vitamin C filter and an Activated Carbon Fiber block (ACF).
The ACF removes impurities like dirt, rust, and other particulates from your water. This ensures that your water is as clean as possible before it comes into contact with the vitamin C filter.
The vitamin C filter can remove up to 99% of chlorine from your water. This is thanks to the ascorbic acid that is used in the filtration process. Any chlorine in your water will undergo a redox reaction with the ascorbic acid, resulting in the chlorine being neutralized.
While it may not be nearly as many stages as, the AquaBliss SF100 we recently reviewed, the 300VPX by Sonaki is still a reliable and effective vitamin C filter.
Compatibility
With a standard 1/2″ connection, the 300VPX is compatible with most showerheads on the market. Additionally, the filter rests horizontally on your showerhead, so you don't have to worry about it getting in the way: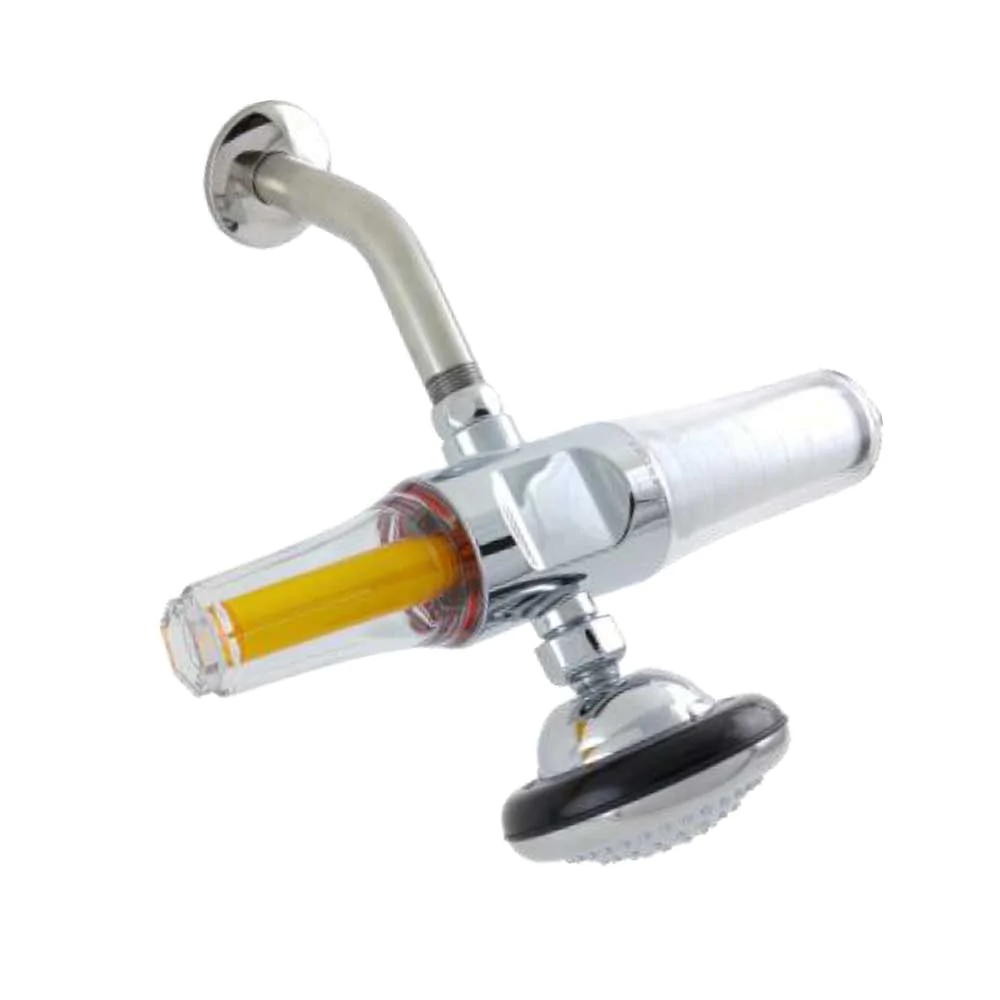 This is particularly important if you have an oversized rainfall shower head, as some filters can get in the way and cause your shower head to tilt. We found this true with the Aquasana AQ-4100, which we also recently reviewed.
Installation
Sonaki gets high marks for ease of installation. The filter can be installed in just a few short minutes. Unlike many other shower filter brands that don't include a small wrench, Sonaki has you covered.
Here's a great installation video demonstrating how to install a similar Sonaki filter:
Given the relative ease of installation, you should be able to install this filter in your home, RV, or apartment without any issues.
Initial Cost
While the Sonaki provides great filtration, it doesn't come cheap. The 300VPX will set you back $99.99 – substantially more than most other filters on the market.
For example, the Sprite Shower Filter (which we also recently reviewed) is available for just $34.95. So, you'll have to decide if the added filtration is worth the extra cost.
Maintenance Costs
The upfront cost isn't the only thing you'll have to consider when deciding on a shower filter. You'll also want to think about the ongoing maintenance costs.
Most shower filters will last between six to eight months before they need to be replaced. The 300VPX by Sonaki has a slightly more limited lifespan of just three to six months. However, multi-packs are available, which can help to offset the cost.
For example, a three-pack of replacement filters will cost you $49.00. This works out to just $0.13 per day – which is pretty reasonable.
Design
Unfortunately, Sonaki doesn't offer much in the way of design. The 300VPX is a translucent and black housing that is functional but not particularly good-looking.
Depending on the aesthetics of your bathroom, this may or may not be an issue. However, it's something to keep in mind if you're picky about the look of your shower.
Warranty
Surprisingly Sonaki does not appear to offer a warranty on any of their products on the website. This is a little concerning given the high price tag of the 300VPX.
One silver lining is that they do offer a 90-day money-back guarantee. So, if you're unhappy with the product, you can return it for a full refund within the first three months.
Alternative Sonaki Models
Aside from their popular 300VPX model, Sonaki also offers a few additional models:
400VPX: A larger and more expensive version of the 300VPX. Translucent housing on either side of the filter lets you clearly see when it needs to be replaced.
200P: A compact model that provides five-stage filtration. Does not include a separate vitamin C filter. It's also about $30 cheap than the 300VPX.
350P: A smaller and more compact model similar to the 200P. Does not include a separate vitamin C filter. It does have white trim finishes for an aesthetically pleasing look.
Aside from their lineup of in-line shower filters, Sonaki also offers a few different vitamin C shower heads that focus on skin and hair health.
Other Brands
Very few other brands can compete with Sonaki in terms of quality and focus on Vitamin C filtration. While Sonaki offers a dedicated line of Vitamin C shower filters, other brands typically include it as an additional feature.
For example, the AquaBliss shower filter only adds vitamin C as one stage of 15 total filtration stages. However, it's still a great choice if you're looking for an all-in-one solution.
Overall
To summarize, the Sonaki Vitamin C in-line shower filter is one of the best on the market. It's a great choice if you're looking for improved skin and hair health and protection from hard water.
Here's our rating:
| Dimension | Summary | Rating |
| --- | --- | --- |
| Filtration Media | While not as good as some of the other options on the market, it still does a great job of reducing chlorine and other impurities. | 95 |
| Compatibility | High marks for being compatible with all types of showers. | 100 |
| Installation | The included wrench and clear instructions make installation a breeze. | 100 |
| Initial Cost | This shower filter is quite expensive but lasts longer than most. We recommend this only if you want vitamin C added to your water. Otherwise, more affordable options exist. | 90 |
| Maintenance Costs | The replacement filters are a bit pricey and need to be replaced more often than other models. Buy in bulk to save money. | 92 |
| Design | It will work with any type of shower, but it's not particularly good-looking. Some other models may match your fixtures a bit better. | 95 |
| Warranty | With no mention of a warranty on the website, we're deducting some points here. The 90-day money-back guarantee is nice, but we'd prefer a longer warranty. | 75 |
| Overall | The Sonaki Vitamin C in-line shower filter is a great choice if you're looking for improved skin and hair health and protection from hard water. However, it's quite expensive, and there is no mention of a warranty on the website. | 92.5 |
: