Rain shower heads provide a spa-like bathing experience in the comfort of your own home. As we recently discussed, one of the major drawbacks of rain shower heads is that they make it difficult to clean the lower half of your body.
Companies now offer rain shower heads that include a separate wand making it easy to thoroughly bathe yourself without having to worry about moving your body in a certain way to get the water to hit the right spot.
Today, we'll be reviewing some of our favorite rain and wand combos that pair well together.
Comparing Rain & Wand Shower Heads
Here's a table that outlines the key features that differentiate each of the shower heads we'll be reviewing:
| Name | Price | Flow Rate | Spray Patterns | Hose Length | Diameter | Handle Length | Warranty | Rating |
| --- | --- | --- | --- | --- | --- | --- | --- | --- |
| AKDY (SH0133) Rain Shower Head With Wand | $76 | 2.5 | 4 | 59 | 9 | 10 | 1-Year Limited Parts Warranty | 95 |
| Niagara Conservation (N99SR17CH) Rain Shower Head With Wand | $79 | 1.75 | 5 | 59 | 4 | 5.6 | 10-Year Limited Warranty | 93 |
| Zalerock (HAZ011) Rain And Hand Shower Head | $184 | 1.8 | 1 | Not Disclosed | 12 | Not Disclosed | 90 Day Guaranteed | 89 |
| Fennocasa Polaris 3 Retrofit Rain Shower System | $319 | 2.5 | 3 | 60 | 8 | Not Disclosed | Lifetime Limited Warranty | 85 |
| GROHE (26520000) Dual Shower Head | $329 | 1.75 | 5 | 59 | 7 | 5 | Limited Lifetime Warranty | 82 |
Best Rain Shower Heads That Come with Wands
GROHE Vitalio 5-spray 7 in. Dual Shower Head and Handheld Shower Head in Chrome
Our Expert Rating
95 / 100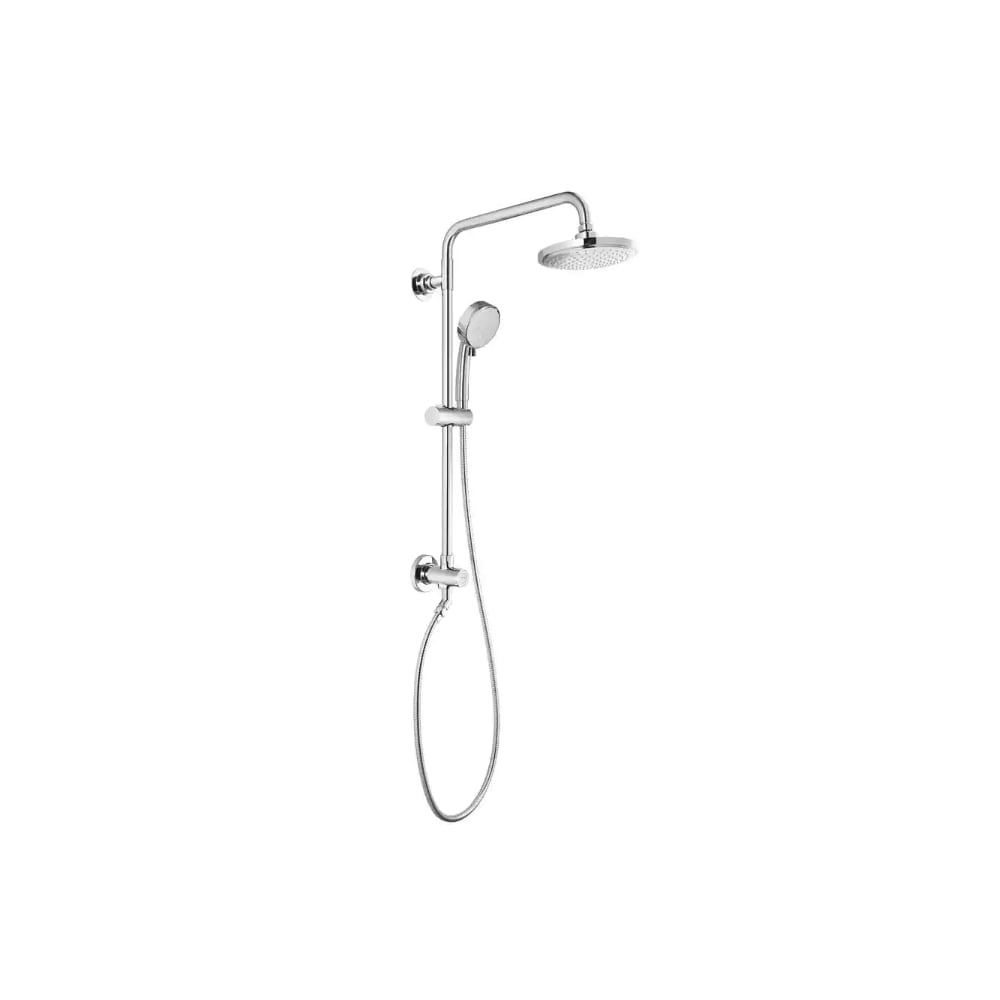 The Vitalio Flex has a lot going for it. While there are some notable drawbacks, it will be an upgrade for most homes.
German plumbing manufacturer GROHE is well known for its high-quality bathroom fixtures, and the Vitalio Flex carries on that tradition. Here's what we particularly liked about this showerhead:
DreamSpray Rain Shower Head: With silicon nozzles, this self-cleaning rain shower head will resist stubborn build-up of mineral deposits that eventually lead to clogs. This even distribution of the water provides a reliably comfortable showering experience that covers your entire body.
A No-Nonsense Hand Shower: With four different spray settings on the hand shower, including rain, rain O2, jet, and massage, you can easily switch between which one you want to use with a twist of the faceplate. With a standard 5′ long hose, you can clean anywhere from your head to your toes with relative ease. However, folks with ergonomic concerns may find the 5″ handle a bit too short for their comfort. Lastly, the separate handle rests in a high-adjustable bracket.
Push Button Diverter: The push-button diverter makes it easy to switch between the hand shower and the overhead rain shower. Unfortunately, though, you cannot use both at the same time.
Easy Installation: Given that this only relies on one connection, it is fairly easy to install in most homes. The connection point will replace your existing shower arm. There is no need to drill a new hole for the hand shower.
Flow Rate is Lacking: At 1.75 GPM, this shower head may not feel the most invigorating, especially when using the overhead spray. However, it is compliant with strict water conservation laws in some states.
What customers are saying: Customers report issues with low water pressure in this rain shower head with a wand. Additionally, some find it overpriced for its performance.
Pros
Easy installation makes it a versatile option for most homes
Reputable brand that stands behind their products
Hand shower is both versatile and well-designed
Cons
Flow rate may feel limiting compared to other brands
Handle on the hand shower could be difficult for some to use
Fennocasa Polaris 3 Retrofit Rain Shower System
Our Expert Rating
93 / 100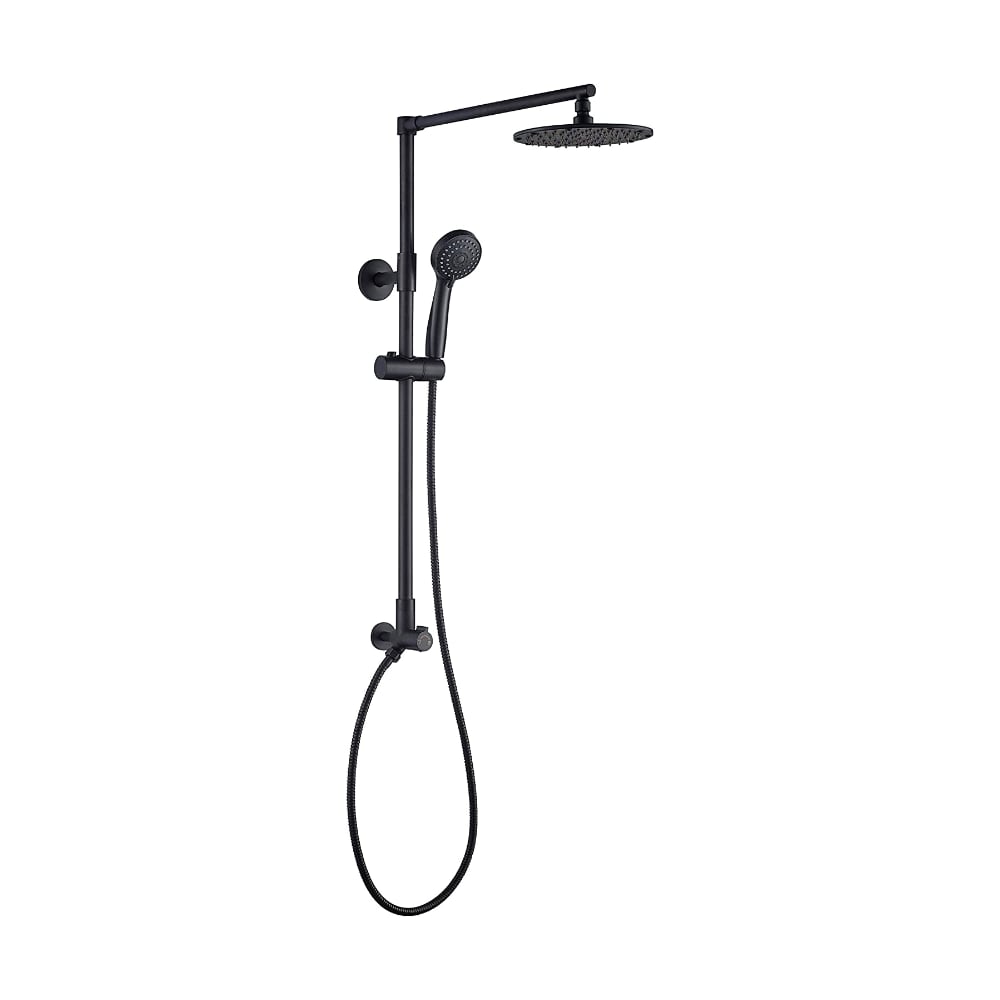 Easy to install, multiple finishes, and a high flow rate – what's not to like?
If you aren't ready to compromise on the lower flow rate of other shower heads, then the 2.5 GPM of the Fennocasa PL304 should be right up your alley. Here's what we liked about this showerhead:
4 Different Finishes: No matter the decor of your bathroom, you should have no problem making this showerhead work. Available in matte black, brushed nickel, chrome, and oil-rubbed bronze, it matches any decor.
3 Spray Settings: While not the best in class, the three different spray settings of the handheld shower head make it easy to get adequately cleaned. The turn dial is easy-to-use.
Dual Use: Unlike other models that either allow you to use just the rain or just the wand, the diverter on the Fennocasa PL304 allows you to use both at the same time – allowing you to stay warm while cleaning the rest of your body.
What customers are saying: Customers highlight the easy installation process and high quality of the Fennocasa Polaris 3 shower system. Many appreciate the well-thought-out design and fantastic customer service. Some faced minor issues with the diverter but most found it to be a great retrofit option for their showers.
Pros
Diverter makes it more comfortable to use
Several finishes make it work with any decor
Easy installation doesn't require changing the plumbing
Cons
Fennocasa is a relatively new brand that hasn't proven itself yet for longevity
AKDY (SH0133) Rain Shower Head With Wand
Our Expert Rating
89 / 100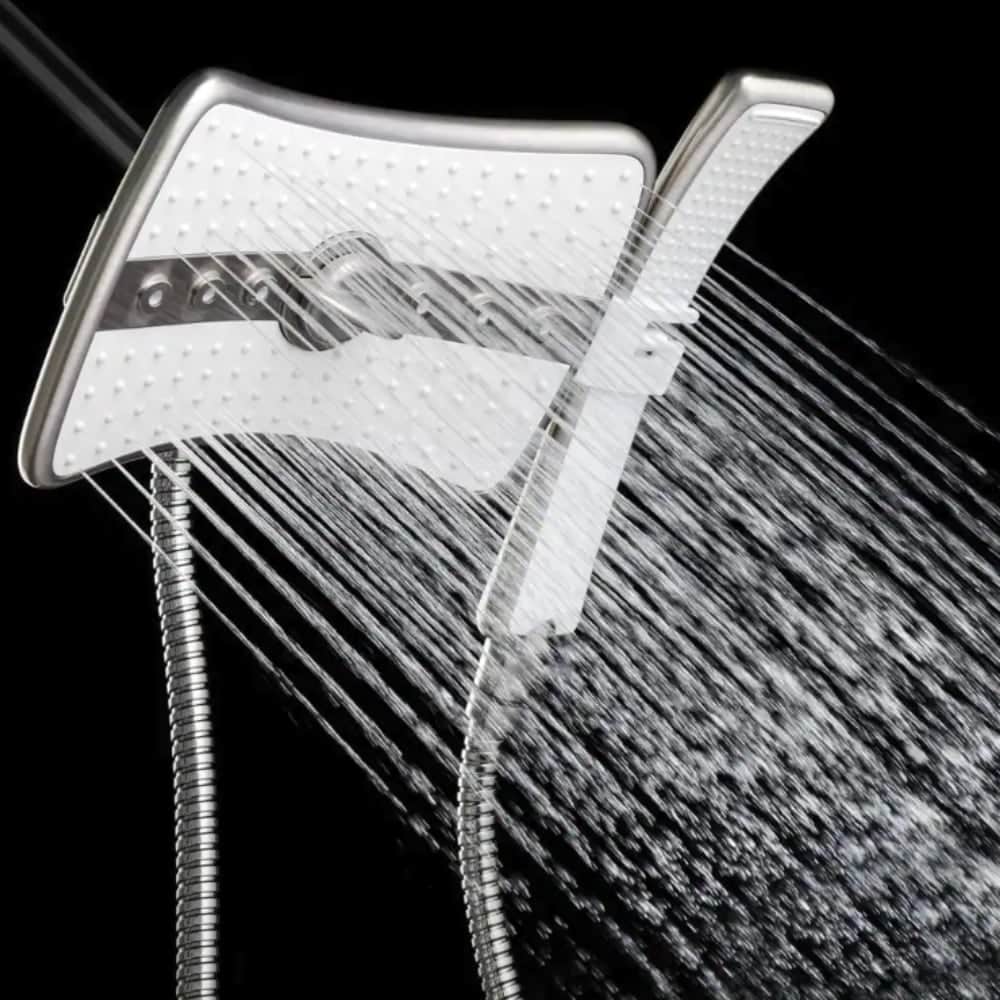 If you want a rainfall-like shower and require a separate wand, then this is your most affordable, yet still good, option.
If budget is a concern, then the AKDY SH0133 is your best bet under $100. While low in price, it doesn't skimp on features. Here's why we liked it:
Simple Installation: Whether you are in a home or apartment rent, the ADKY SH0133 connects right in with your existing shower arm. No worrying about shutting off the main Line or making any other changes that could cause a potential leak.
Ergonomic Wand: With a rectangular design and four different spray settings, you can get into those hard-to-reach places. Plus, the massaging feature of the wand is effective at penetrating the muscles to help you relax.
Strong Flow Rate: At 2.5 GPM, the flow rate is at the federal legal limit. This may or may not be a good thing depending on your bathing preferences and personal water conservation goals.
Compromising Design: Unlike other brands like GHROE, Fennocasa, and Zalerock, the AKDY SH0133 relies on plastic parts that will inevitably degrade over time. Additionally, it doesn't look nearly as sleek as other models.
What customers are saying: This shower head with wand is highly praised for its quality and value, outperforming more expensive alternatives.
Pros
Wand works well to clean hard-to-reach places
Only takes a few minutes to install
Strong flow rate
Cons
Not the most environmentally friendly design
Zalerock (HAZ011) Rain And Hand Shower Head
Our Expert Rating
85 / 100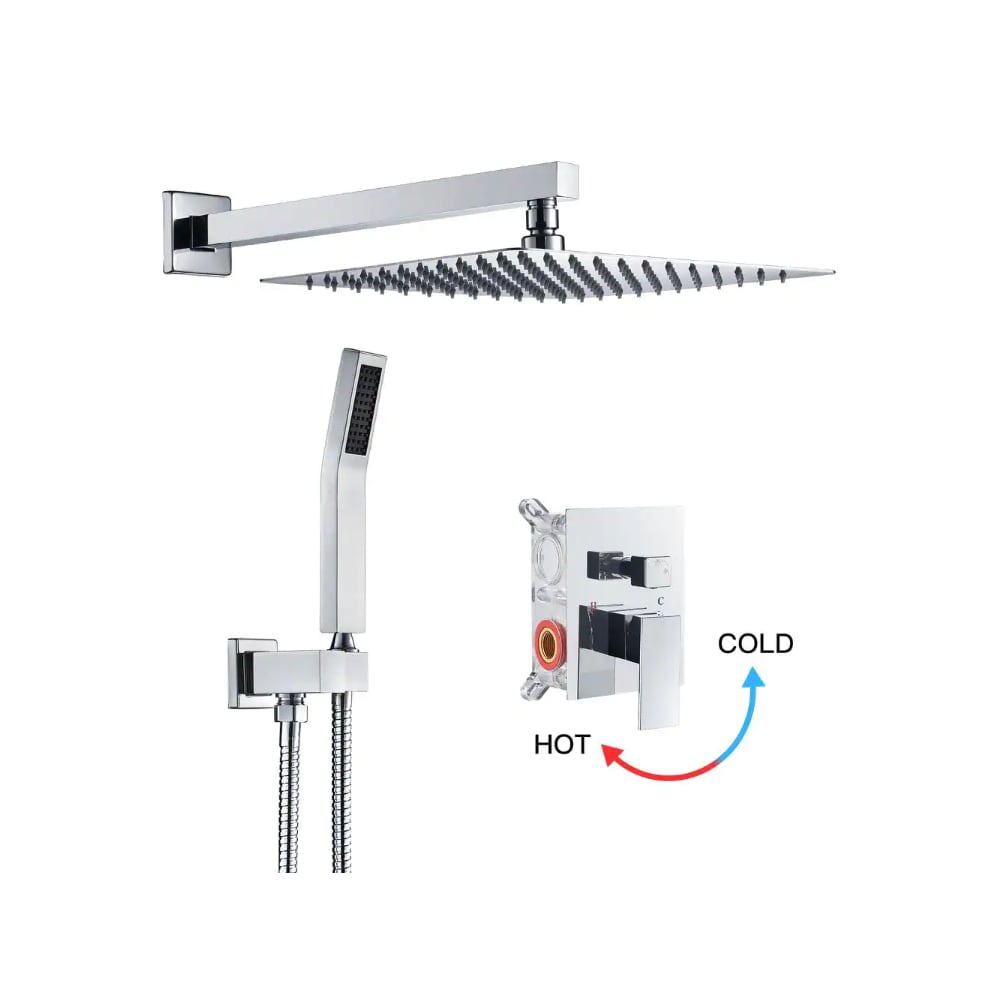 If you are going for style over function, then the Zalerock HAZ011 will make sense. You should also notice some savings on your water bill as it has a lower flow rate than other models.
The Zalerock HAZ011 looks like a custom shower stall design that only rings up at a fraction of the price of a remodel. Here's why we liked it:
Matching Fittings: Despite the low price, this shower head and wand combo by Zalerock includes a nearly 16″ brass shower arm and flange that extends the shower head far enough to mimic a ceiling-mounted design. Complimenting the square rain head along with the angular valve and wand, it is a comprehensive design that is sure to impress.
A True Rainfall Experience: With a 12″ diameter face, this is the largest rain head of all models we reviewed. This wide coverage provides a true rainfall experience that feels good, whether just starting the day or winding down. Worth noting is that the pressure may be lighter as it only has a 1.8 GPM flow rate.
Limited Spray Patterns: Despite having the highest customer rating of all models, the one downside to this unit is the lack of spray patterns on the wand. It only has one, which is a general spray.
New Brand: As we found in our in-depth review, Zalerock is relatively unknown in the bathroom fixtures market. As such, questions regarding their durability and reliability haven't been proven.
Pros
Matching fittings make it one of the best-looking models
12″ diameter covers the entire body
Conserves water with the 1.8 GPM flow rate
Cons
Would have liked to see more spray patterns on the wand
Unproven brand
Niagara Conservation (N99SR17CH) Rain Shower Head With Wand
Our Expert Rating
82 / 100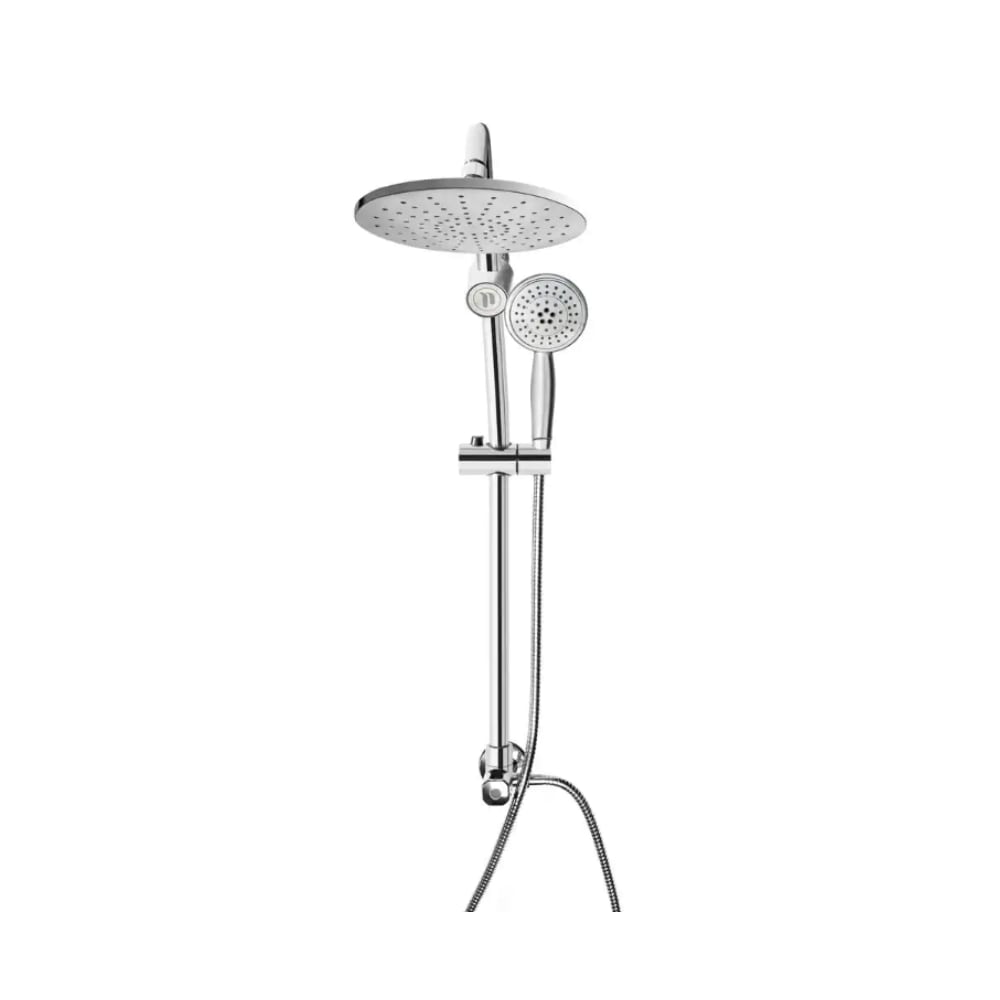 If you want a basic dual shower head design on a budget, then this combo by Niagara Conservation works exceptionally well. With a drill-free installation, you can have it set and ready to go in no time.
The Niagara Conservation N99SR17CH is a dual shower head combo that doesn't take up much space, making it suitable for smaller bathrooms. Here's why we liked it:
Affordable Price: Despite the chrome finish, the N99SR17CH competes with the AKDY SH0133 for affordability. Priced at just under $80, it doesn't look as nearly as cheap as it costs.
Adjustable Rain Head: If you have both taller folks in your home, then they'll love that the shower head comes with a gooseneck design to the shower arm that raises the height significantly. This design gives folks plenty of room to bathe while also allowing the water to disperse as it falls to mimic more natural rainfall.
2-Way Diverter: Like other models, this unit has a 2-way diverter meaning you can only use either the rain head or the hand shower at a time – not both.
5 Spray Patterns: Tied with the GHROE, the Niagara Conservation N99SR17CH has five spray patterns which include flood, full, jet, massage, rain, and wide. The wide range makes it suitable for all applications, including pets, small children, and adults.
Compliant With Stringent Water Regulations: If you live in California, Washington, Oregon, or Hawaii, then you must have a shower head that does not exceed 1.8 GPM. This unit is compliant with those regulations as it has a flow rate of 1.75 GPM.
What customers are saying: Customers report issues with leaks, broken or cheaply made parts, and dissatisfaction with the product's quality. Some have had a more positive experience, finding the product to be refreshing and well-balanced.
Pros
Simple and affordable
Gooseneck design makes it suitable for taller individuals
Compliant with strict water regulations
Cons
Low flow may be too weak for some
Considerations
When shopping for a shower head, and especially one that has a separate wand attachment, you'll want to keep the following in mind:
Flow rate is the most important factor
Flow rate directly impacts the performance of the shower head. The lower the flow, the less water you have to bathe, and perhaps the longer your shower will be. Flow rates cannot exceed 2.5 GPM per the Energy Policy Act of 1992. However, if you live in California, Washington, Oregon, or Hawaii, then you must have a shower head that does not exceed 1.8 GPM. This is because those states have more stringent water regulations.
Also worth noting is that larger models disperse water more widely; they may result in lower feeling water pressure as the amount of water per square inch is reduced.
Despite regulations, lower flow rates reduce energy usage and water consumption. Consider a lower flow rate if you want to save money on your water bill and reduce your impact on the environment. For comparison, here's how the flow rates of the shower heads we reviewed compare: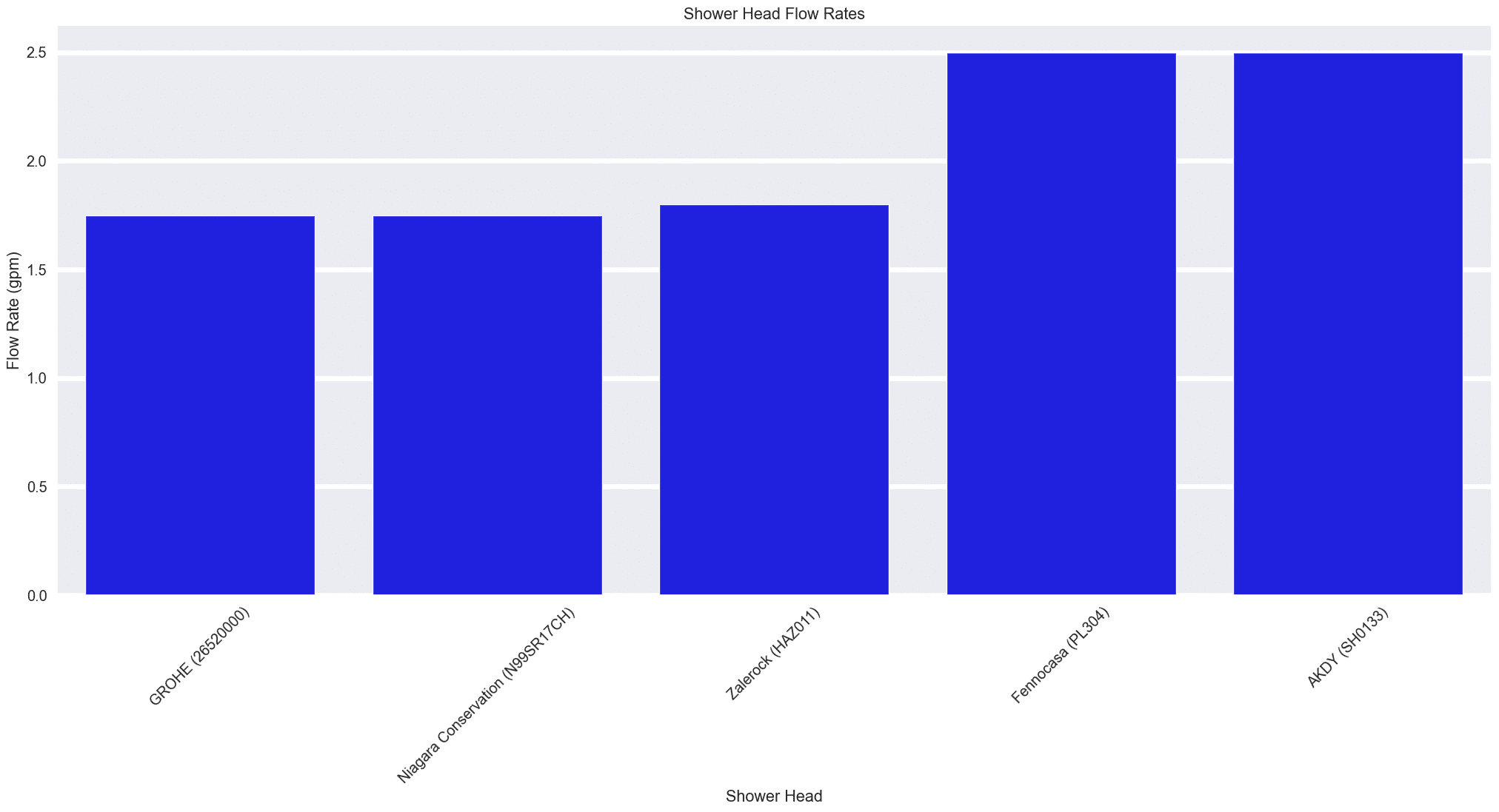 More spray patterns provide more customization
Shower head spray patterns refer to the different flow modes of the water from the shower head. These patterns can affect the feel of the shower, the amount of water used, and the amount of time it takes to fully rinse. More spray patterns allow for more customization and flexibility in your shower experience.
Of the models we compared and reviewed, Zalerock had the fewest, while GHROE and Niagara Conservation had the most. Here's a chart that shows the number of spray patterns for each model: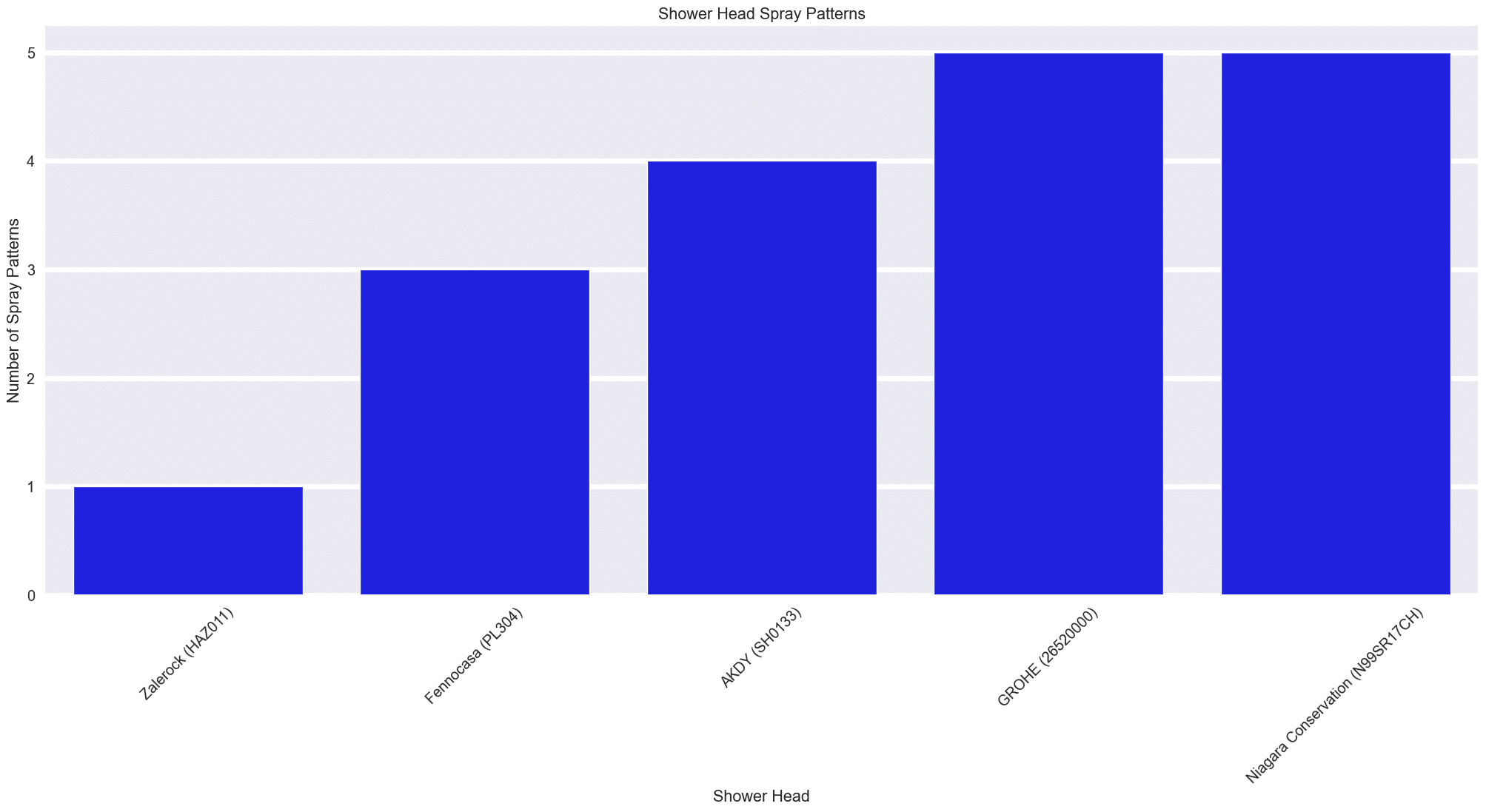 Measure your shower stall before purchasing
Rain shower heads, by their very nature, are larger than standard shower heads. They typically range anywhere from 8 to 12″ in diameter. When purchasing any of the models featured in our guide, take measurements of your bathroom to ensure they will fit, especially if you have a smaller bathroom.
How long should the hose be?
Hose length for the attached wand typically measures 59″ long. A longer hose can be purchased if necessary, as it makes it easier for elderly or disabled individuals to bathe. Additionally, the extra slack also makes it easy to clean pets or children.
Does material matter?
Shower head materials have a huge impact on the overall performance and maintenance of any shower. Chrome, stainless steel, and brass will last for years. ABS plastic is a cheaper alternative, but as we found, it will likely need to be replaced in a couple of years. If your budget allows, go with a metal showerhead.
How much should you spend?
When shopping for a new showerhead, it is important to compare prices before making a purchase. The models we reviewed range from $76 (AKDY) to $329 (GHROE). Set aside a budget before making your decision. Consider things like how long you plan on living in your home, your desired appearance, and the importance of the brand name.
Reputable companies stand behind their products
The brands that we reviewed have been making bathroom fixtures for years. Before making any purchase, make sure a warranty is offered. In the bathroom fixtures industry, limited-lifetime warranties are common. If you are investing hundreds of dollars in a new showerhead, warranties provide additional peace of mind.
Deciphering ratings and reviews online
When browsing any merchant's website, ratings and reviews are a great starting point for gathering customer feedback. However, take it only as a starting point. Keep in mind that water quality and pressure vary from state to state and even from home to home. When reading reviews, look for trends. Three-star reviews are often the most candid and honest. If you see a trend of negative reviews, it may be a sign to look elsewhere.
Why you should trust us
When we reviewed each of the rain shower heads, we took into account many factors, which include product craftsmanship, quality of materials, ease of installation, and more. Additionally, we also used a proprietary rating system to score each of the products based on several factors. We also looked at qualitative measures like customer feedback and reviews. Additionally, as new models are released, we will update this guide to reflect the latest offerings available and recalculate the scores accordingly.