Transforming your bathroom into a space that combines style and functionality can be quite a challenge. Whether you have a small bathroom or a spacious one, incorporating well-designed shelves can add the perfect touch.
This article will explore various bathroom shelf decor ideas that cater to different styles and tastes, so let's dive right in!
Vintage and Autumn-Inspired Bathroom Décor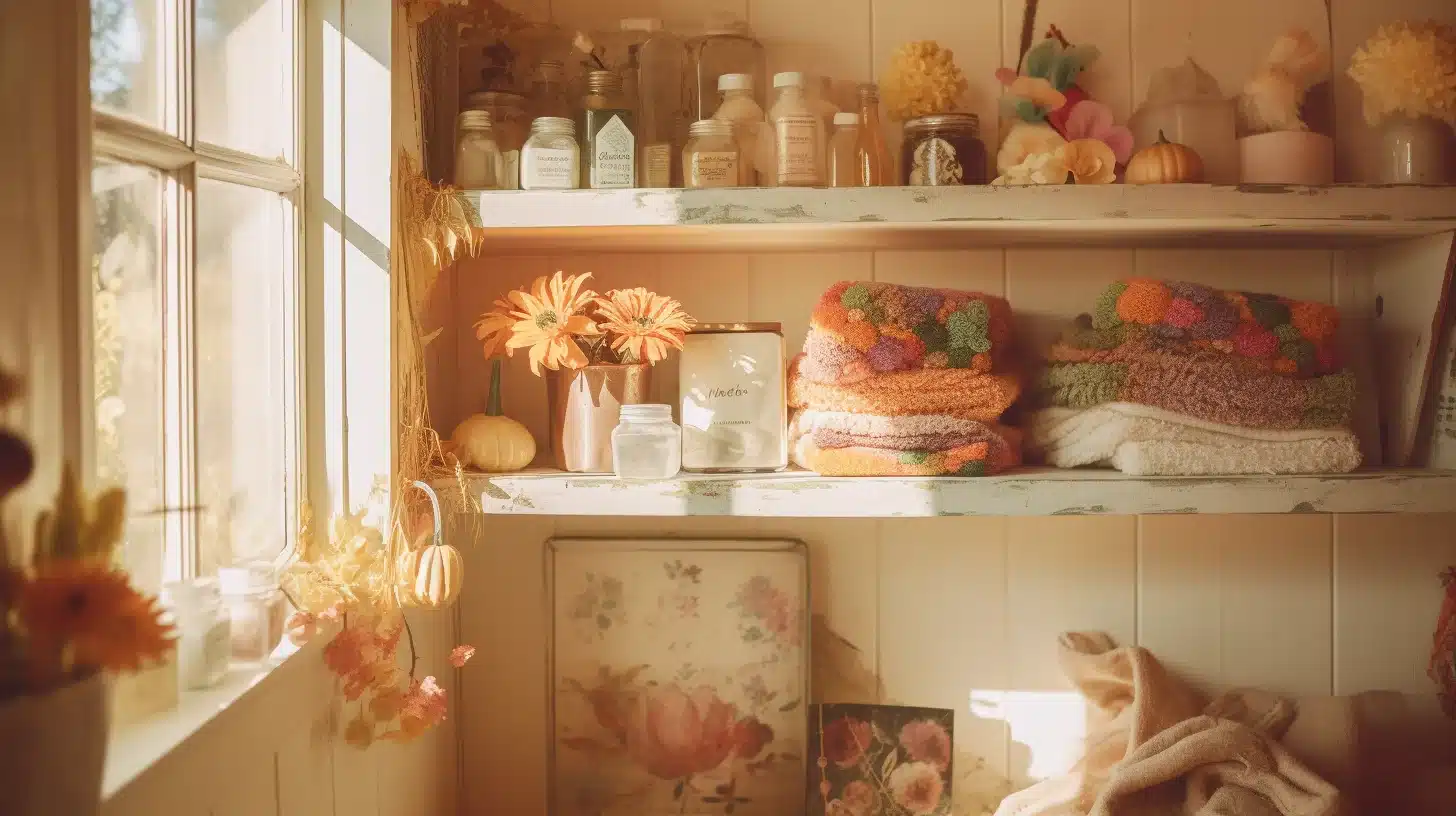 Bring a nostalgic and cozy vibe to your bathroom with vintage and fall-inspired decor. Display antique items, such as a vintage mirror or rustic baskets, on open shelves. Opt for warm, earthy colors like burnt orange, mustard yellow, and deep reds in your towels and other textiles. As for the autumn touch, try adding subtle decorations like pinecones and leaves to the shelves, or incorporate scented candles with seasonal fragrances like pumpkin spice or cinnamon.
You could also repurpose old wooden crates or ladders as unique shelving units, adding character and charm to your bathroom.
Serene Neutral Bathroom with Shelf Décor Ideas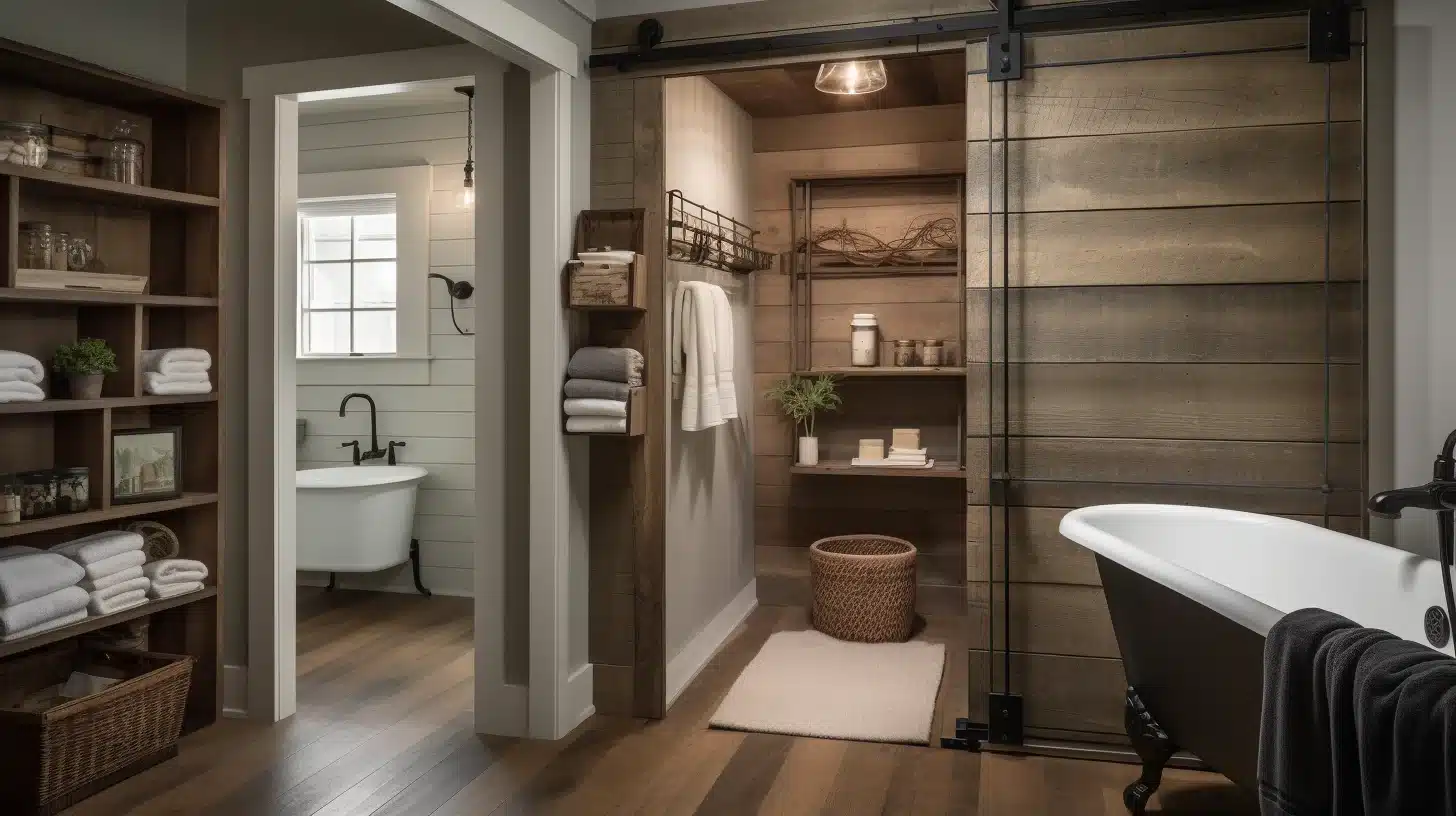 Creating a calm and soothing atmosphere in your bathroom can be achieved by sticking to a neutral color palette. Choose bathroom shelf ideas that incorporate natural materials, like wood or stone, for a down-to-earth feel.
Add woven baskets for holding towels, toiletries, or extra toilet paper to maintain a neat and tidy appearance.
Sleek and Modern Bath in a Neutral Bathroom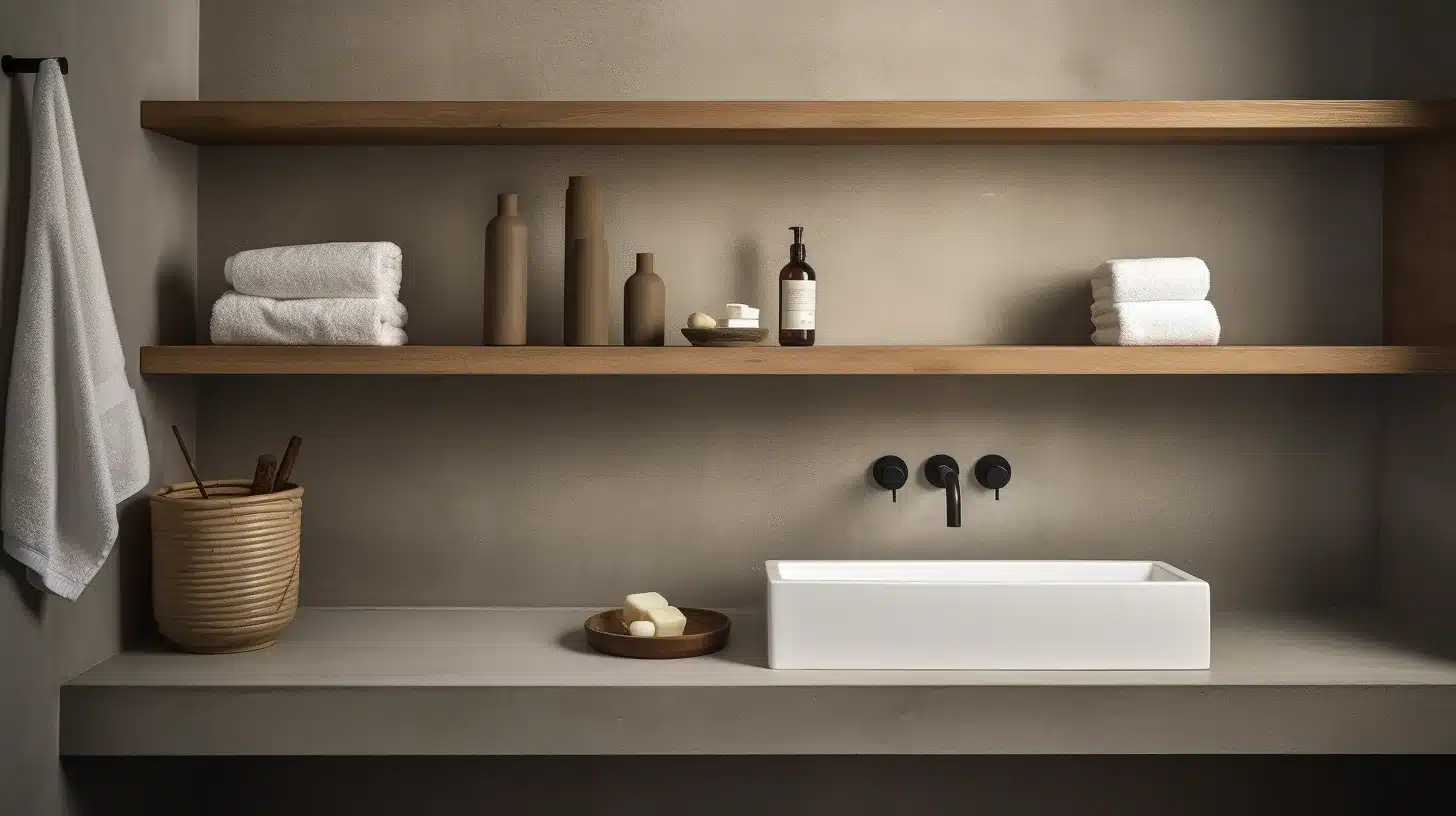 For a more contemporary look, go for clean lines and minimalist bathroom decor. Glass shelves or floating wood shelves with hidden brackets are perfect for this style. Display only essential items, such as towels, cotton balls, and lotions, in streamlined containers or neatly folded on the shelf.
Mounting a modern faucet and simple bathroom vanity will enhance the sleek aesthetic. We also recommend checking out some Zen-inspired bathroom decor ideas for a relaxing and spa-like atmosphere.
Festive Flair in a Modern Farmhouse Bathroom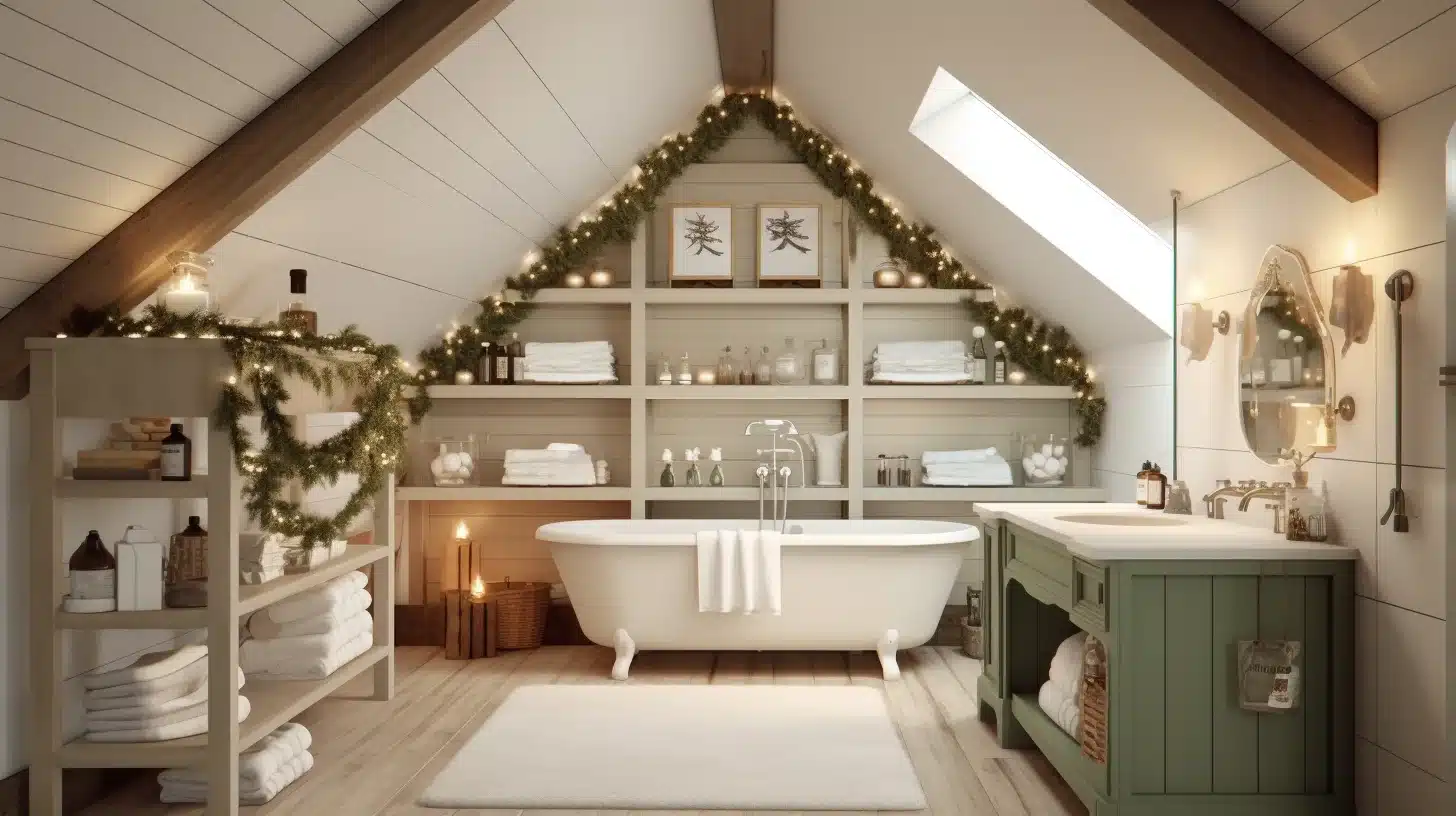 Add a touch of holiday spirit to your bathroom by incorporating subtle Christmas decorations on your shelves. Think about small, tasteful touches like a seasonal candle, mini wreath, or a rustic wooden sign with a festive message.
Another way to bring festive flair to your modern farmhouse bathroom is by incorporating plaid patterns and cozy textures, such as flannel towels or a faux fur rug. Stick to a color scheme that complements your existing decor, like traditional red and green or more neutral tones like white and gray.
Cozy Gray and White Bathroom with an Autumn Window Scene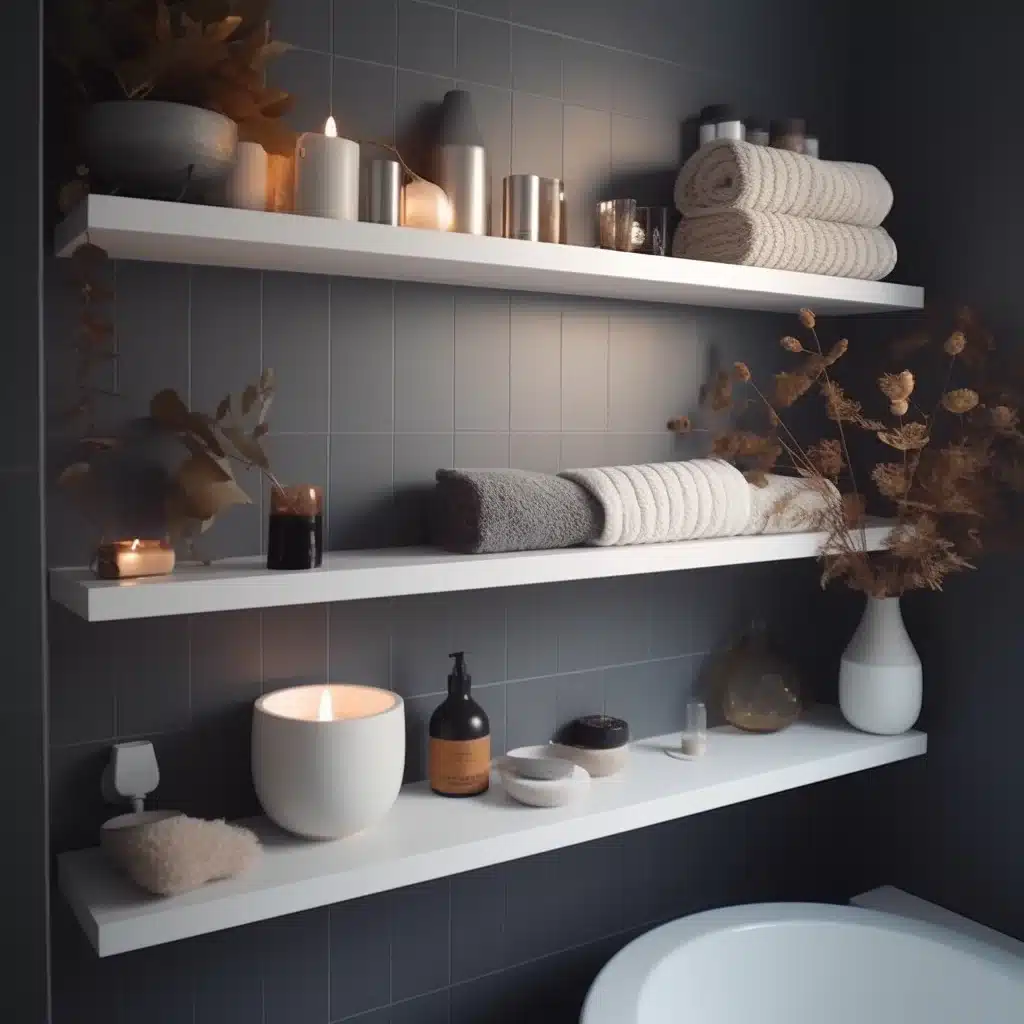 Rather than using a holiday as your inspiration, consider bringing the beauty of the changing seasons into your bathroom.
Combine a gray and white color scheme with elements that evoke the feeling of a fall window scene. For example, display framed images of autumn foliage or harvest-inspired decorations on your shelves to introduce a touch of nature.
For added warmth, consider incorporating fabric elements like a soft throw blanket or plush towels in a mix of gray and white with hints of burnt orange or deep reds.
Monochromatic Elegance: Black and White Bathroom with Wooden Shelves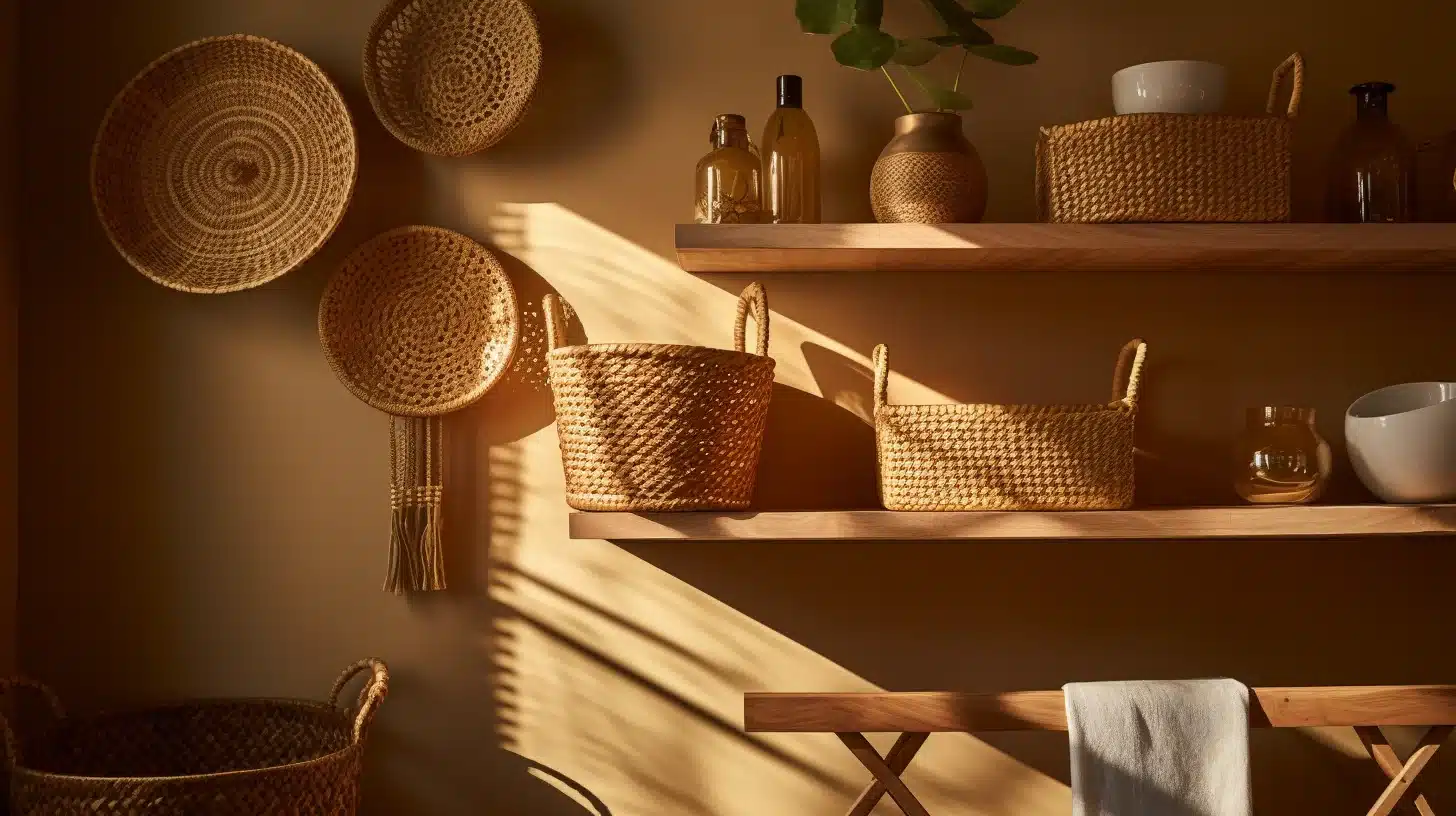 Achieve a timeless and classy look in your bathroom with a black and white color palette. Wooden shelves stained in a dark hue will add depth and contrast against white walls, while also blending harmoniously with black fixtures and accessories.
To make your monochromatic bathroom visually interesting, play with different textures and patterns. For instance, you could use a black and white patterned rug or shower curtain to create a focal point. Alternatively, you could choose accessories with different finishes, such as matte black faucets and glossy black soap dispensers, to add an extra layer of sophistication.
Luxurious Gold Bathroom Shelf Decor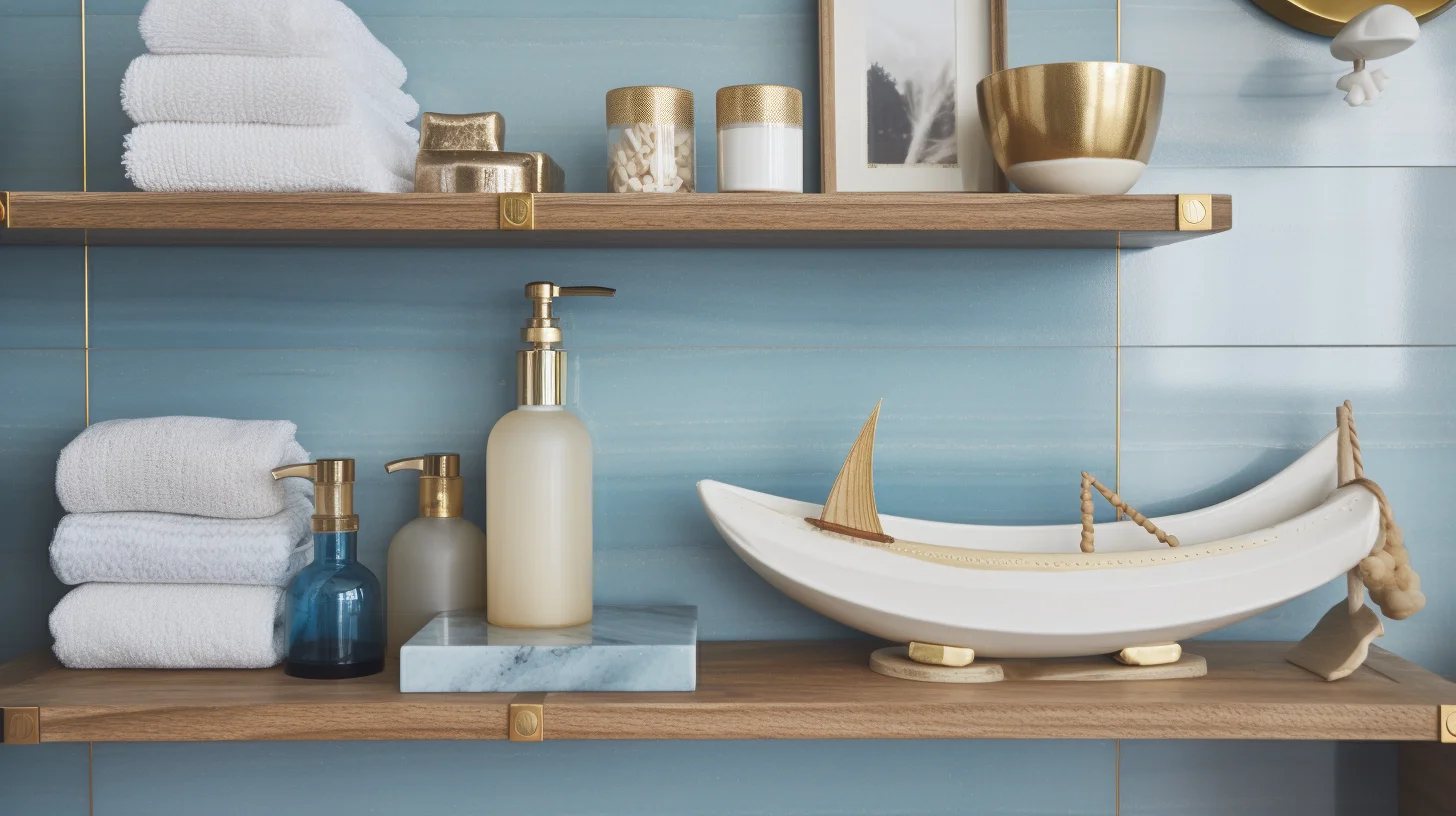 For a touch of opulence, incorporate gold accents in your bathroom shelf decor. This can be achieved by displaying gold-trimmed jars, vases, or picture frames to add a touch of glamour.
Even small details, like gold brackets for the shelves or metallic bath salts containers, can contribute to a luxurious atmosphere.
Brands like Anthropologie, Pottery Barn, and West Elm offer a variety of gold bathroom accessories that can elevate your space and create a cohesive look. To balance the gold accents, consider using neutral colors for your towels, rugs, and other textiles.
Clean and Bright White Bathroom with a Gray Mirror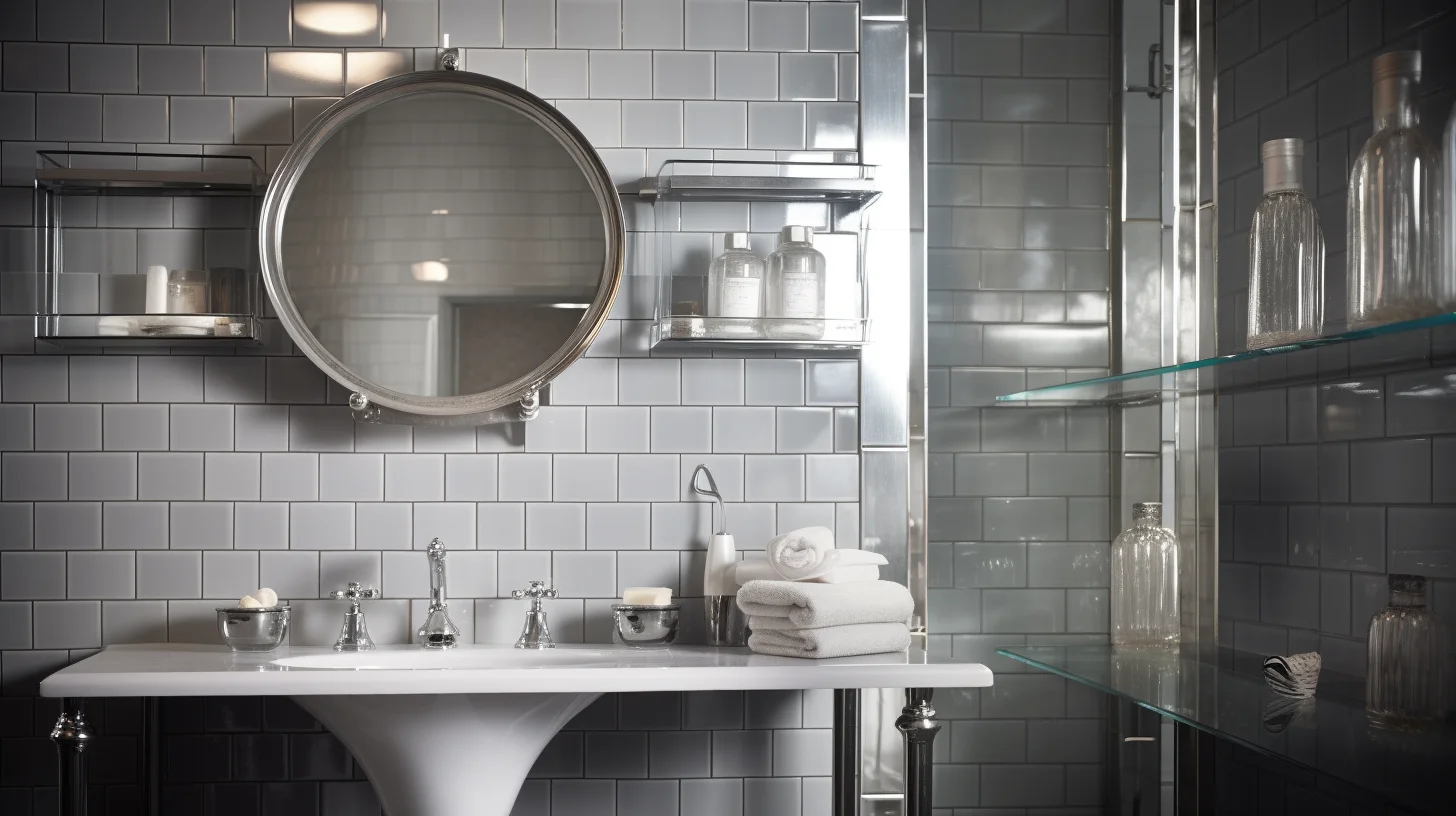 A white bathroom can look crisp and refreshing, especially when paired with a gray mirror to add some depth.
To make this look work, ensure the white surfaces are kept clean, and consider open shelving to keep the space feeling airy and open.
Designers like Jonathan Adler and Kelly Wearstler have created beautiful gray mirrors that can serve as the centerpiece of your clean and bright white bathroom. When choosing a gray mirror, look for one with a unique shape or intricate frame design to make it stand out.
His and Hers Modern Farmhouse Bathroom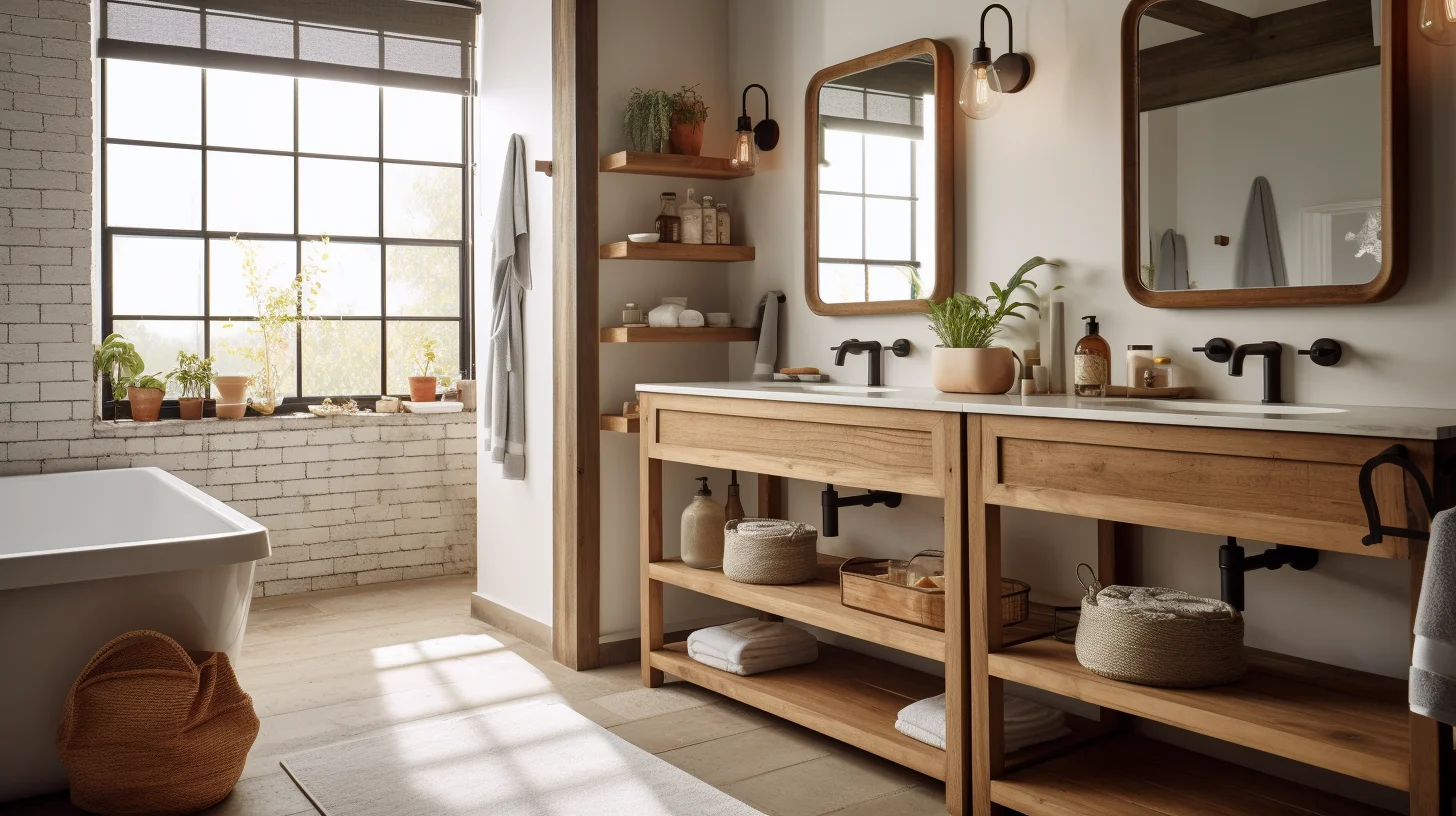 Create a functional and stylish space for both you and your partner with his and hers shelves in a modern farmhouse bathroom. Divide the shelf space into sections for each person's toiletries and give each area personal flair with decor items that reflect the individual's taste.
To further enhance the modern farmhouse aesthetic, incorporate elements such as reclaimed wood shelves, industrial-style brackets, and vintage-inspired hardware. Textural elements like woven baskets or galvanized metal containers can also help create a warm and inviting atmosphere in the space.
Light and Airy Bathroom Ideas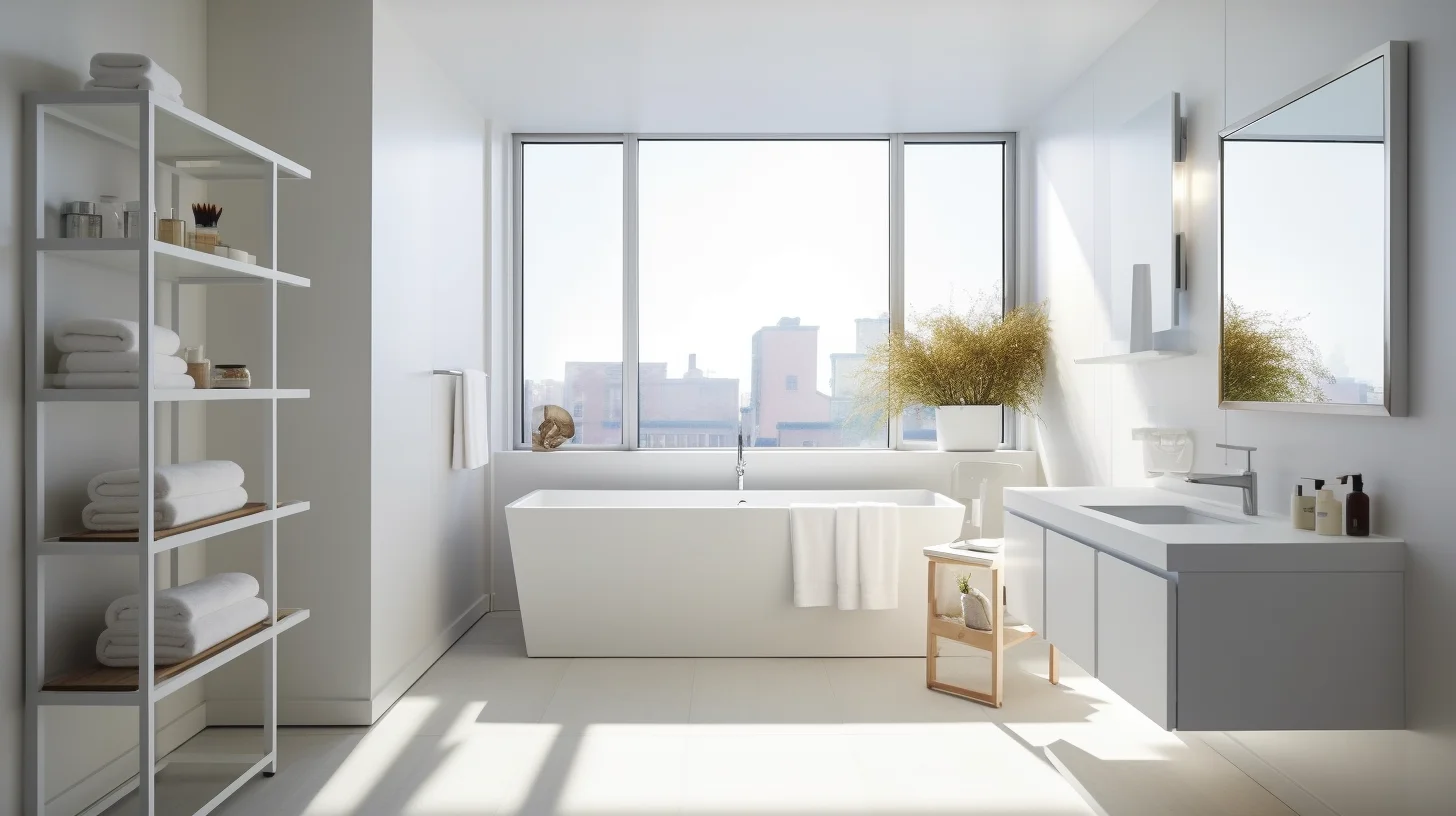 Maximize natural light in your bathroom by opting for light-colored walls, open shelves, and strategically placed mirrors. Choose decor items that have a breezy, beachy feel, such as wicker baskets or glass jars filled with shells or sea glass.
To make the space feel even more open and airy, consider installing a skylight or large windows if your bathroom layout allows for it. If natural light is limited in your bathroom, opt for sheer window treatments or light-colored blinds to let in as much light as possible.
Refreshing Green Bathroom with Modern Finishing Touches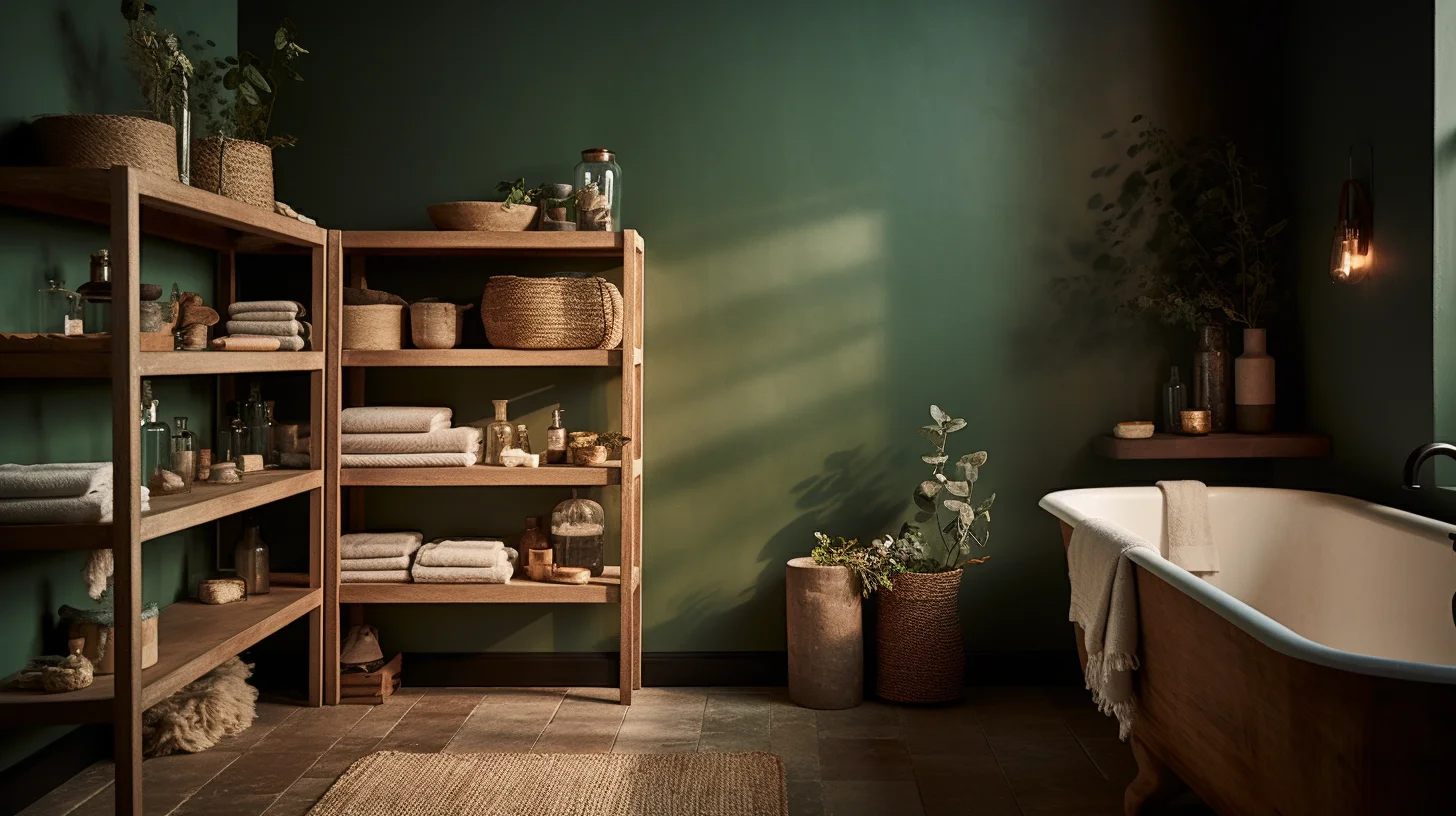 Add a touch of nature to your bathroom by incorporating green hues and modern finishes. This can be achieved through green tiles, wall paint, or even by adding potted plants to your shelves. Pair it with sleek chrome or matte black fixtures for a contemporary and refreshing look.
Studies have shown that being surrounded by nature or even just the color green can have a calming effect on the mind, making it an ideal choice for a bathroom where relaxation is key.
Blossoming Beauty: Floral Inspired Neutral Bathroom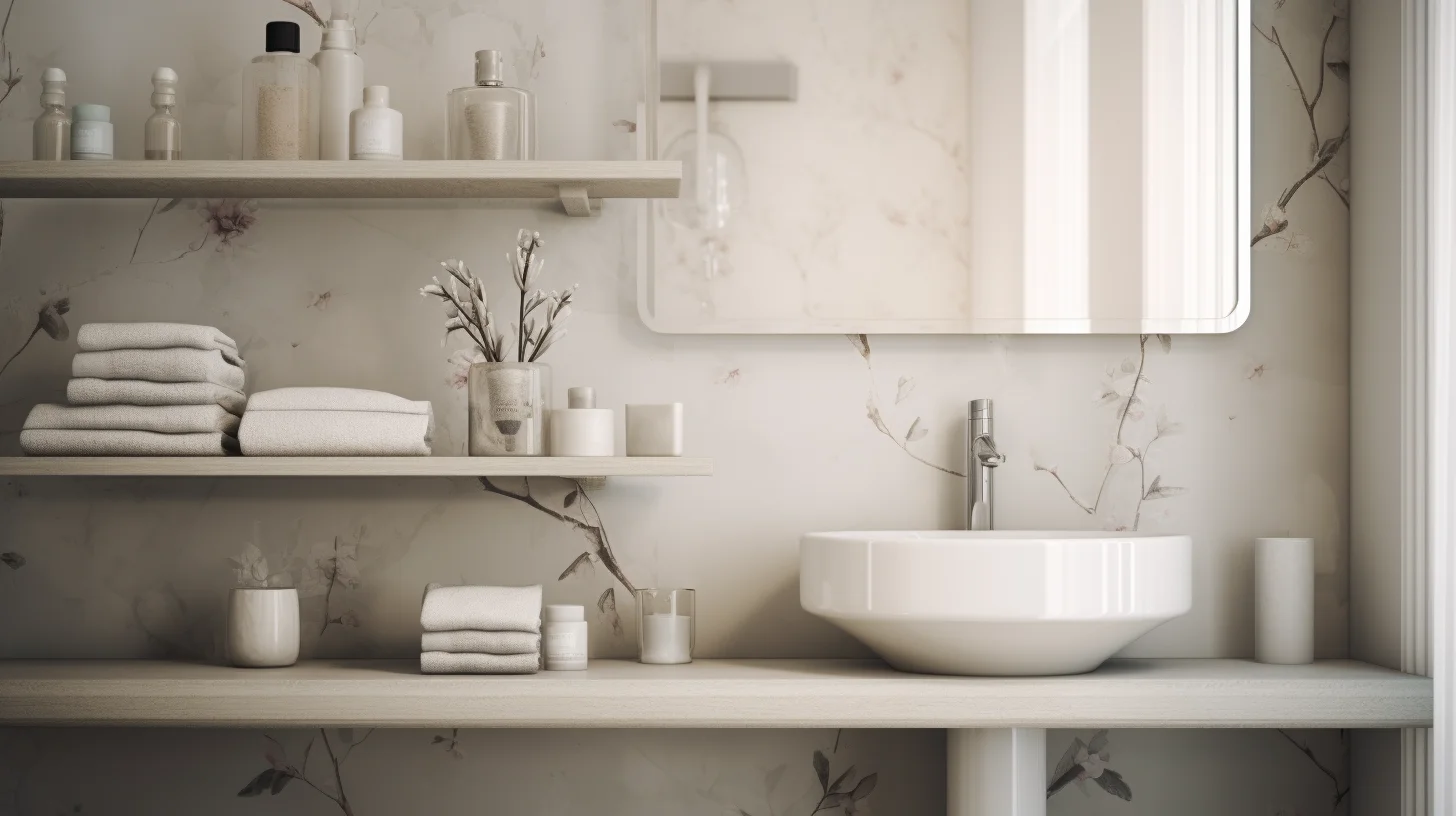 Introduce a soft and feminine touch to your bathroom with floral-inspired decor. Display floral-patterned towels, soap dispensers, or even artwork on your shelves. Complete the look by incorporating fresh or faux flowers in vases or jars.
Neutral colors like soft pinks, creams, and light grays can provide a calming backdrop for your floral accents while still allowing your bathroom to feel light and airy. When choosing decor elements, opt for a mix of delicate and bold floral patterns to create visual interest and evoke a sense of blossoming beauty.
Earthy Elegance: Rustic Bathroom with Wood Paneling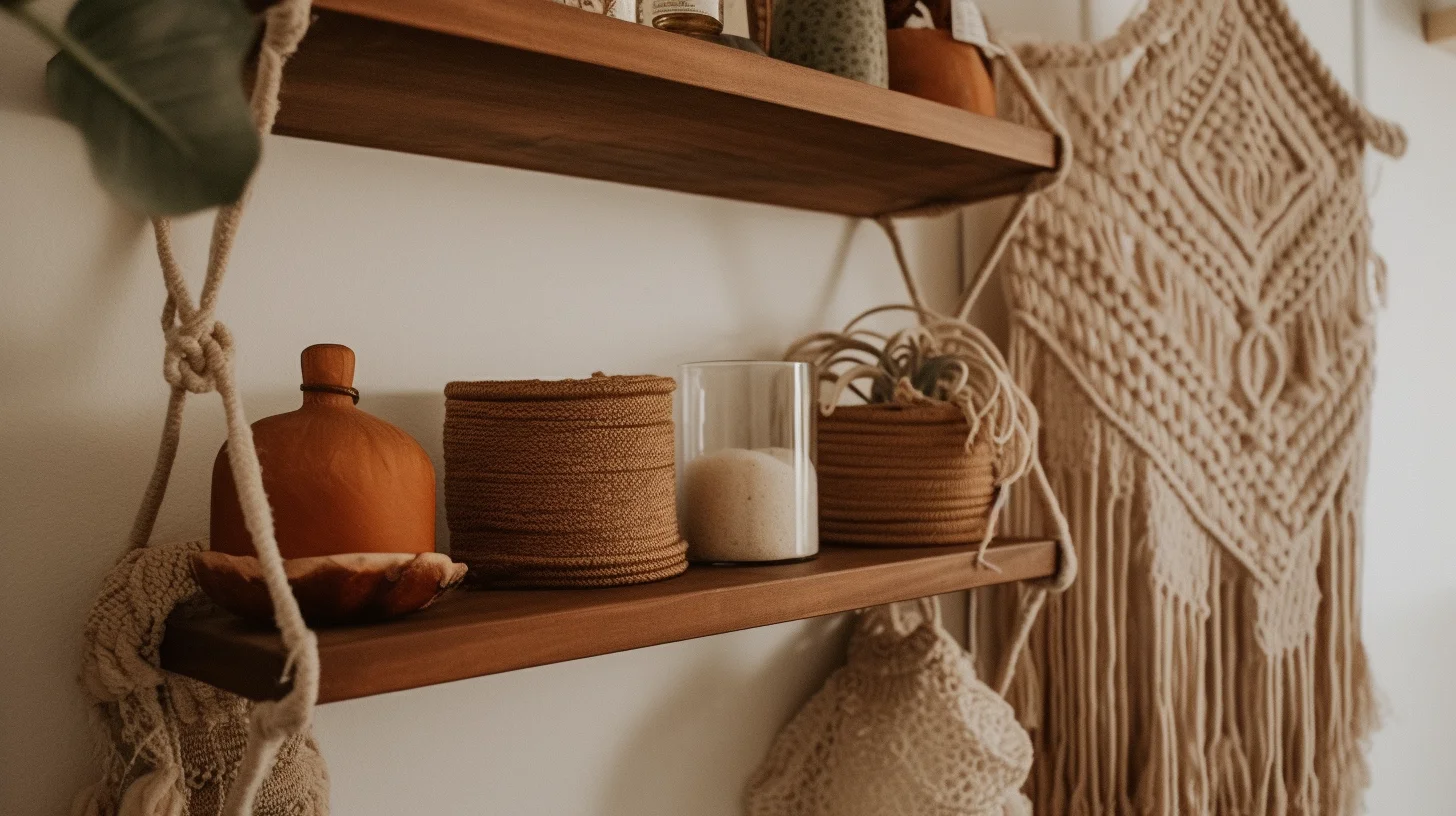 Combine wood paneling with warm, earth-toned accents to create a rustic and cozy bathroom environment.
For example, you could install reclaimed wood panels on one or more walls, or even use wood-look tiles for a more durable and water-resistant option. Complement the wood elements with natural stone or slate flooring and countertops for an added touch of earthiness.
5 Tips for Styling Bathroom Shelves That Don't Look Cluttered
Looking to style your bathroom shelves without making them look cluttered? Here are five tips to help you create an organized and visually appealing space:
Choose Adjustable Shelves for Small Bathrooms: In smaller bathrooms, adjustable shelves are the perfect solution, as they allow you to change their height and position according to your storage needs.
Prioritize Functionality: Make sure your shelves serve a purpose by providing storage for bathroom essentials like toiletries, towels, and bath supplies.
Keep Clutter in Check with Boxes and Bins: Using boxes, bins, or baskets can help maintain organization and prevent clutter from overtaking your shelves.
Add Personal Flair with Unexpected Decor: Bring your personality into your bathroom by adding unique or unexpected decor items, such as an antique trinket or a framed piece of art.
Freshen Up with Flowers: Incorporate fresh or faux flowers to add color, texture, and a vibrant touch to your bathroom shelves.