In today's fast-paced world, a beautifully designed bathroom can be the perfect place to unwind and relax. If you're looking to remodel, there are countless ideas and designs to consider. To help you create the bathroom of your dreams, this comprehensive guide covers various do-it-yourself (DIY) bathroom ideas to help you create maximum impact with minimum effort.
Small Bathroom Decor Ideas for Maximum Impact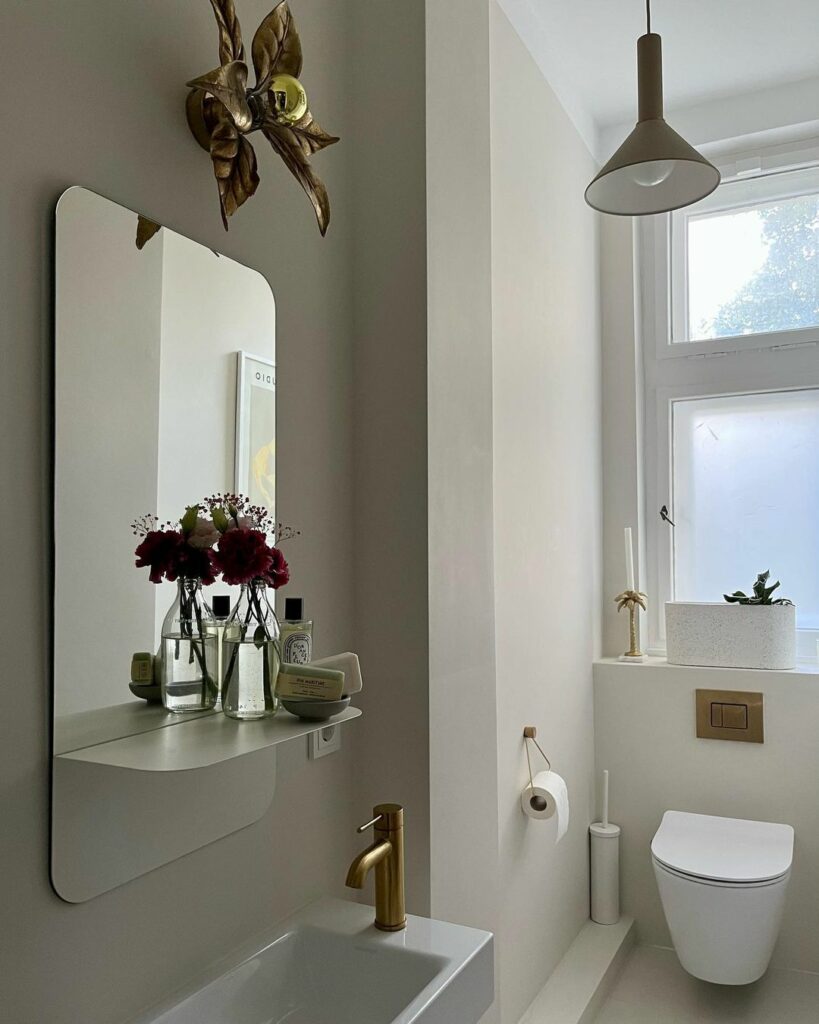 For small bathrooms, it's essential to choose a decor that will make the space feel larger and brighter.
You can achieve this by installing well-positioned mirrors that reflect natural light, adding a clear glass shower door instead of a curtain, and selecting a neutral color palette for walls, floors, and fixtures. Utilize wall-mounted storage to declutter countertops and give the illusion of a bigger space.
View 27 more Shower Stall Ideas for Small Bathrooms
DIY Small Bathroom Vanity Ideas to Save Space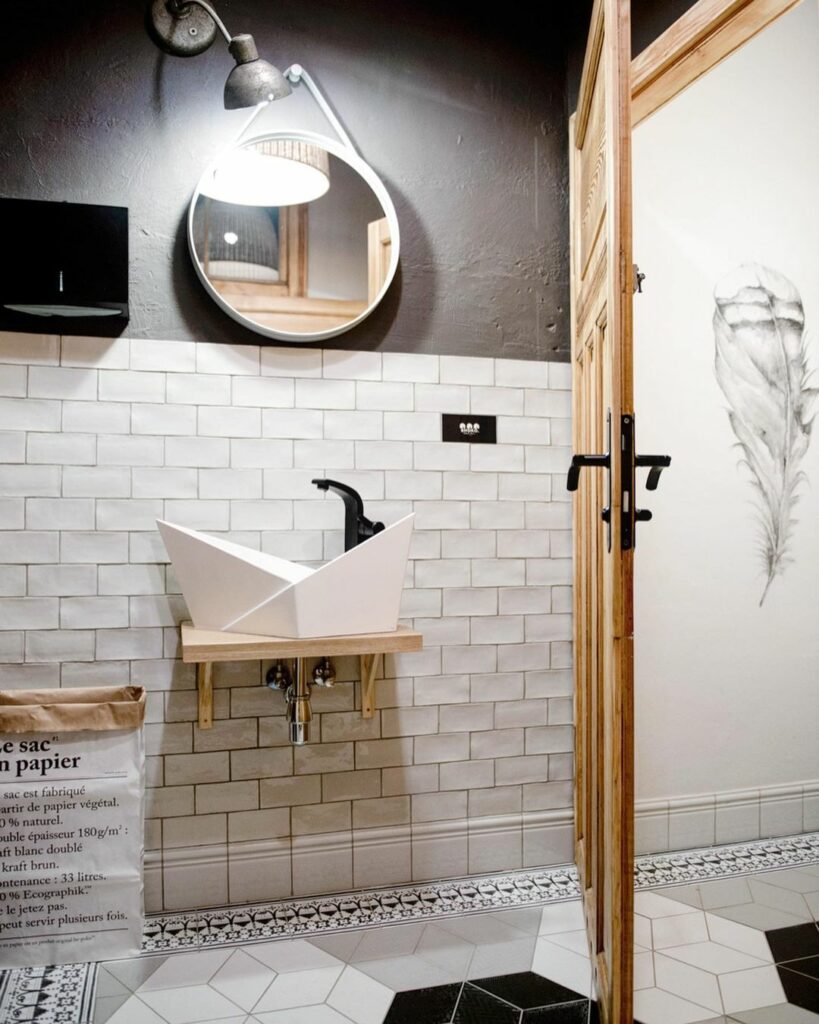 In small bathrooms, consider replacing traditional vanities with wall-mounted or floating ones, which create a more open and spacious feel.
Customize the look with towel racks and unique storage solutions, such as multipurpose shelves or wall baskets.
Zen Bathroom Decor for a Peaceful Retreat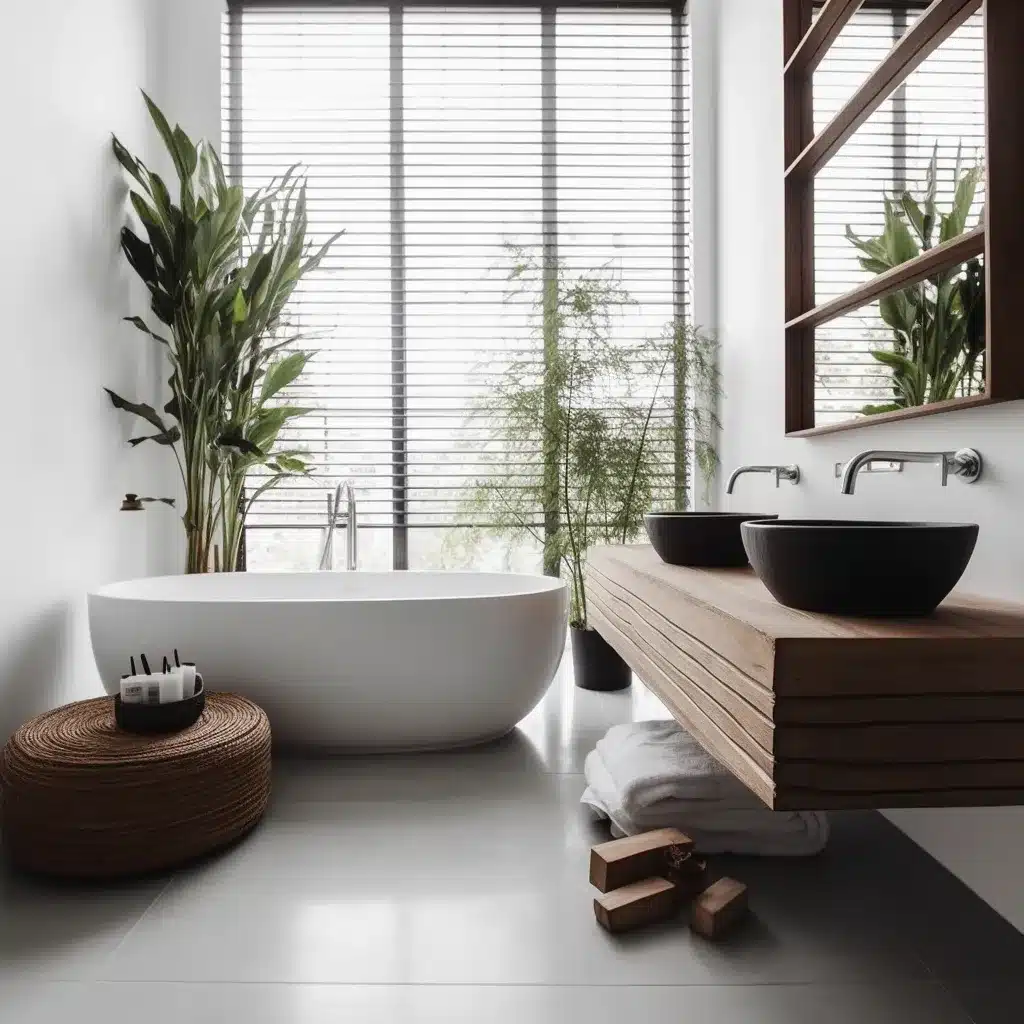 To create a serene and tranquil bathroom, choose a minimalist design with natural elements such as bamboo or stone.
Opt for subdued lighting, and earthy colors, and incorporate greenery using potted plants or a living wall. You can also enhance the relaxing atmosphere with calming scents from candles or essential oils.
View 40 more Zen ideas for your bathroom.
Stylish Bathroom Shelving Inspiration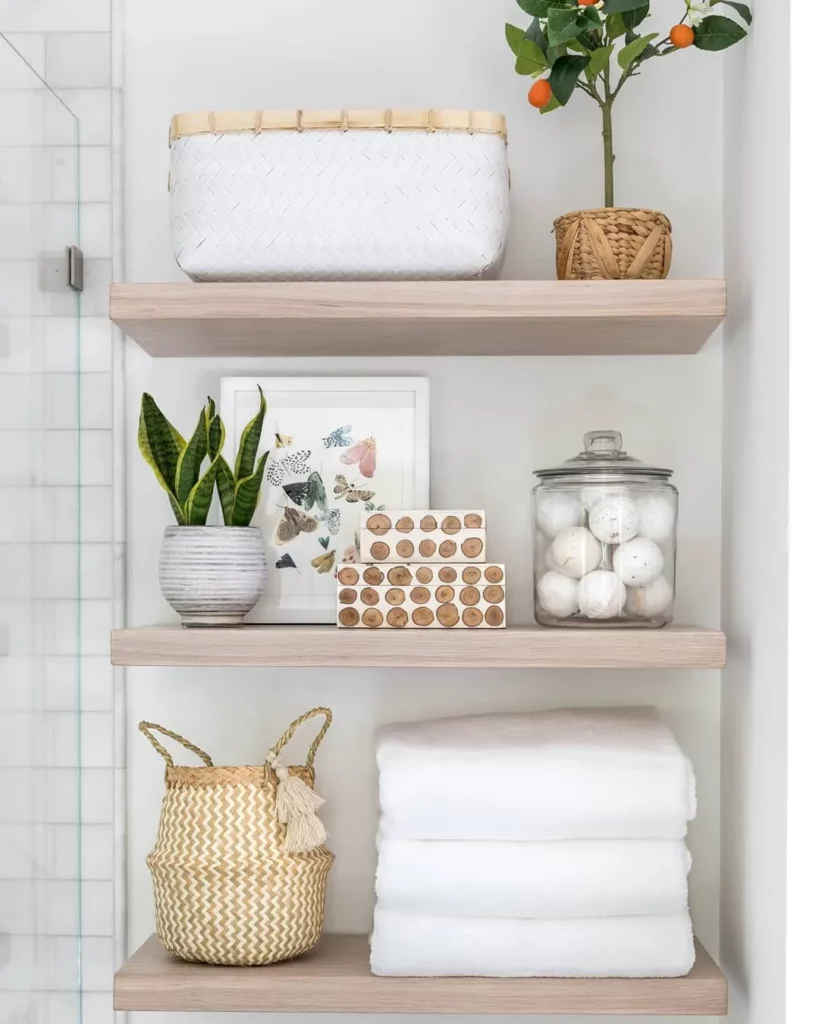 Shelves provide valuable storage space while also allowing you to display decorative items like framed artwork, potted plants, or luxurious storage containers.
You can opt for floating shelves, ladder-style shelves, or wall-mounted baskets for a chic and functional space.
Check out 110 More Bathroom Shelving Ideas.
Refresh Your Bathroom with Plants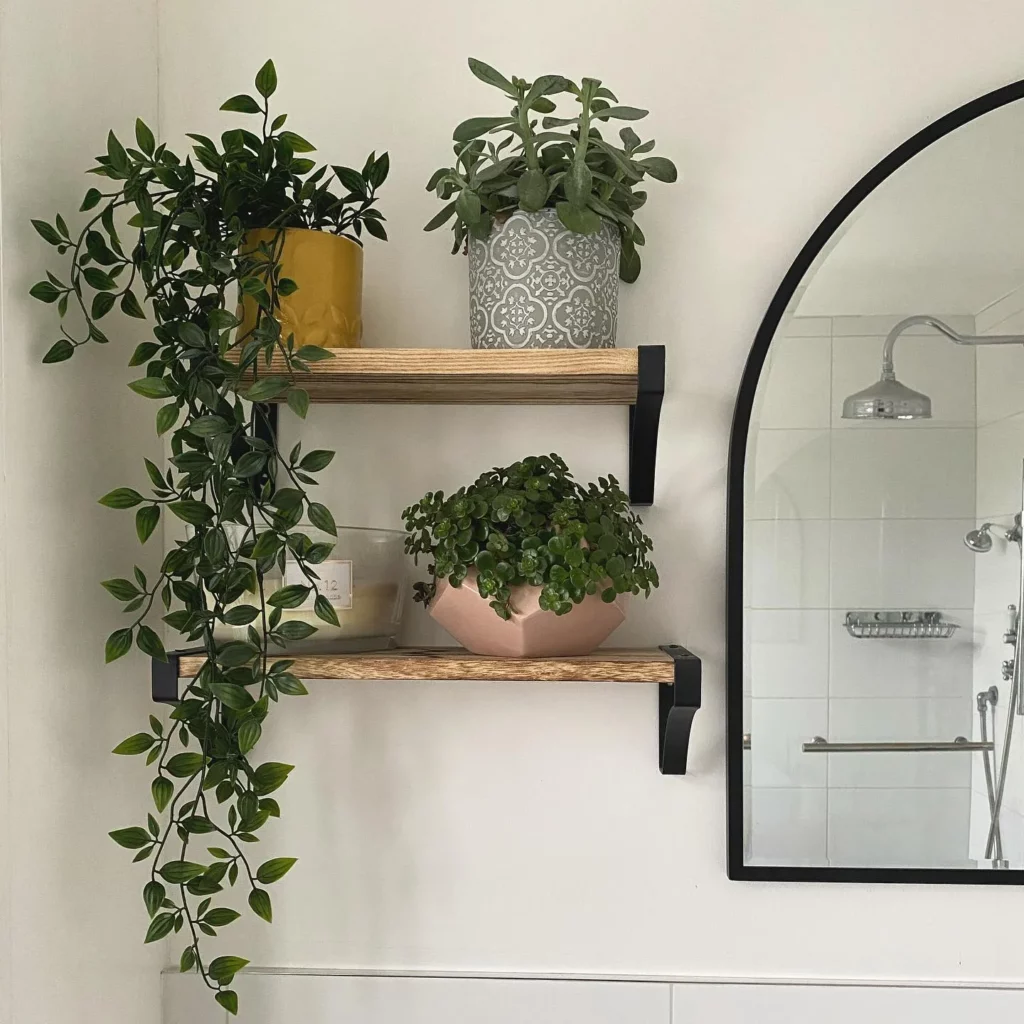 Adding plants to your bathroom can create a fresh and inviting atmosphere. Select plants that thrive in humid conditions and low light, such as ferns, pothos, and spider plants.
Place them on shelves, and countertops, or hang them from the ceiling for added interest.
Wall Art for a Creative Touch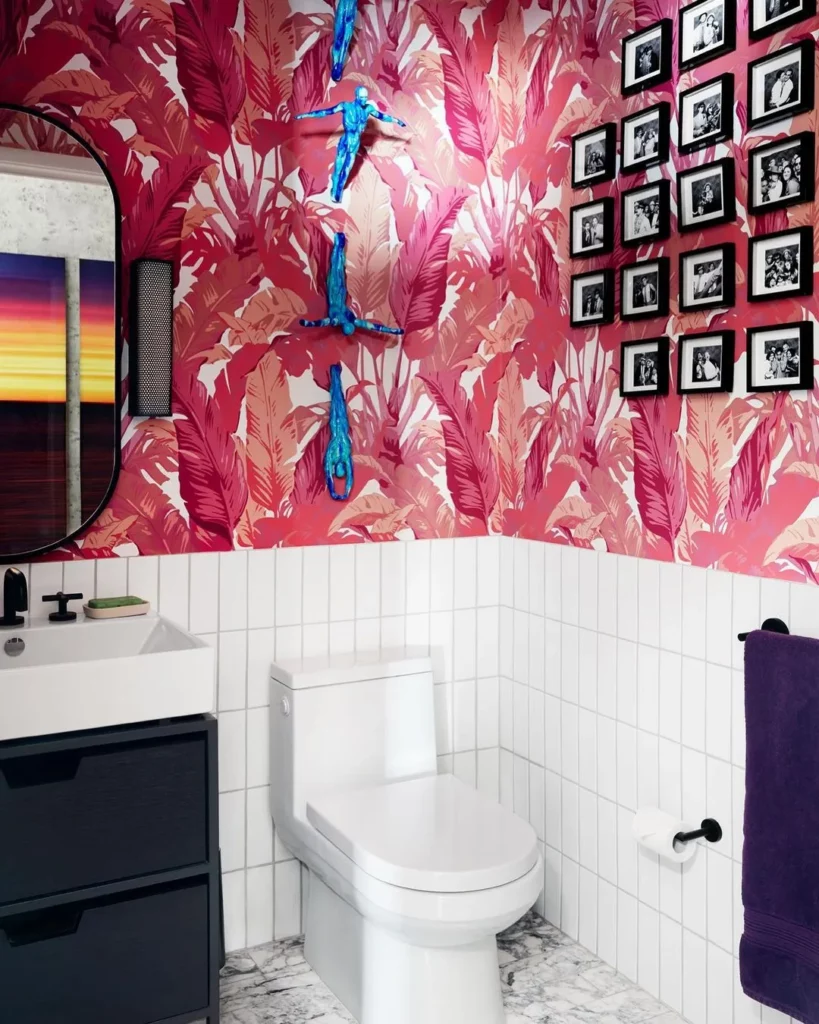 Experiment with unique wall treatments like board and batten, shiplap, or patterned tiles to give your bathroom a fresh and modern feel.
You can also consider creating a statement wall by using wallpaper, a bold paint color, or even a DIY mural.
Cute Guest Bathrooms for a Welcoming Space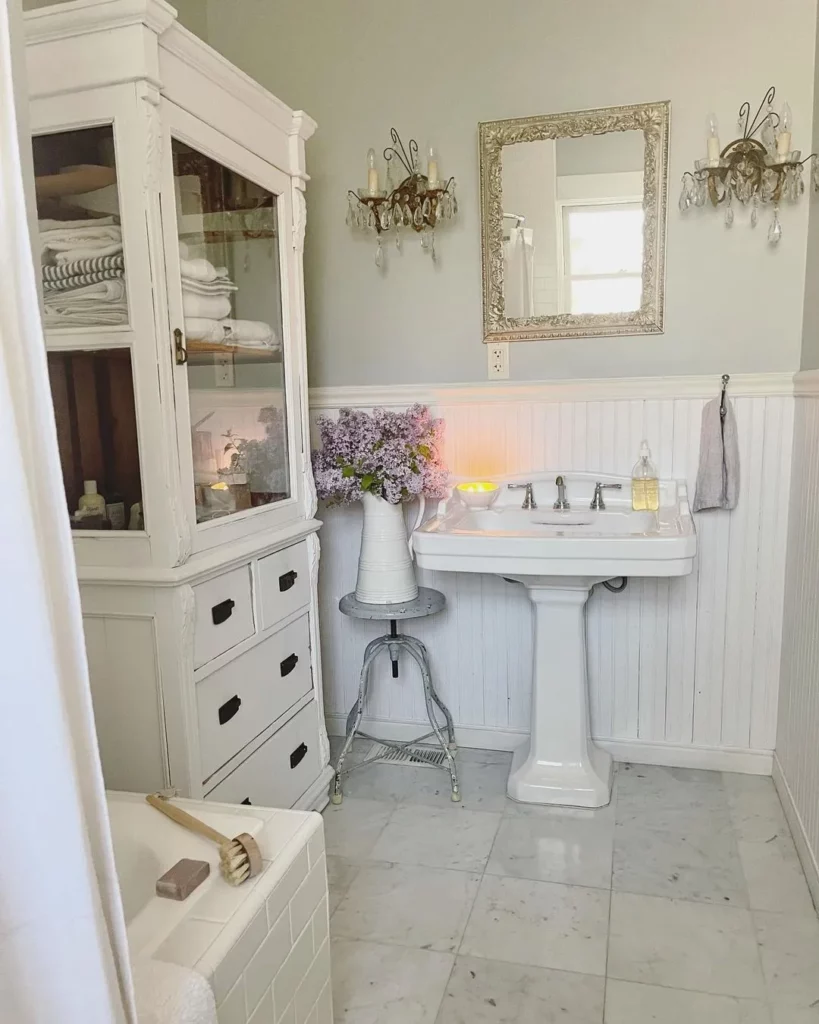 To create a comfortable and inviting guest bathroom, focus on providing essential amenities like fresh towels, toiletries, and extra toilet paper.
Add decorative touches such as a small bouquet of fresh flowers, a candle, or a small piece of artwork to make the space feel more personalized.
Art Deco for a Vintage Glam Look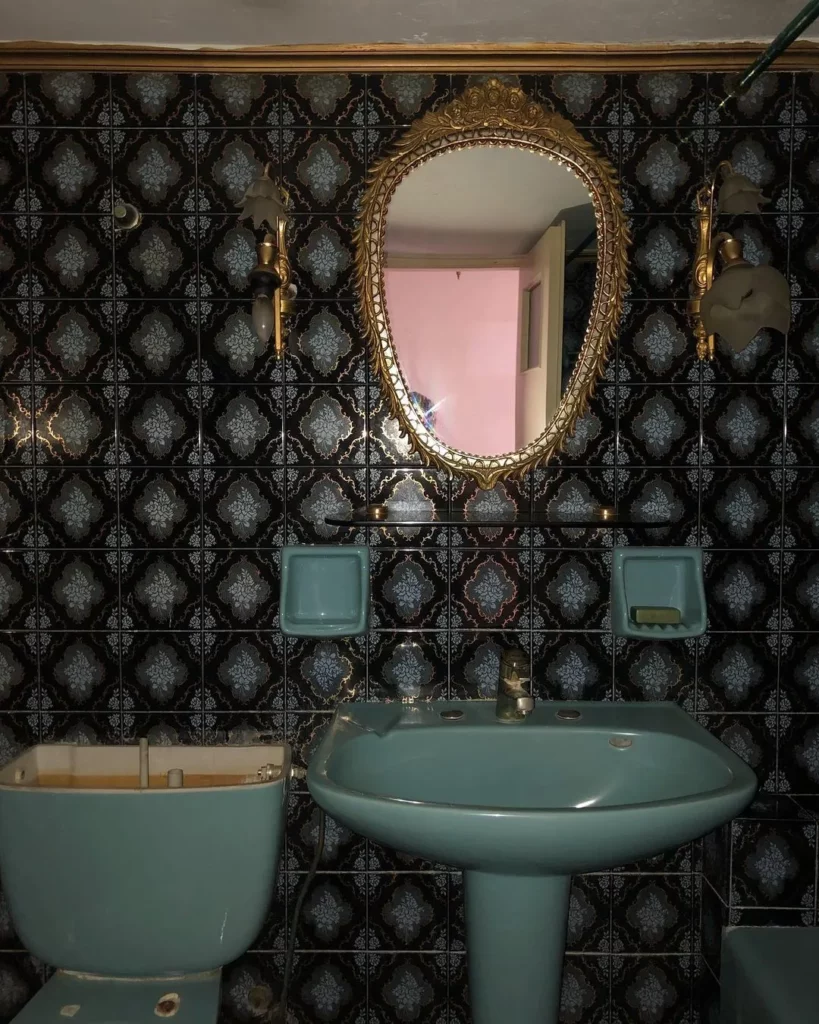 Incorporate art deco elements into your bathroom design by using geometric patterns, luxurious materials like marble, and bold metallic accents.
Opt for fixtures and hardware with clean lines and vintage-inspired details to complete the look.
Keep it Rustic for a Cozy Atmosphere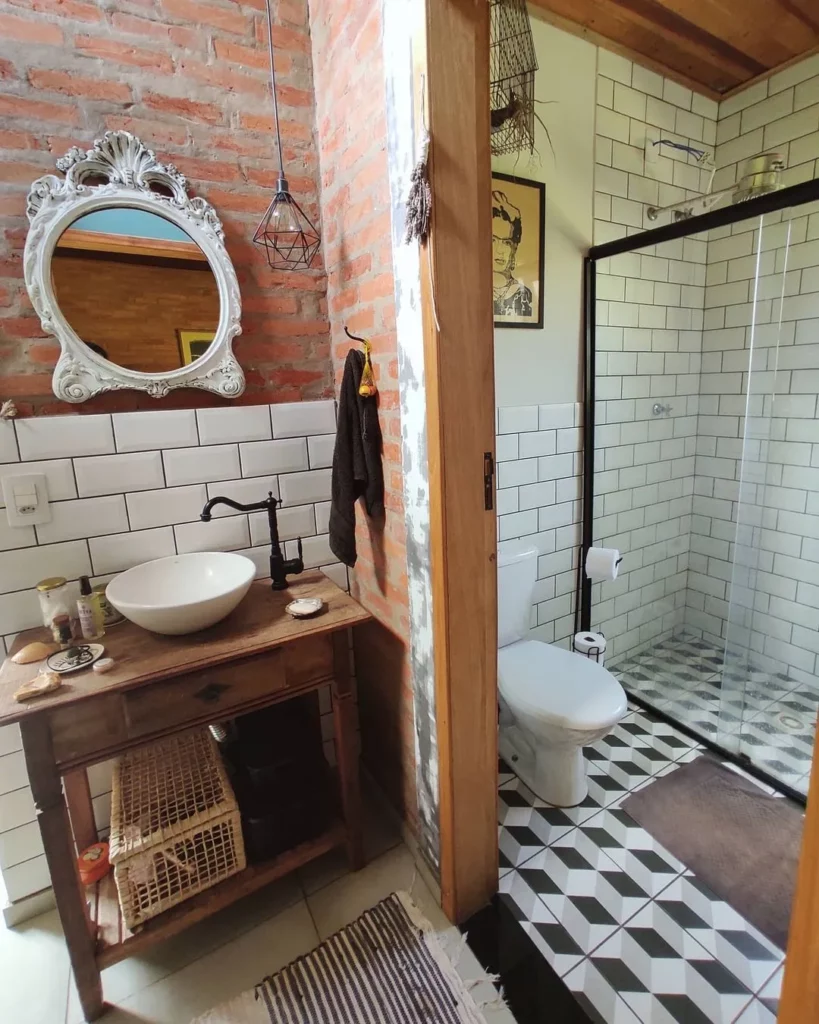 To create a rustic bathroom, use natural materials such as wood and stone. Experiment with reclaimed wood for shelves and vanities, and opt for hardware with an aged or patina look. Add cozy textiles like woven rugs and linens for a warm and inviting atmosphere.
Renters Can Decorate Too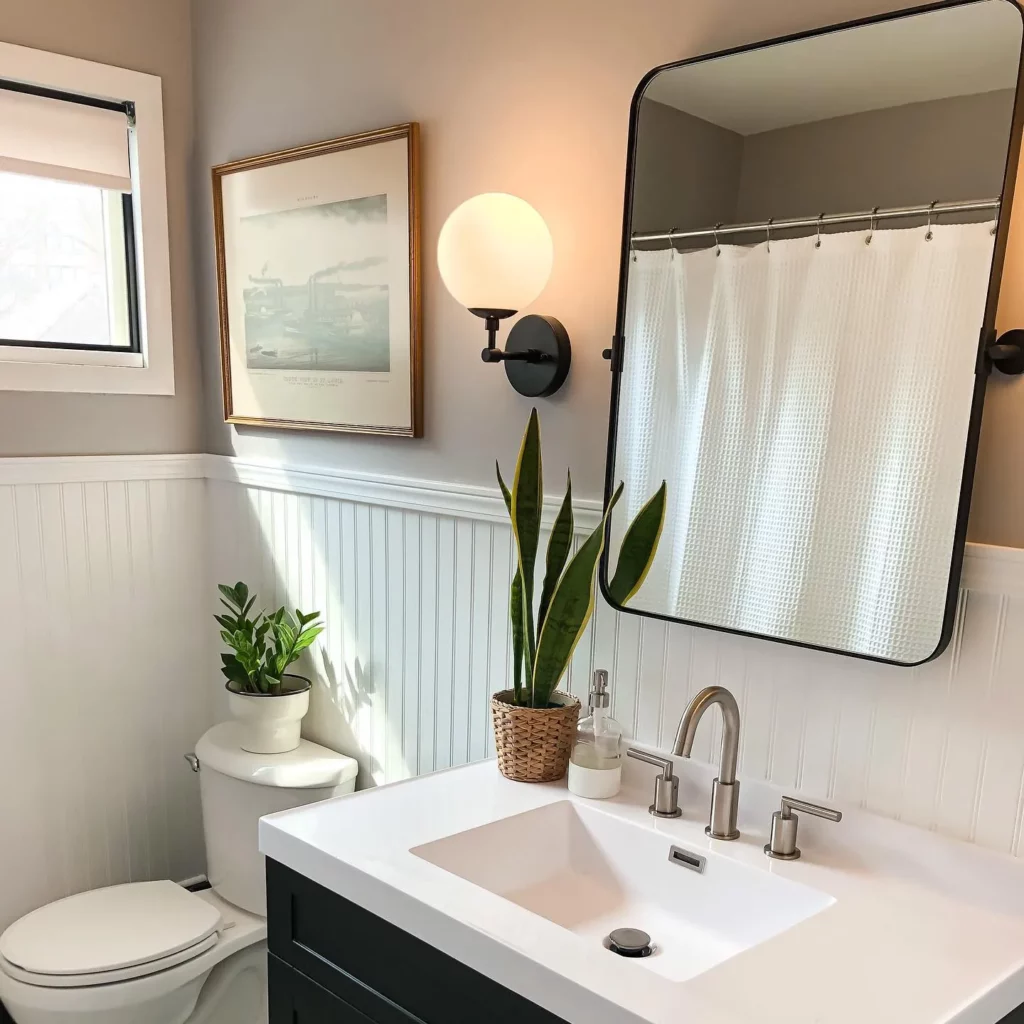 Renters can use temporary solutions like removable wallpaper, adhesive wall decals, and peel-and-stick tiles to personalize their bathrooms without causing permanent damage.
Additionally, replacing shower curtains, rugs, towels, and accessories can easily refresh the look of the space.
Add Wallpaper for a Stylish Look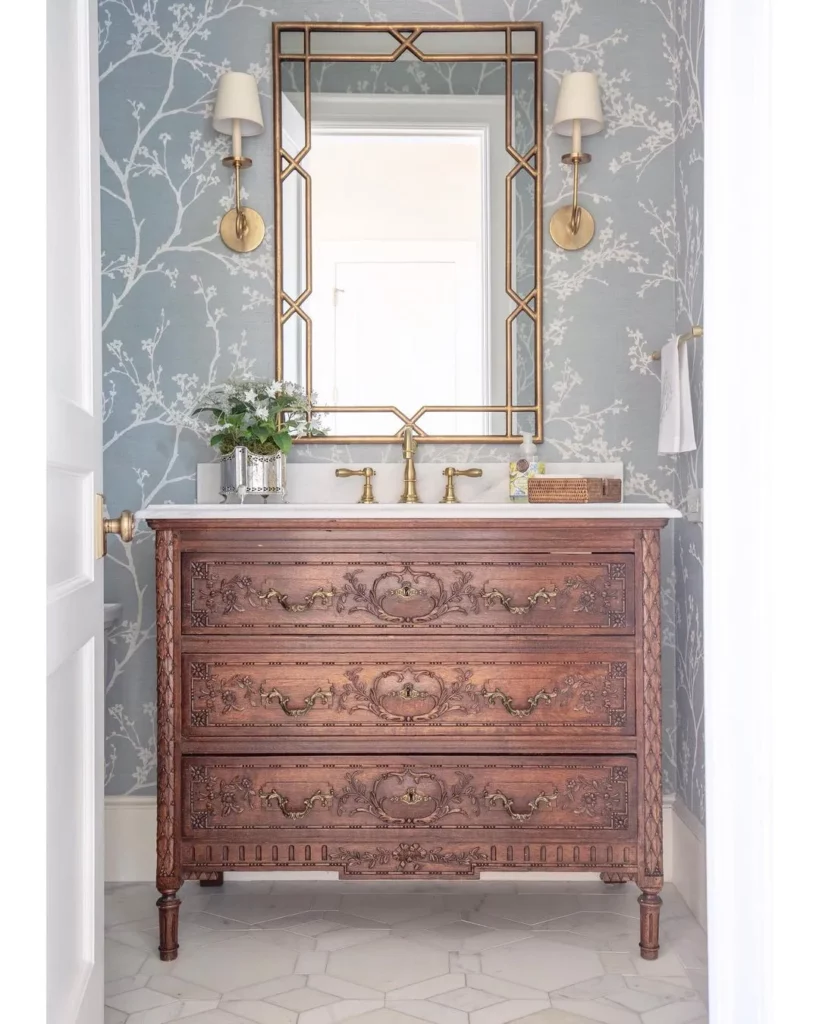 Wallpaper is a terrific way to add color, pattern, and texture to your bathroom. You can choose from a wide variety of styles, including floral, geometric, and textured designs. Consider using wallpaper on an accent wall or in a small powder room for maximum impact.
An Elegant Gray Looks Great in Any Bathroom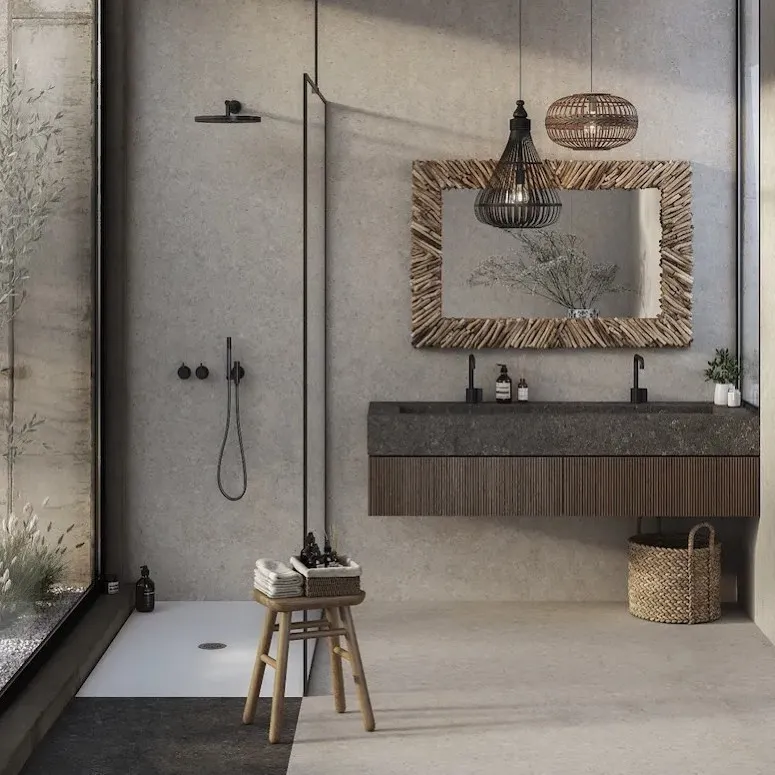 A gray color palette gives your bathroom a sophisticated and timeless appeal. You can mix different shades of gray, as well as introduce contrasting materials and textures.
Complete the look with metallic accents and statement lighting for a touch of elegance.
Live the Luxe Life with Gold Accents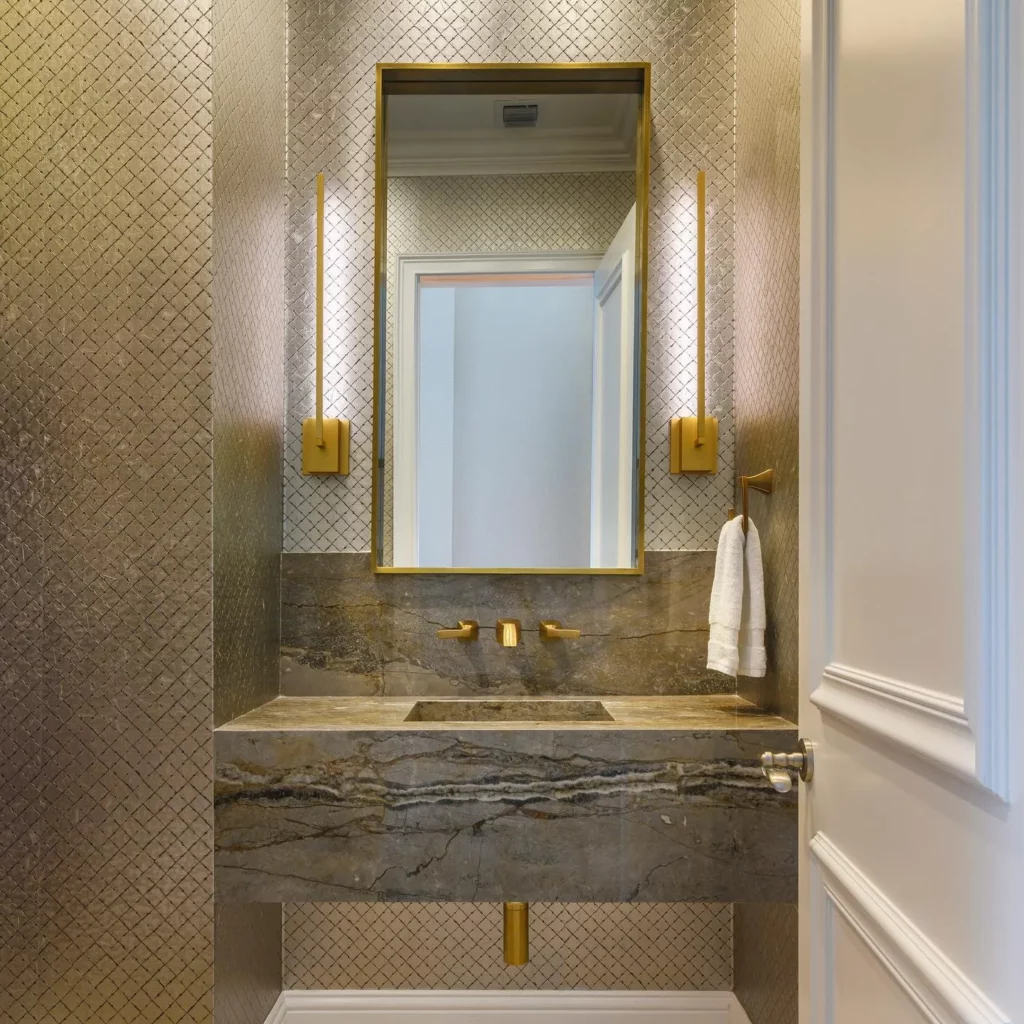 Gold fixtures and accents can effortlessly transform an ordinary bathroom into a luxurious space.
Consider using gold-toned hardware, faucets, mirrors, and lighting to create a glamorous and sophisticated atmosphere.
Adorable Home Bathroom Ideas for a Charming Space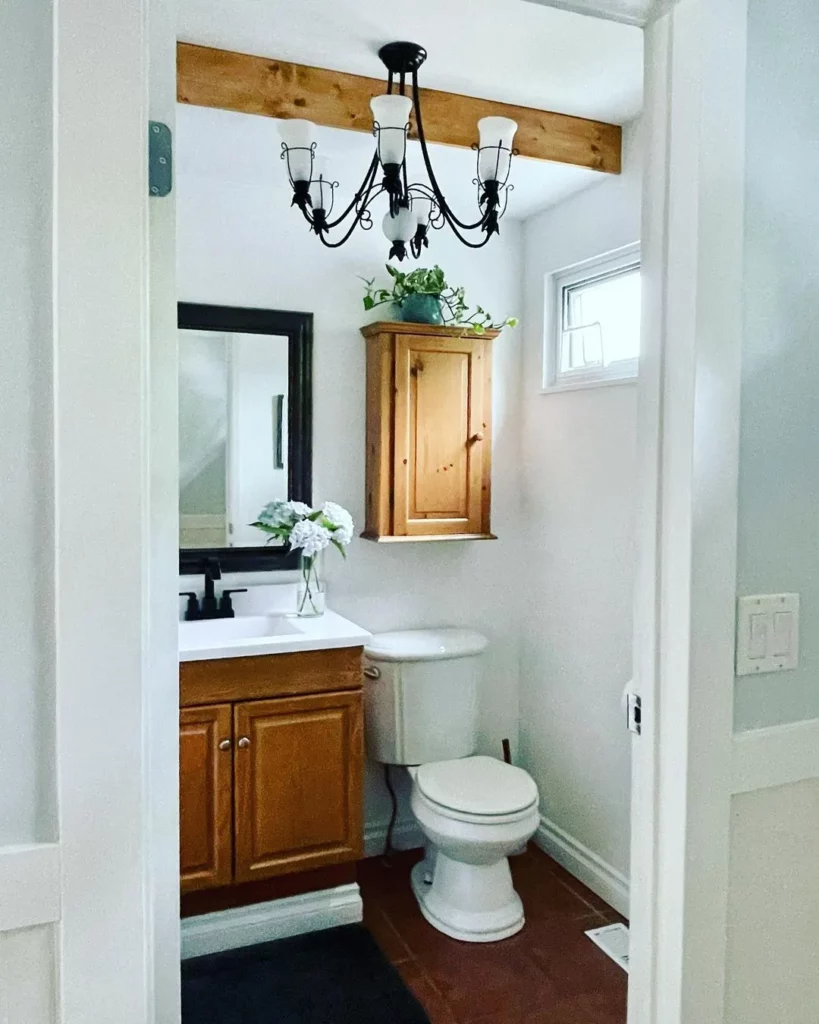 Create a charming home bathroom with personal touches like family photos, sentimental knick-knacks, and collections displayed on open shelving. Combine these elements with a soothing color palette and your favorite decorative accents to create a comforting space that reflects your personality.
Simple Ideas That Anyone Can Do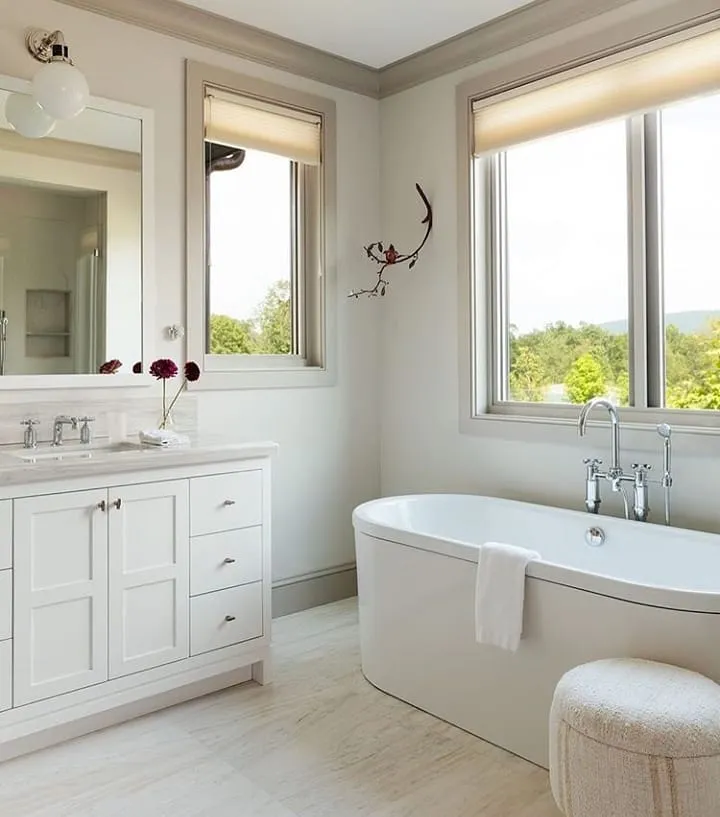 Decorate your bathroom with simple and timeless accents like a statement mirror, a stylish vanity, and a well-coordinated color palette.
A few carefully chosen pieces can create an impactful design without overwhelming the space.
Bathroom Layout Design Ideas for Functionality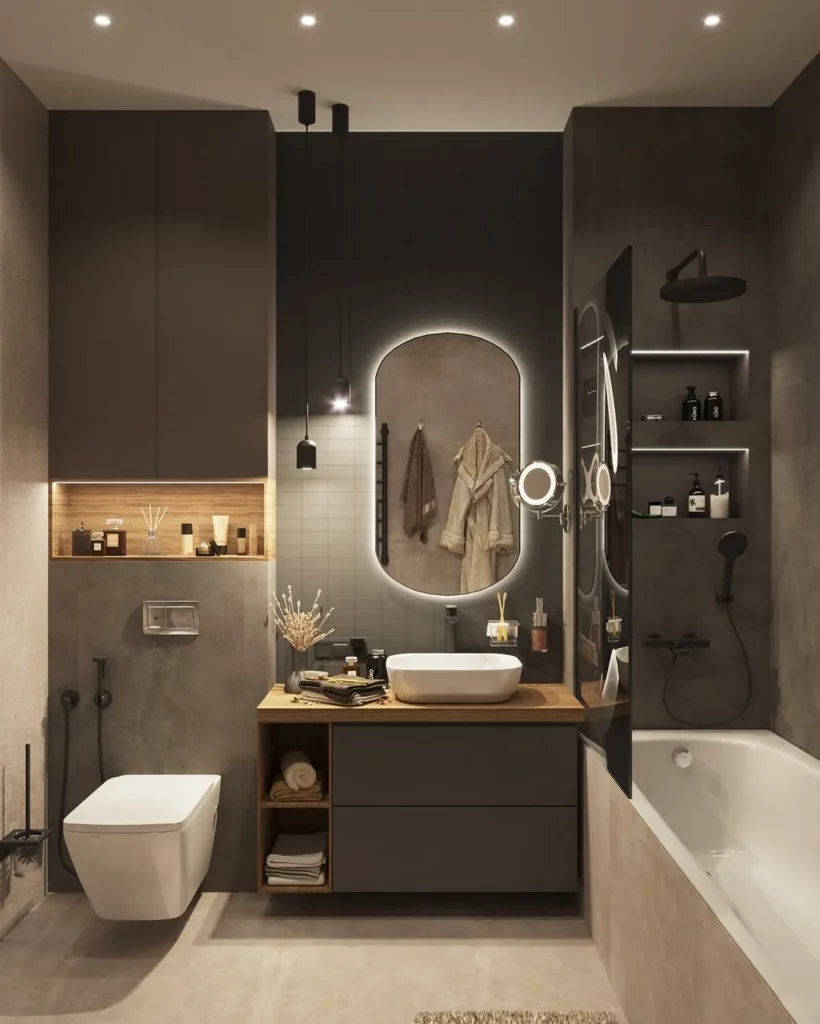 Planning a functional bathroom layout involves considering factors like storage needs, location of fixtures, and ease of movement. Think about what features are most important to you and try to incorporate them efficiently into your design while keeping the space uncluttered.
Minimalist Chic Bathroom Style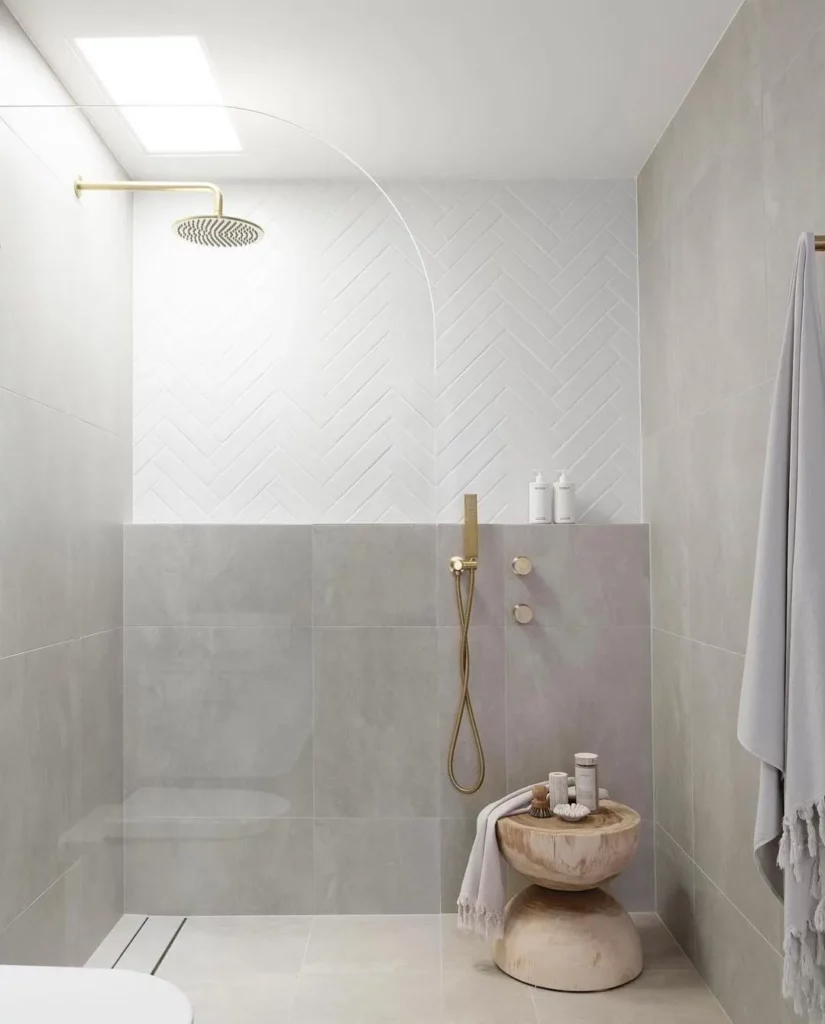 A minimalist bathroom features uncluttered surfaces, simple lines, and a neutral color palette. Utilize streamlined fixtures, wall-mounted storage, and clean-lined accessories to create a space that feels calm and orderly.
Bathroom Soffit Ideas for a Finished Look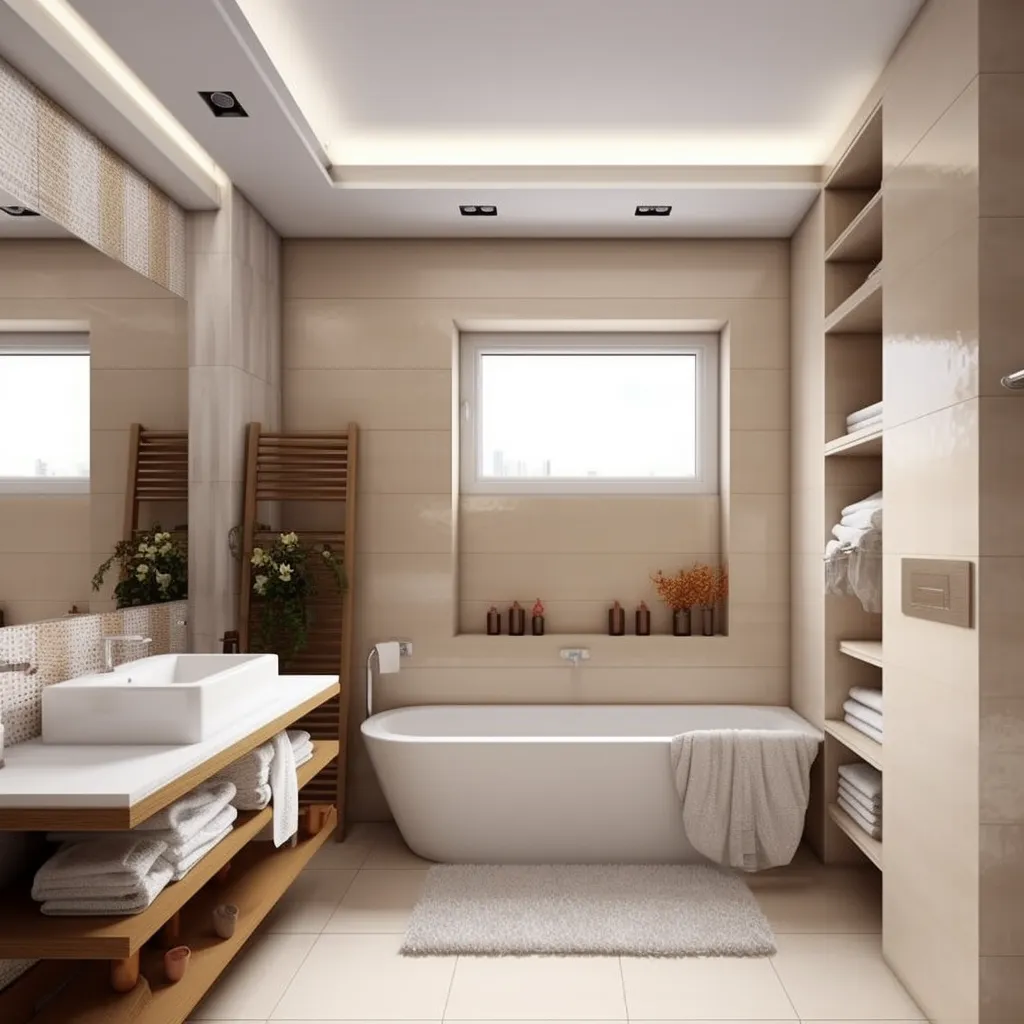 To conceal awkward spaces and create a polished appearance in your bathroom, consider adding soffit housing lighting or ventilation fixtures. Depending on your style, you can choose from traditional, modern, or rustic designs to match your current decor.
Comfy Bathroom Rugs Feel Great Underfoot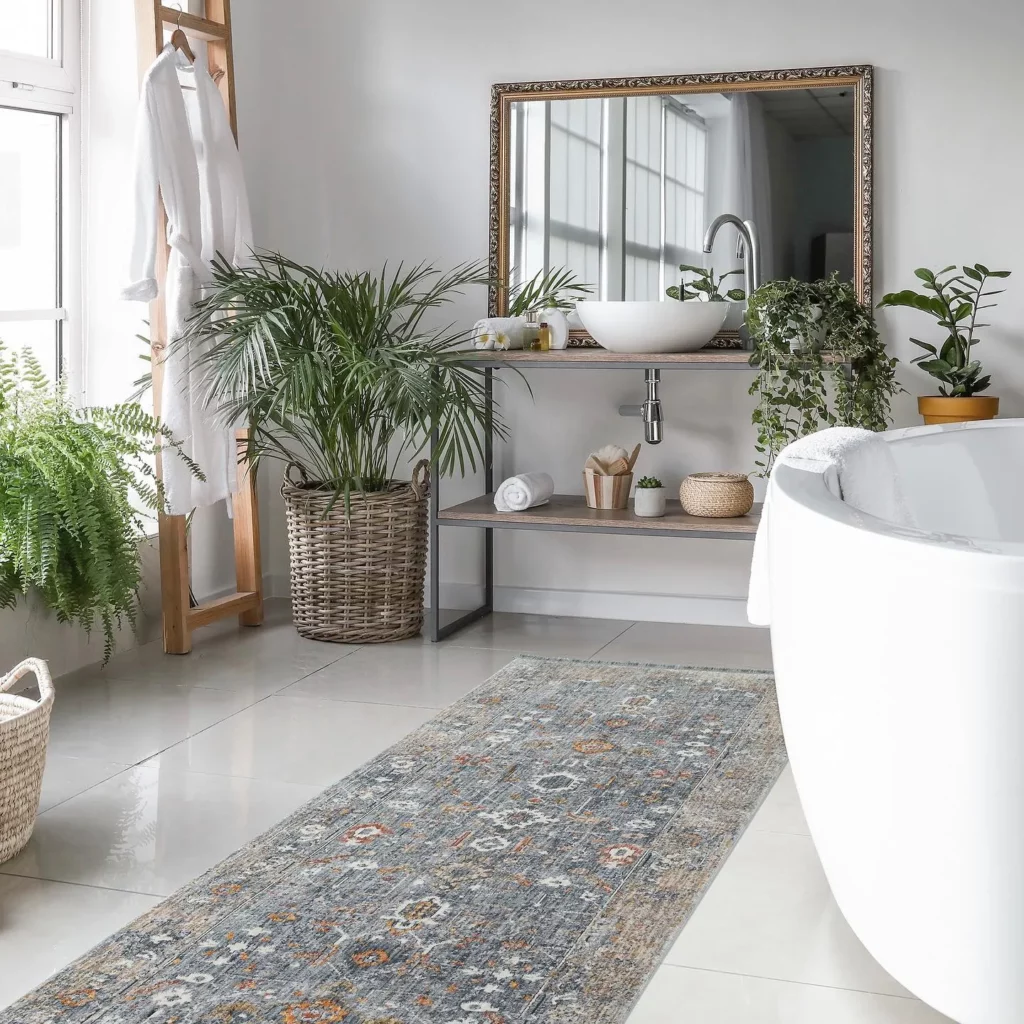 A cozy bathroom rug not only adds visual appeal to your space but also enhances comfort underfoot. Choose a rug that matches your decor style, whether it's fluffy and luxurious, woven and textured, or sleek and modern.
Embrace the Natural Look with Wood Accents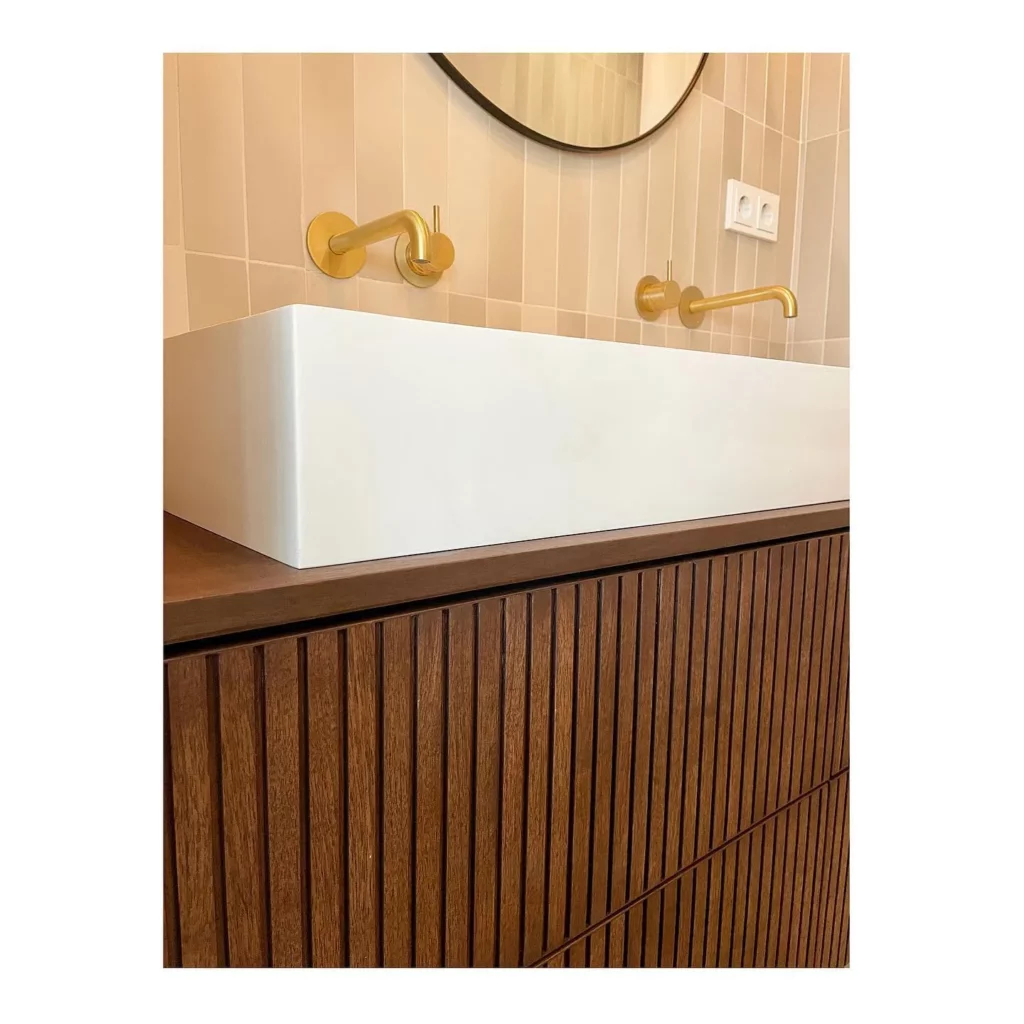 Adding wood elements to your bathroom can create a warm, inviting atmosphere. Consider incorporating wood accents such as a reclaimed wood vanity, wall shelves, or wooden decorative accents to achieve a natural look.
Timeless Tudor Bathroom Ideas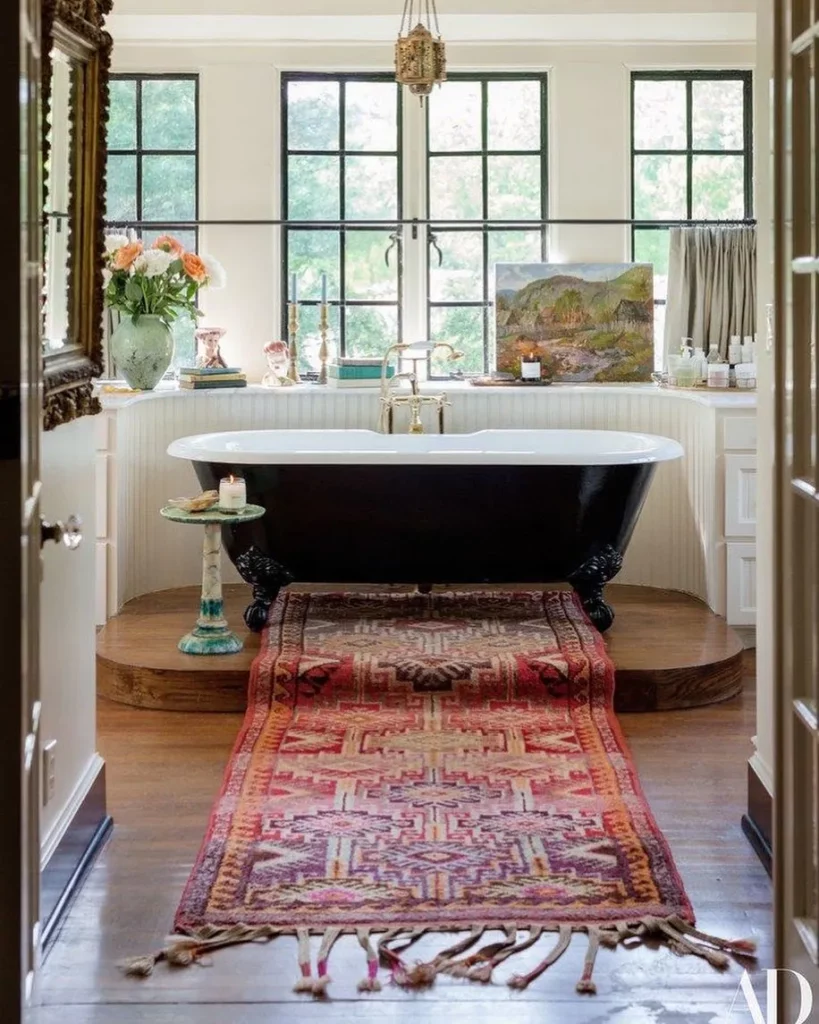 To create a timeless Tudor-inspired bathroom, opt for traditional and elegant design elements like wainscoting, pedestal sinks, and brass or oil-rubbed bronze fixtures. Incorporate earthy tones and antique-inspired lighting to complete the look.
Tropical Oasis Without Leaving Home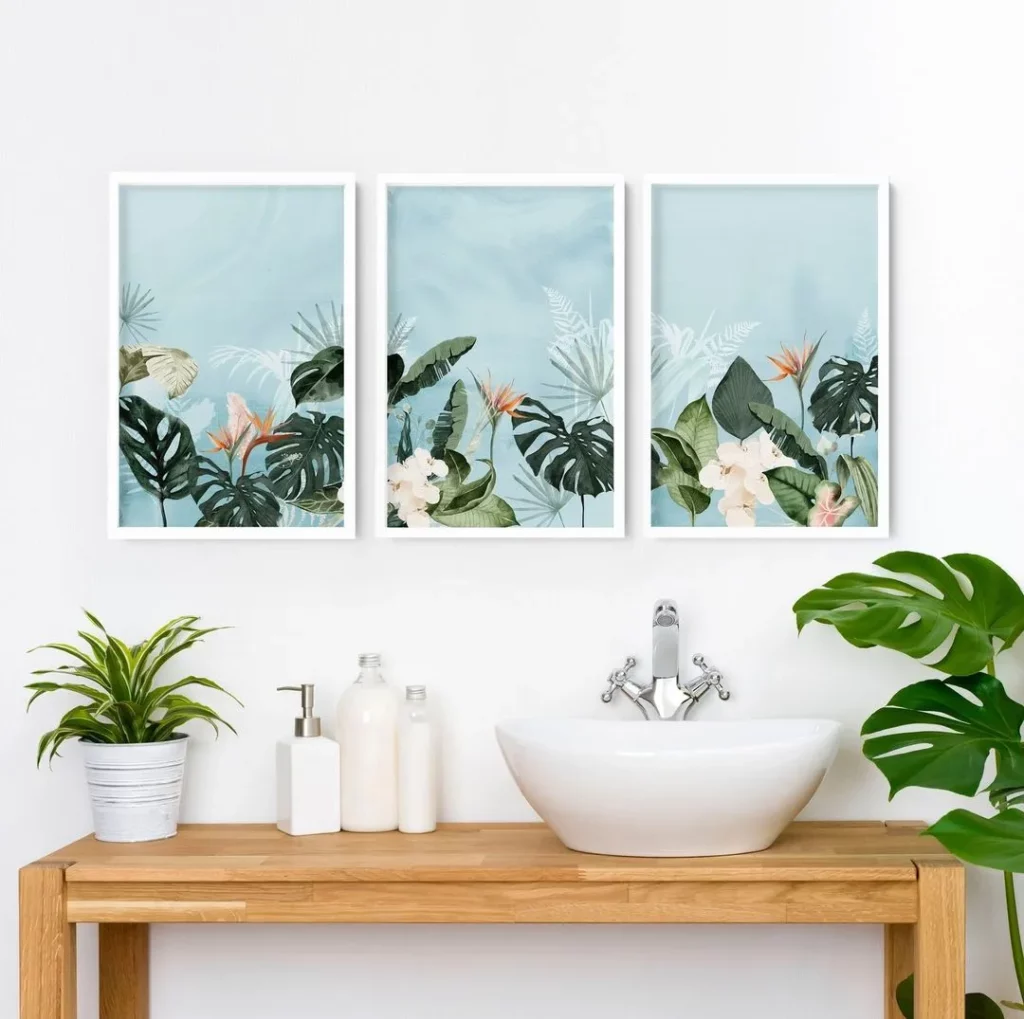 Transform your bathroom into a tropical oasis by using vibrant colors, lush greenery, and tropical-inspired accessories like bamboo towels or a palm leaf shower curtain. You can also enhance the atmosphere with scents like coconut, citrus, or beach-inspired candles.
Go Pastel for a Soft, Relaxing Space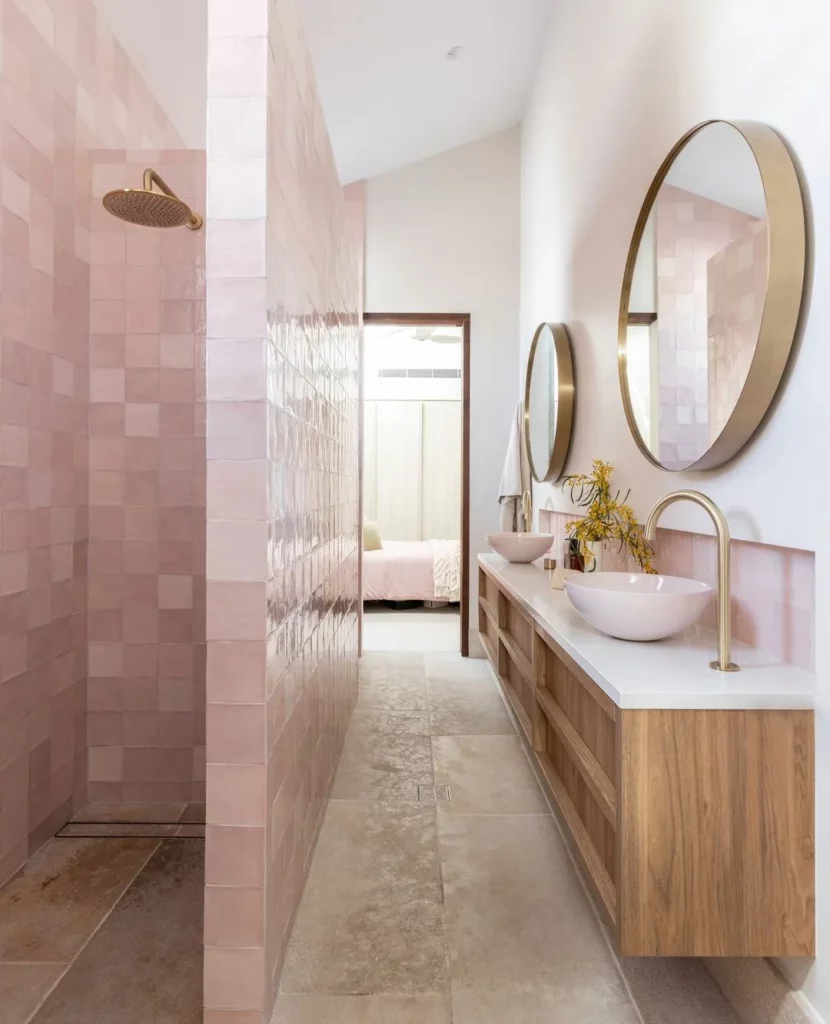 Pastel colors can provide a soothing and tranquil atmosphere in a bathroom. Choose a cohesive pastel color palette, incorporating soft shades in your walls, tiles, and accessories. Pair with white or neutral-colored fixtures to create a calming space.
Girly Bathroom Decorating Ideas for a Feminine Space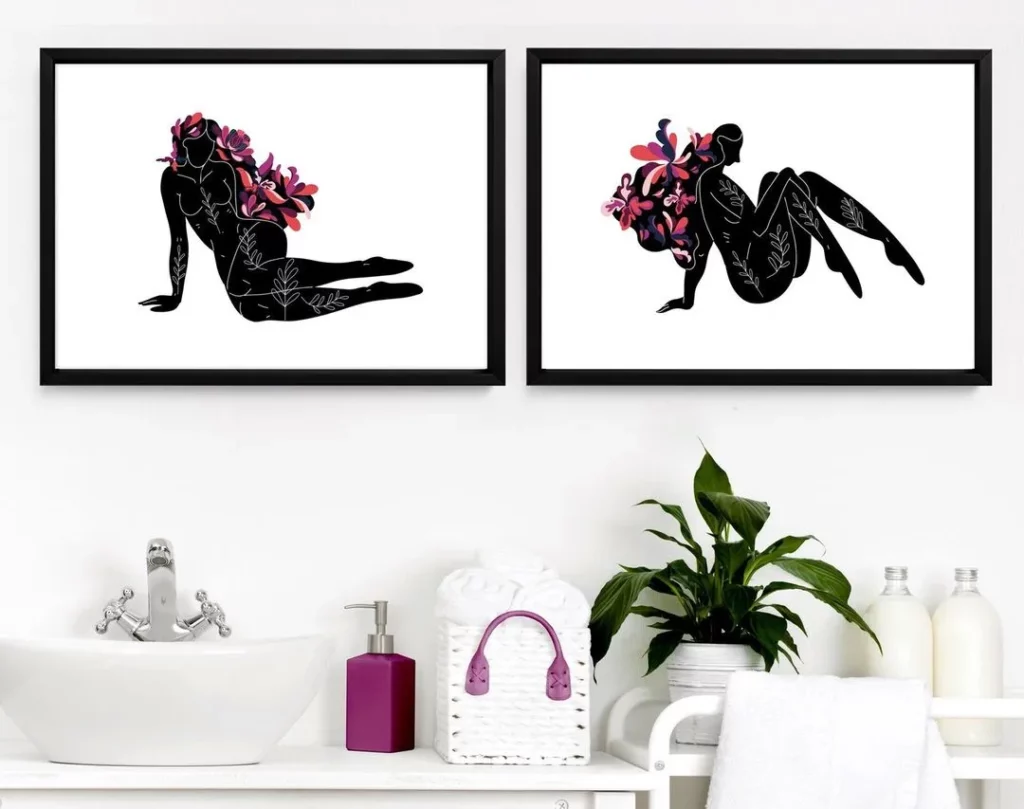 To create a feminine bathroom, experiment with soft colors, floral patterns, and delicate decors like lace or ruffled textiles. Add opulent touches like crystal chandeliers, ornate mirrors, or a vintage-style vanity.
ADA Bathroom Design Ideas for Accessibility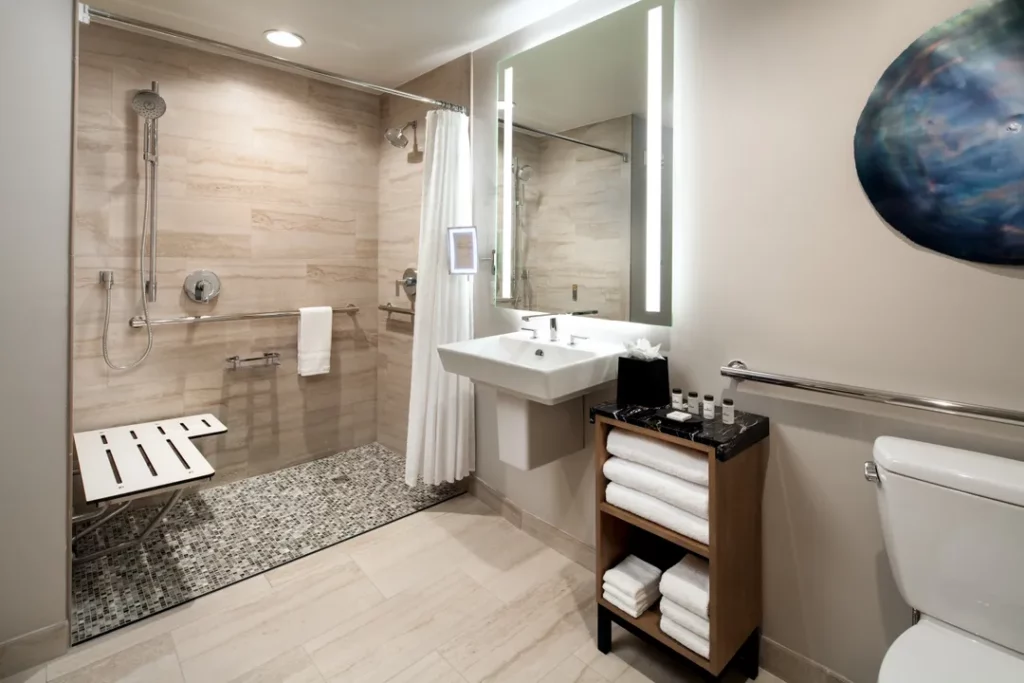 To create an ADA-compliant bathroom, focus on providing adequate space, grab bars, and accessible fixtures. Opt for a curbless shower, and a wall-mounted or pedestal sink, and ensure all doorways and clearances are compliant with ADA guidelines.
In conclusion, there are countless DIY bathroom ideas to fit any style, budget, and space. Consider incorporating some of these creative solutions and inspiration to transform your bathroom into the perfect sanctuary for relaxation and rejuvenation.