Are you looking to take on a home reno and trying to figure out a way to make the most of a small bathroom? Installing a shower stall is a great way to save space and free up room for other fixtures.
Below we'll share with you some inspiration for stylish shower stalls that would help maximize the available space in a small bathroom, a few tips to help you create a luxurious yet practical shower area, and answer a few common questions homeowners have about this type of renovation.
Shower Stall Ideas
Here's a list of 27 shower stall ideas for small bathrooms that you may want to consider for your renovation project.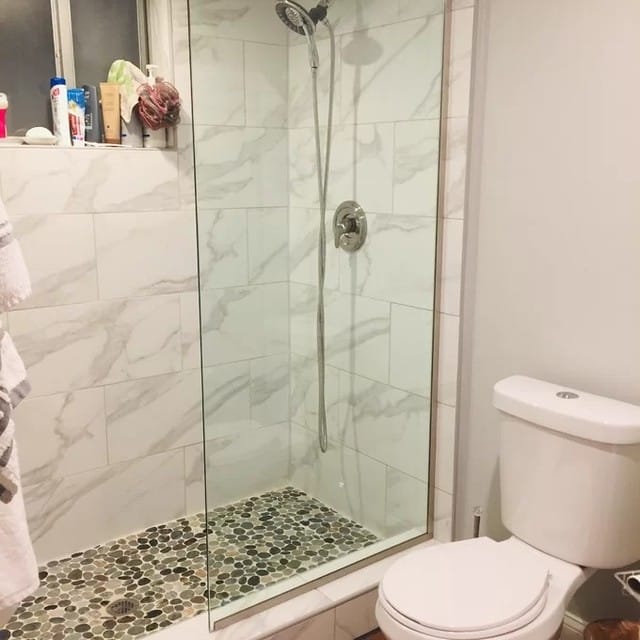 Tips for Achieving a High-End Look
Here are some tips that you can use to make your shower stall look more luxurious and high-end.
Mix and match materials: Use a combination of materials such as natural stone, glass, and tile to add dimension and texture to your shower area.
Invest in a glass enclosure: Frameless glass enclosures create a more contemporary look and can be easily customized to fit any size of the bathroom.
Upgrade your shower head: Get a rainfall or dual shower head that will not only add elegance to your bathroom but also increase functionality.
Add a bench: If you have enough room for them, incorporating built-in bench seating can make your shower stall more comfortable. It also makes shaving, exfoliating, and other personal grooming tasks easier.
Add a luxurious touch with accessories: Matching towel bars and shelves will give your shower area a coordinated and sophisticated look.
Materials
When deciding on a design, you'll find that there are a variety of materials available for shower stalls. Depending on what you're looking for, there are many materials to choose from to match your style and needs.
Common materials for shower stalls include tile, PVC, acrylic, and fiberglass. Each material has its own set of pros and cons, so it's important to explore all the options to decide which one is the best for you and your home.
For example, tile is a popular choice for shower stalls because of its versatility and elegant look. It is also highly durable and waterproof. On the other hand, PVC is one of the most affordable shower stall materials, but it is not as reliable and long-lasting as some of the other options.
No matter what material you choose, make sure to research properly and pick the one that fits your budget and needs best.
Frequently Asked Questions
What are the different types of shower stalls?
The three main types of shower stall designs are corner shower stalls, walk-in shower stalls, and glass-front shower stalls. Corner shower stalls are great for saving space, and walk-in shower stalls offer an open and airy feel. Glass-front shower stalls are perfect for creating a spa-like atmosphere with some privacy, and all three types come in both prefabricated and custom-built versions.
Should I try to do the renovation project myself?
Although it is possible to install your shower stall, it is recommended to talk to professionals first to ensure everything is done safely and correctly. Installing a shower stall needs to be done with precision and care. While the obvious savings is appealing, it's best to leave this type of work to professionals who can ensure the job correctly to prevent leaks in the subfloor, walls, and ceiling. Additionally, you'll want to ensure all components perform optimally and last as long as possible.