Are you looking for an inexpensive shower head that will play the perfect part in your morning and night-time clean bathing routine?
We've done the research and are here to review the top brands offering affordable shower heads: MOEN, Glacier Bay, Delta, Pfister, and Waterpik – all of which are under $30.
We will detail each shower heads' performance, key features, and benefits to give you the full picture of what's best on the market.
No matter if your budget is tight or you simply want to upgrade your bathroom, you'll find the perfect one based on our review.
Time to get clean!
Shower Heads Compared
Here is a table that summarizes the key differences in features of the shower heads we reviewed:
| Name | Price | Flow Rate | Diameter | Color | Spray Patterns |
| --- | --- | --- | --- | --- | --- |
| Glacier Bay (8462000HC) Fixed Shower Head | $12.48 | 1.8 | 3.45 | Chrome | Full,Jet,Massage |
| Delta (75301) Fixed Shower Head | $19.98 | 1.75 | 3.63 | Chrome | Full,Massage |
| Glacier Bay (8467000HC) Handheld Shower Head | $21.98 | 1.8 | 3.25 | White | Full,Jet |
| Pfister (015-WS-2TD2C) Fixed Shower Head | $21.98 | 1.8 | 5.66 | Polished Chrome | Full,Massage,Mist,Rain,Vigorous |
| Waterpik (TAV-529E) Fixed Shower Head | $23.98 | 1.8 | 3.75 | Brushed Nickel | Full,Massage,Mist,Soft |
| Glacier Bay (HD58302-0504) Dual Shower Head | $26.99 | 1.8 | 5.51 | Brushed Nickel | Adjustable |
| MOEN (20001) Fixed Shower Head | $27.88 | 1.75 | 3.75 | Chrome | Full,Massage,Wide |
| Waterpik (YAT-933E) Fixed Shower Head | $29.98 | 1.8 | 4.5 | Chrome | Full, Jet, Massage, Mist, Soft, Vigorous |
| Delta (75554C) Fixed Shower Head | $29.98 | 1.75 | 4.93 | Chrome | Full,Massage |
Best Cheap Shower Heads in 2023
Here's our list of some of the finest yet affordable shower heads on the market.
Our Expert Rating
98 / 100
If there is one brand on this list that needs no introduction, then it's MOEN. Its 20001 shower head provides a great blend of price, performance, and features, making it a great value piece of hardware. In addition, the timeless aesthetics and chrome finish make it a great option for those looking to buy an affordable shower head without compromising on quality and performance.
Priced at $27.88 and carrying over 120 reviews, MOEN'S 20001 shower head is an easy, budget-friendly pick. It features three spray settings – full, massage, and wide – so you, or anyone else in your home, can choose whatever is most comfortable for them.
This shower head is equipped with a 3.75″ face diameter – found in a few other models we reviewed – and is sized to fit those who may have tighter spaces. Plus, it comes with a lifetime limited warranty just in case you run into any issues with the unit.
If there is one aspect of this shower head that you may find lacking, it is the water pressure. Some find it a little weak, which could have been corrected with a higher flow rate or adjustable water pressure feature.
Overall, customers have praised this product. They love how it performs daily and how good it looks in their bathrooms.
What customers are saying: Many customers enjoy the affordable price and pleasing water pressure provided by this shower head.
Pros
Reputable brand
Lifetime limited warranty
Fits in tight spaces
Glacier Bay (HD58302-0504)
Our Expert Rating
97 / 100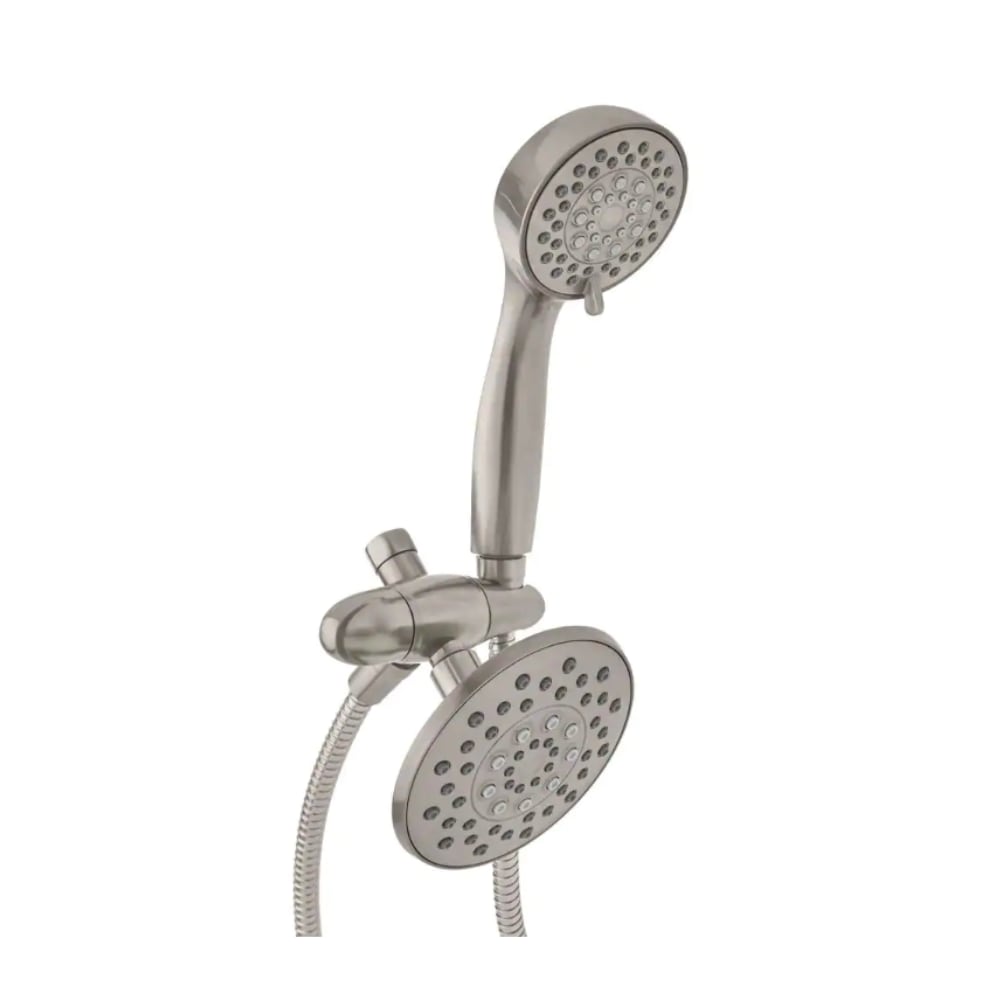 Glacier Bay's 58302-0504 is a great dual shower head with great performance and versatility. Its adjustable spray patterns and larger shower face diameter offer great coverage and a comfortable showering experience. In addition, the 60-inch hose and 5-inch handheld shower handle will give you excellent maneuverability, even when cleaning tight spaces.
We always love dual shower heads as they provide you with both a powerful and efficient showering experience. Glacier Bay's 58302-0504 dual shower head is here to provide that feeling at just $26.99.
The durability factor and the fact that it comes with a limited lifetime warranty is a plus, and the six adjustable spray modes give you lots of control over your showering experience. In addition, the flow rate of 1.8 GPM, which is allowed per California law, will save money on your monthly water bill.
The larger shower head diameter of 5.51 inches provides plenty of coverage that makes it enjoyable to rinse your front or back. The hand shower handle also allows for easy maneuverability in tight spaces.
Speaking of the separate handheld shower head, it does have a rather short handle of 5 inches, which may be a bit too short for some users' liking.
One potential downside to the dual head design is that you need to pick one shower head over the other, as running water through both heads will cause a substantial decrease in water flow, which makes it difficult to get sufficiently clean.
But, considering that most customers have been satisfied with this shower head, we believe this is a great buy for anyone looking for a dual shower head with a great set of features at a wallet-friendly price.
Pros
6 spray patterns
Dual design makes it easy to completely clean your body
Compliant with California law
Cons
Weak water pressure if both shower heads are in use
Short handheld shower handle
Our Expert Rating
94 / 100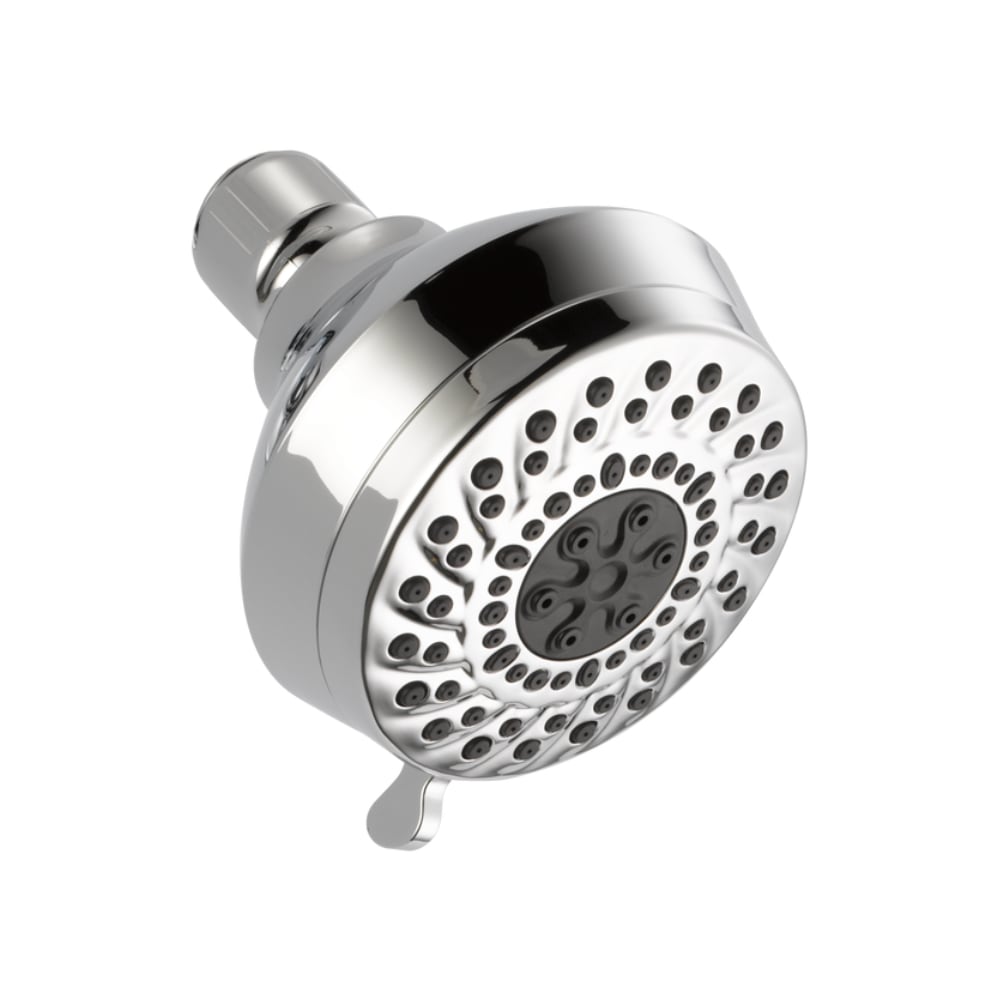 Backed by a 68-year-old name in the industry, Delta's 75301 shower head provides dependability and an enjoyable showering experience with its three adjustable spray settings and limited lifetime warranty. With its affordable price point, this shower head will also provide great value for your money.
Founded in 1954, Delta is one of the most well-known in the kitchen and bath industry. With its 75301 shower head, they offer powerful performance at an extremely attractive price of $19.98.
The unit features three spray settings – full, massage, and shampoo rinsing spray – contributing to its popularity. The flow rate of 1.75 GPM will help keep your water consumption in check and give you a great shower with a low monthly bill.
The 3.63-inch shower head face diameter is just enough to provide ample coverage and provide users with an enjoyable showering experience. Backed by a lifetime limited warranty, you can purchase with confidence as you know that it is backed by a company that stands behind its products.
We did find that some customers have had an issue where the unit was not performing to its expectations, but it appears that this is mostly due to improper installation and not a fault with the product itself.
Overall, an affordable, high-quality shower head with great customer reviews, with the most common feedback being easy installation. It is a great choice if you are looking for a basic shower head that provides an enjoyable showering experience with minimal fuss.
Pros
Low water consumption
Lifetime limited warranty
Cons
Compared to others, the number of spray settings may be too limiting.
Our Expert Rating
92 / 100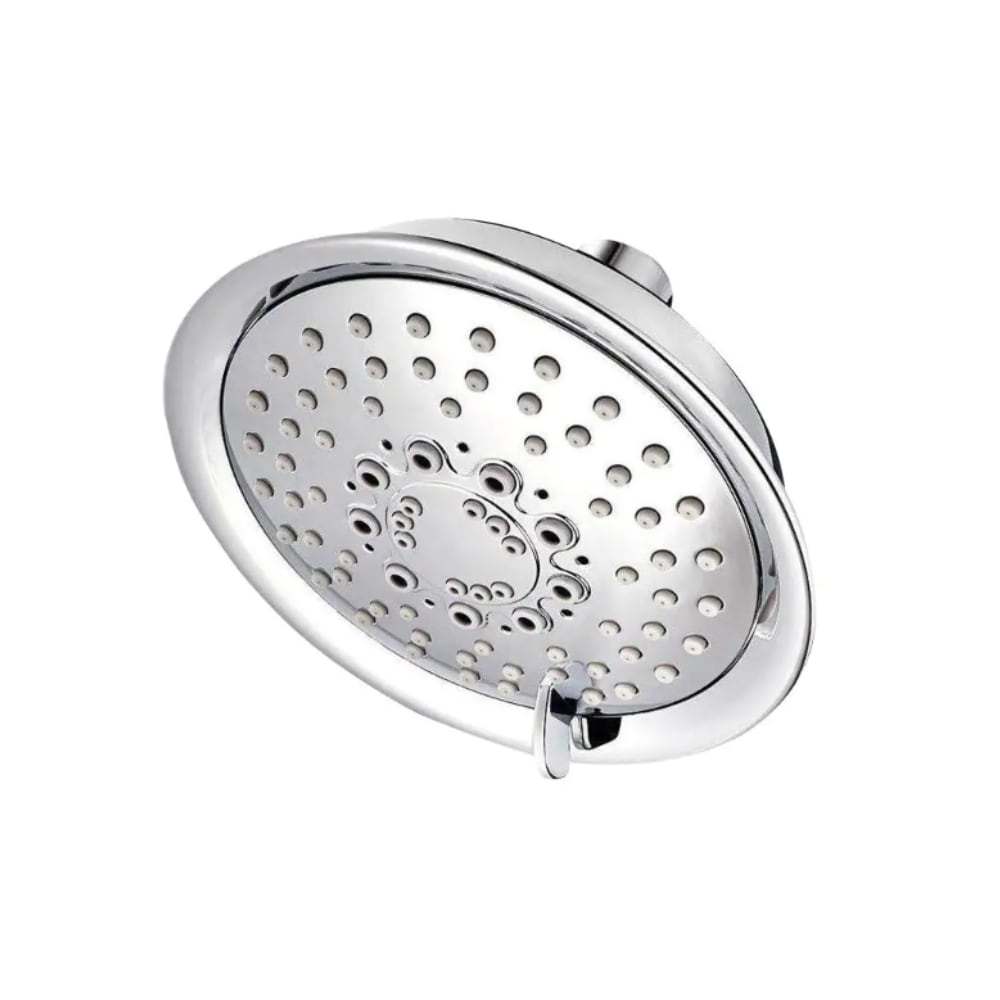 The Pfister 015-WS-2TD2C is a great value buy, providing five adjustable spray settings and a large 5.66-inch face diameter. This is a top choice if you're looking for a solid, low-priced shower head that comes backed by the trusted Pfister name.
Pfister's 015-WS-2TD2C shower head is a great choice if you're looking for a reasonably priced upgrade and provides excellent performance. At just $21.98, it will be hard to find a better deal on the market right now.
The shower head is outfitted with a large 5.66-inch diameter face (second only to the Glacier Bay 56081-X401), providing ample coverage, while the 1.8 GPM flow rate will help keep your water bill low. With a simple turn of the dial on the face, you'll have five distinct spray patterns ranging from full to gentle rain, giving you complete control over your showering experience.
The standard 1/2″ NPT connection ensures that it will be compatible with your shower arm.
Like Delta, Pfister has been a staple in the plumbing industry for over 100 years (founded in 1910) and is a trusted brand.
Overall, the Pfister 015-WS-2TD2C is a great option, offering excellent value and performance at a low price. In addition, it has received near-perfect customer ratings and feedback, making it one of the best buys on the market right now.
Pros
Low price point
Backed by the Pforever Warranty
Five adjustable spray modes
Cons
Large face may be tricky to install in cramped or tight shower stalls
Our Expert Rating
91 / 100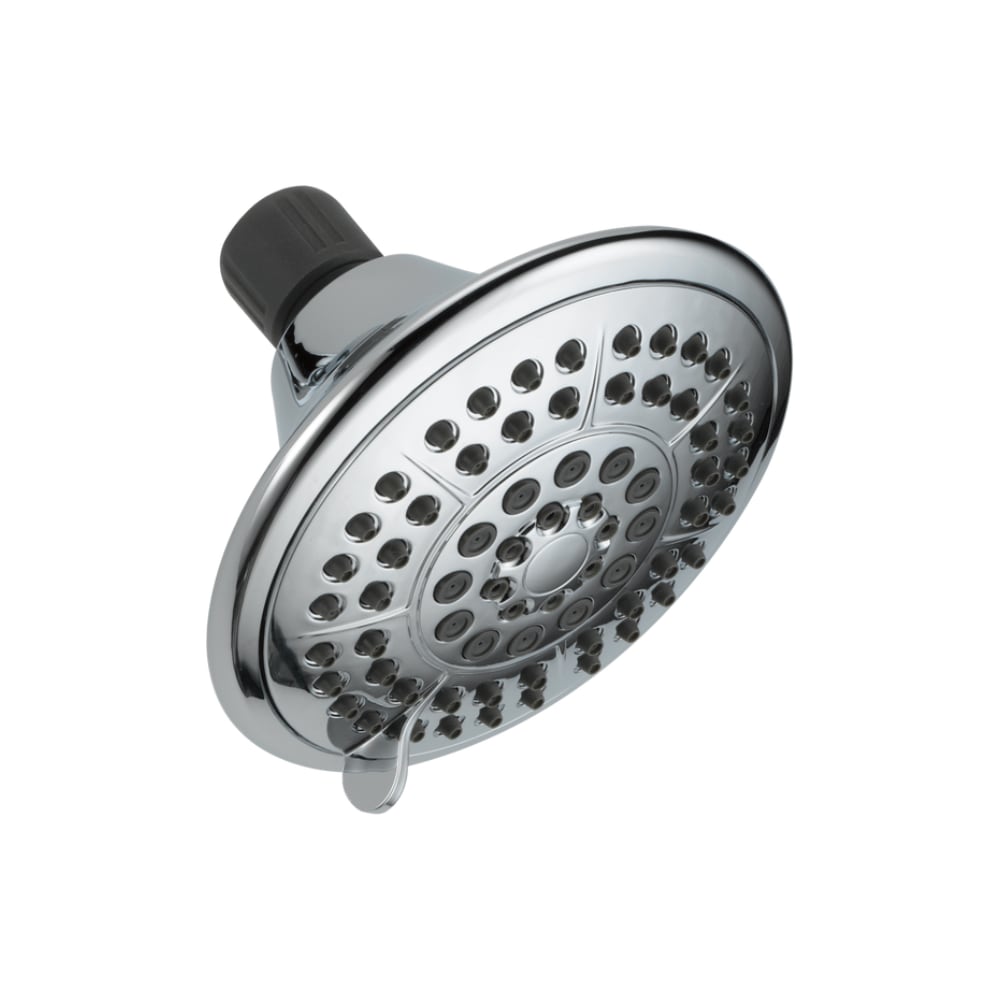 The pause feature is a welcome addition to your grooming routine if you like to shave in the shower. Despite the higher price tag than others on the list, the 75554C still provides exceptional value when you factor in the adjustable flow rate, five spray settings, and the lifetime limited warranty.
Have you ever been in the shower and wanted to stop the water flow so you can easily shave or do another bathroom task? Delta has thought of that and added the Pause feature to their 75554C five-spray shower head.
Rather than turning off and on the water and getting shocked with extremely hot or cold water, with the pause feature, you can pause the water flow down to a trickle and then resume when ready.
Right at the top of our limit for the price, the Delta 75554C comes in at $29.98. You get five spraying patterns, a 4.93-inch diameter face with a 1.75 GPM flow rate, and a lifetime limited warranty.
Customers are a bit critical of this shower head, but most are due to the ball joint and how it attaches to the shower arm. The movement is fairly limited, possibly a dealbreaker for some.
The Delta 75554C is a good choice for someone looking for a shower head with an adjustable flow rate and/or the Pause feature. It is backed by a lifetime warranty, and despite some negative reviews, it is still a good buy at this price point.
Pros
Pause feature
Lifetime limited warranty
Five adjustable spray modes
Cons
Limited ball joint movement
Our Expert Rating
90 / 100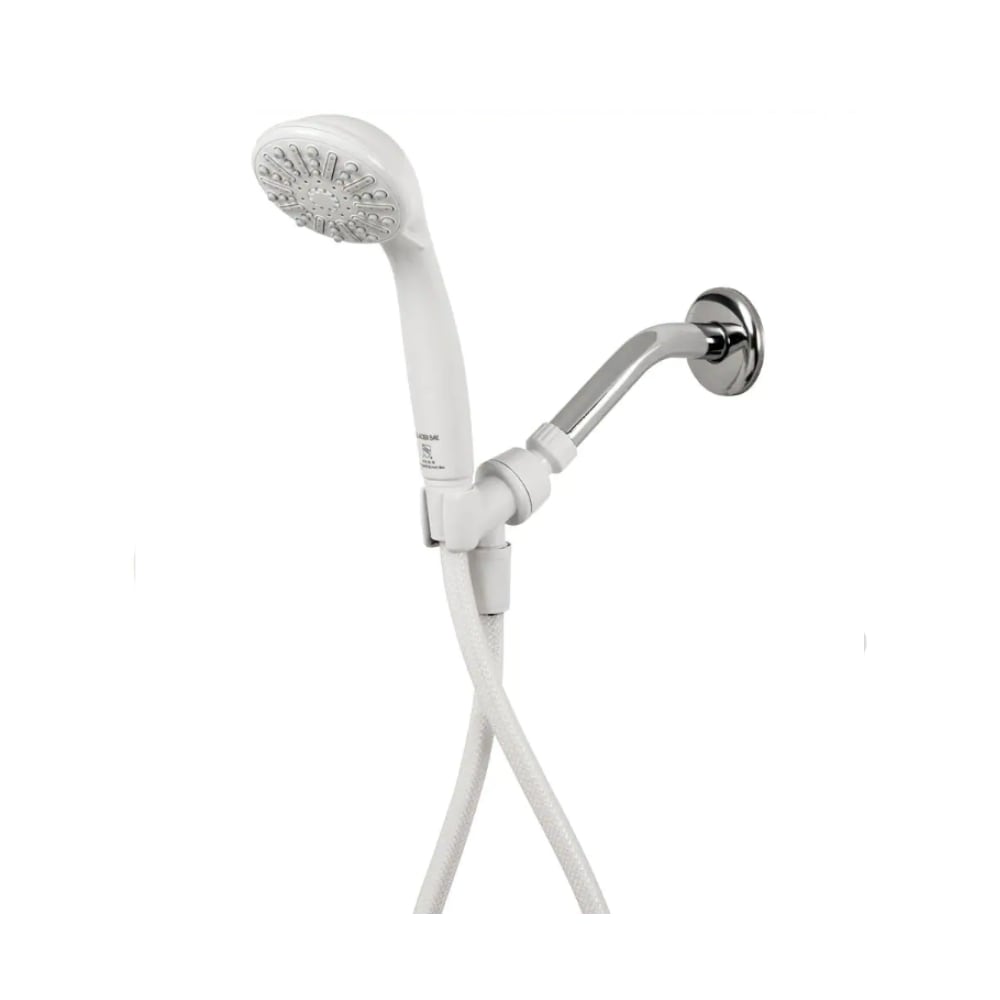 The Glacier Bay 8467000HC is a great entry-level handheld shower head for anyone looking for something small and effective. Despite the limited range of spray patterns, the adjustable flow rate, full body spray, and jet setting provide enough flexibility to meet most everyday needs.
The 8467000HC is truly a love/hate shower head from Glacier Bay. For an entry-level price of 21.98, you get a three-spray pattern shower head (tied for the fewest on our list) and a tiny shower head face that only measures 3.25″ across. This makes it the smallest face on our list, but it's still large enough to get the job done.
Despite the smaller diameter, the 8467000HC is a handheld shower head that can easily clean all those hard-to-reach places. It has a flexible 60-inch hose to help with that. Additionally, the shower head is 6″ long, making it easy to get a firm grip — perfect for kids and adults alike.
It also has an adjustable flow rate of 1.8 GPM and a full body spray with a jet setting for a more focused spray. This makes it a great choice when you want a different stream of water.
One downside to this model is that it is made from plastic and only comes in white. By no means a buy-it-for-life, but it does come with a lifetime limited warranty.
Pros
Handheld
Flexible hose
Adjustable flow rate
Cons
The lowest number of spray patterns
Made from plastic
Limited to white
Our Expert Rating
89 / 100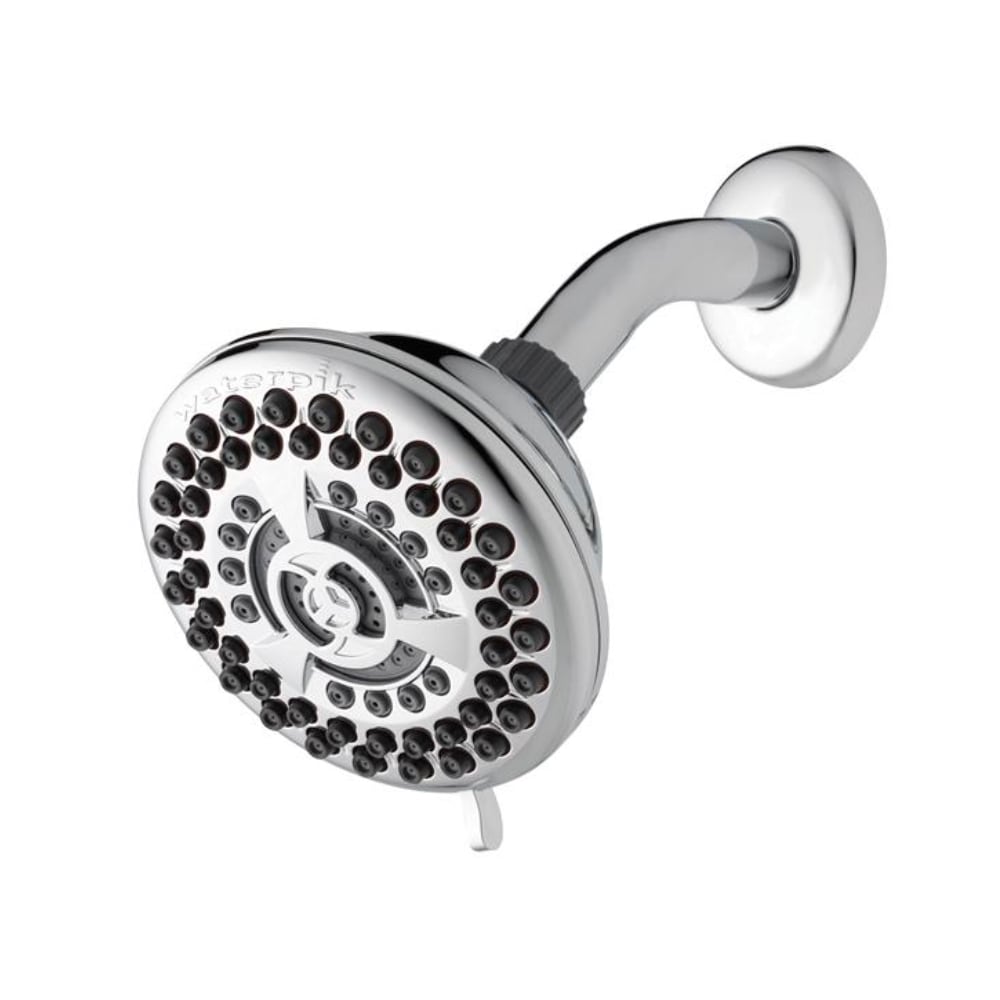 If you like to fine-tune your shower and want a wide range of spray settings, the Waterpik YAT-933E offers plenty of options. The fixed flow rate and small face are the downsides, but the nine spray settings are a great bonus. Plus, customers seem to love it, giving it an above-average rating.
While most commonly known for its oral hygienic products, Waterpik offers a great shower head. Unfortunately, the YAT-933E is the most expensive on our list at $29.98, and with that, you get nine spray settings that range from a full body spray to a strong massage setting. So whether you are washing a child or pet or you simply want to add some variety to the spray when cleaning yourself, everyone will be happy with the available settings.
When looking at customer review data for this shower head, it is truly a middle-of-the-road in terms of review counts and scores. Carrying a rating of 4.23 out of 5, customers generally loved the variety of settings but found that the 4.5″ diameter was limiting in what it could truly offer in the breadth of spray coverage; this model does not have an adjustable flow rate either. With that being said, it's worth mentioning that aside from the face and flow rate, the YAT-933E is a great choice.
Pros
Wide range of spray settings
Average to high customer rating
Cons
Highest price on the list
Fixed flow rate
Small 4.5″ face limits spray coverage
Our Expert Rating
85 / 100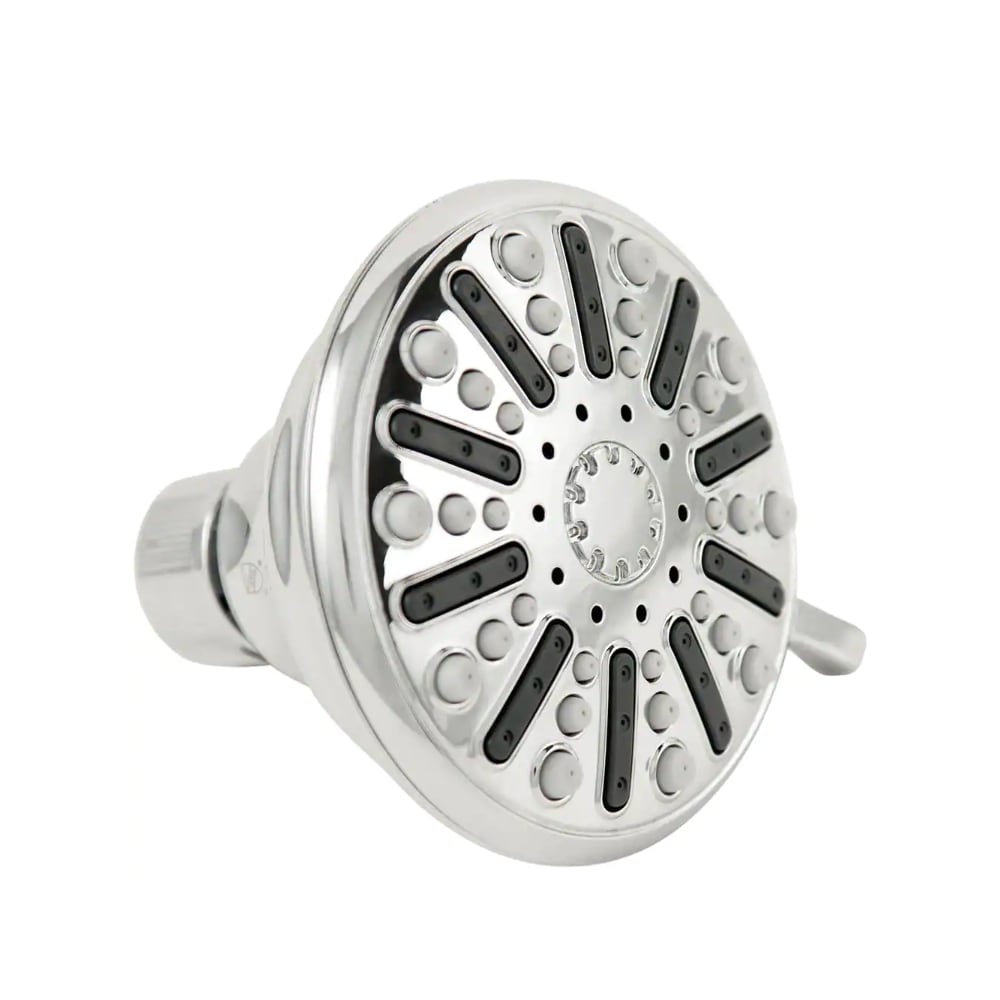 The Glacier Bay 8462000HC is an affordable and reliable shower head. At $12.48, it offers great value, and the three spray patterns and fixed flow rate are perfect for those looking for a simple shower head. Customers gave it a 4.22 rating, and the limited lifetime warranty will give you the peace of mind that the shower head will last.
Modestly priced at 12.48, the Glacier Bay 8462000HC is the cheapest shower head on our list. Despite the low price, the shower head features three spray patterns and a fixed flow rate of 1.8 GPM.
As a private label of Home Depot, the quality of the 8462000HC may be lacking compared to brand-name shower heads; however, customers seem pleased with the product.
Whether you are in an apartment or simply aren't looking for spray settings or fancy features, the 842000HC is an ideal choice. Its 3.45″ face offers enough coverage to get a good rinse, and surprisingly, customers gave this model a rating of 4.22 out of 5.
The 8462000HC also features a limited lifetime warranty. This is key for customers who want to be sure that their shower head will last for quite some time.
Pros
Inexpensive
3 spray patterns
Average customer rating
Limited lifetime warranty
Our Expert Rating
84 / 100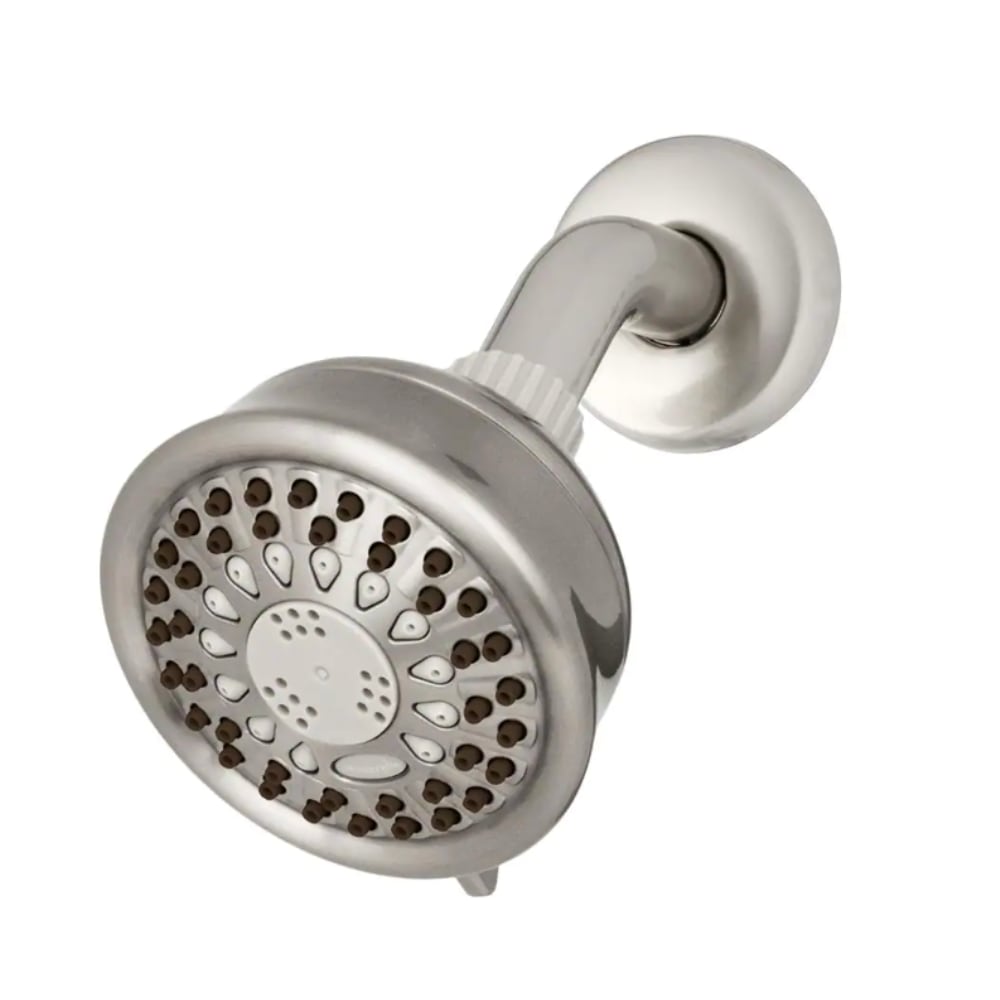 The Waterpik TAV-529E is a great choice for an elegant, low-cost shower head. At just under $25, it provides five spray patterns and has a 3.75″ shower head face, making it ideal for anyone looking for a more powerful shower.
Another compelling shower head by Waterpik is the TAV-529E. It features five spray patterns and a fixed flow rate of 1.8 GPM. With the timeless design and chrome finish, no one will ever know that you paid less than $25.
But what truly sets this shower head apart from others is the details. Featuring anti-clog nozzles that help to prevent calcium and lime build-up, the TAV-529E also has a larger-than-average shower head face diameter of 3.75″.
The most common complaint for this shower head was the flow, prevalent across all 1.8 GPM shower heads. But despite that, it still boasts a 4.323 rating with over 500 reviews. The TAV-529E also comes with a limited lifetime warranty that ensures the product will last for years.
Pros
Low price
Five spray patterns
Anti-clog nozzles
Limited lifetime warranty
Considerations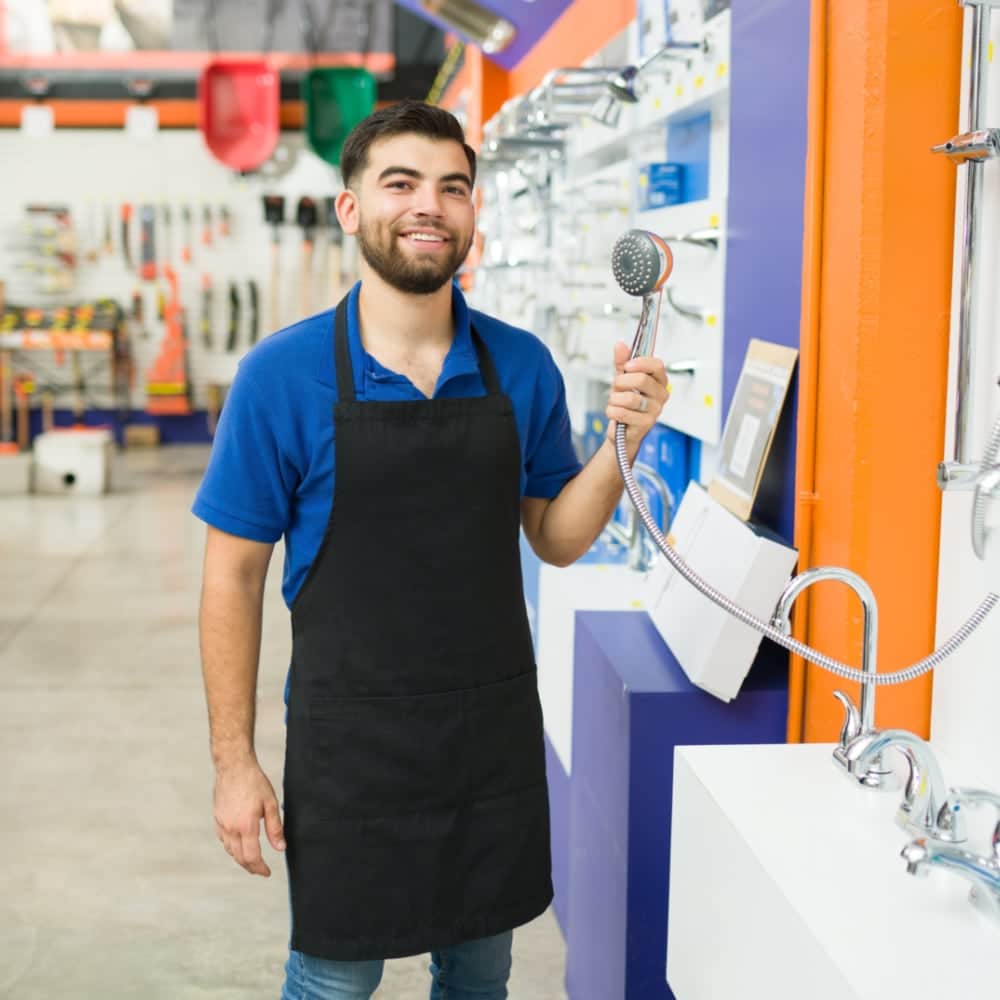 Here are a few things to keep in mind when making your selection:
Flow Rate
Depending on the brand and model of your shower head, the flow rate will vary.
For example, some models from MOEN and Delta offer a flow rate of 1.75 gallons per minute (GPM), while others from Glacier Bay and Waterpik offer 1.8 GPM. The flow rate of your shower head can affect the overall cleanliness and pressure of a shower. Higher flow rates can create a strong and powerful shower with better cleaning effectiveness, while lower flow rates may not be as effective in washing away dirt and debris.
You'll find that most modern shower heads adhere to California's law that limits the flow rate to 1.8 GPM (so they can distribute it nationally without worrying about which state the shower head is sold to).
This leads to a disappointing shower experience for many people, as the flow rate is much lower than what they are used to, as the previous standard was 2.5 GPM (a 28% decrease in water flow).
Fortunately, there are still some brands that offer shower heads at this previous standard. Additionally, it's important to note that the flow rate is not the only factor that determines the power of the shower. The size of the shower head face and the number of spray patterns also play a role – especially when it comes to water pressure.
So be sure to look at all of them in tandem with one another when deciding on a shower head.
Related: What is a Flow Restrictor in a Shower Head?
Number of Spray Patterns
Shower head spray patterns vary greatly. Some shower heads offer a full spray pattern, ideal for providing wide water coverage over your body. This is great for a full-body cleanse. Other shower heads feature a massage setting, creating a more targeted spray pattern, ideal for loosening tight muscles or blasting away dirt from hard-to-reach areas.
Models that offer multiple spray patterns, like the Waterpik YAT-933E, are the most versatile, as they provide wide-ranging options for the shower user. Whatever your preference, make sure to get a shower head offering the type of spray pattern that you want.
Diameter
When it comes to shower heads, the diameter can impact the overall shower experience. Typically, a larger-diameter shower head allows for a wider spray – which may be helpful depending on the size of your family members or how you plan to use the shower.
For example, the Delta 75554C shower head has a diameter of 4.93 inches, allowing for a more targeted washing and a more powerful spray.
On the other hand, the Glacier Bay 8462000HC shower head has a diameter of 3.45 inches, providing a more powerful and targeted spray. This particular model can also work well for stand-up showers, RVs, and other small spaces.
Want to see how each shower head compares to one another? Here's a graph of all their respective diameters: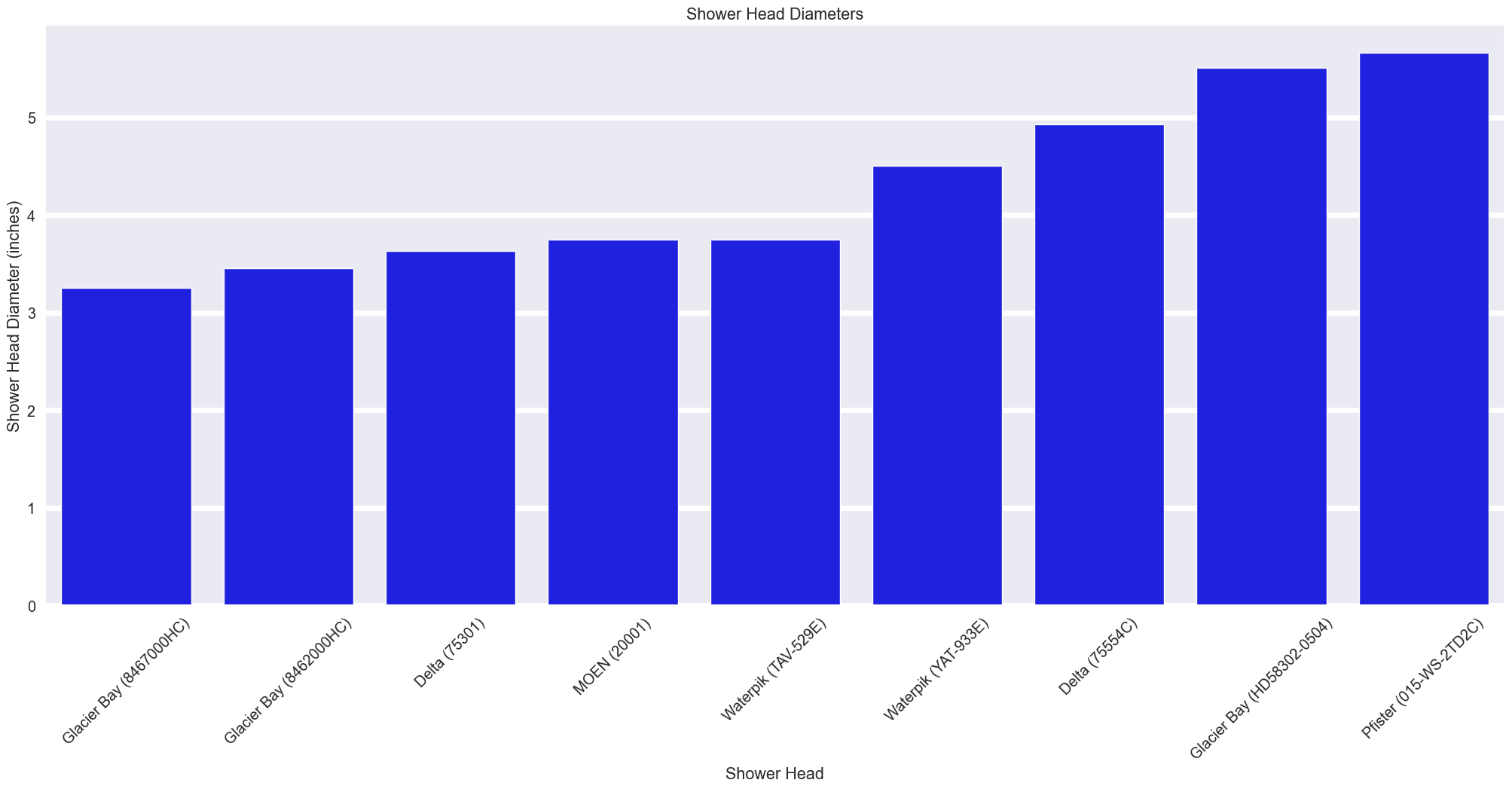 Hose Length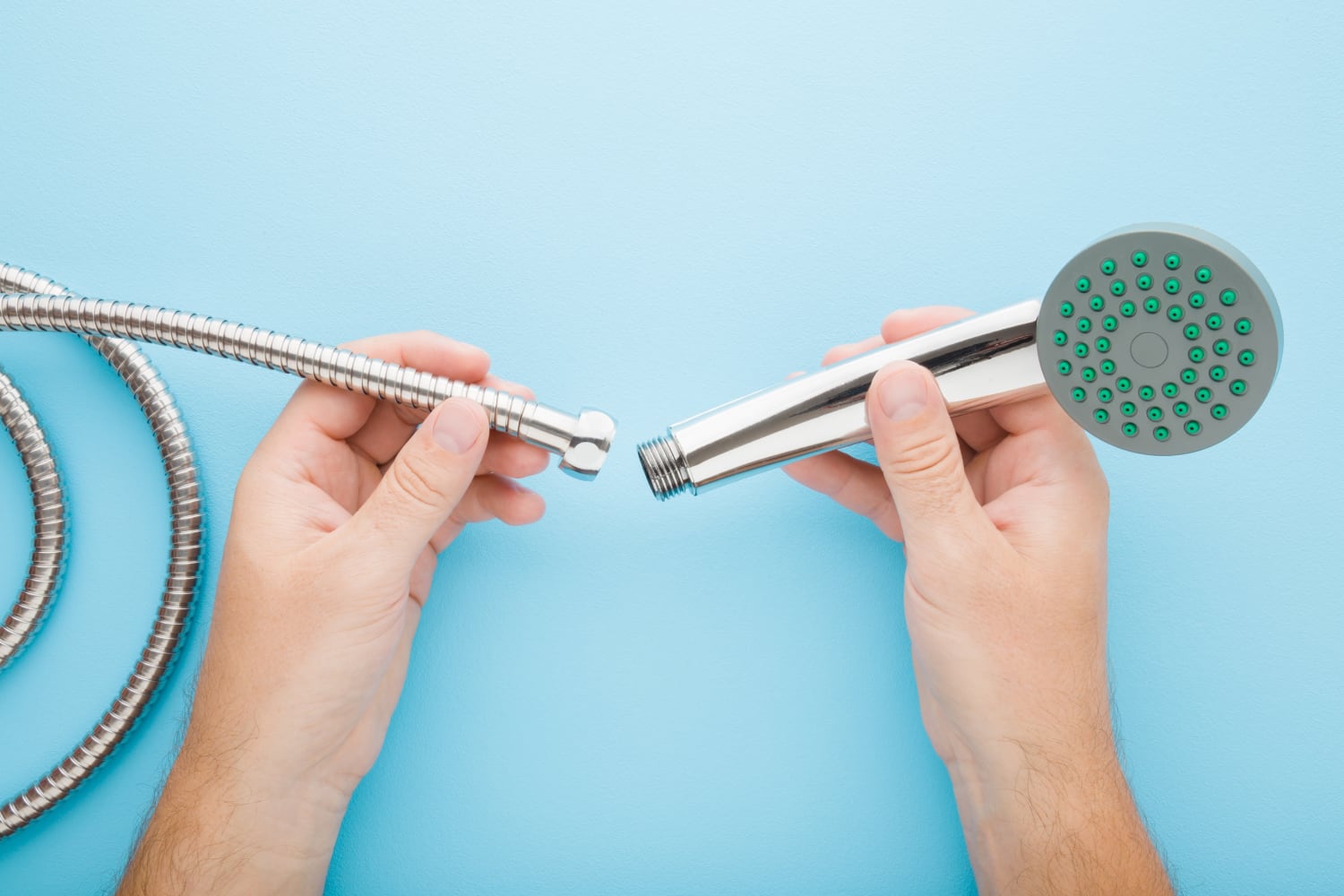 Suppose you are picking up a dual or handheld shower head; it's a good idea to pay close attention to the length of the hose. Fortunately, companies are fairly standard here and make them in 60″ (5′) and 72″ (6′) lengths.
For most people, a 5′ length of hose is more than they will need and will also be more convenient (being more compact). But if you find yourself needing to wash your pet or reach a specific area of your body that is further away from your main shower head, you may want to go with the 6′ length of hose.
Handle Length
A longer handle makes it a fair bit easier to hold and use while showering, especially if your hands are soapy and slippery. The handle can also make a difference in how comfortable the shower feels, as some handles are ergonomic and have a contoured shape for a more comfortable grip. The handle length is something to consider before making a purchase, particularly if you have issues with grip strength.
Handle lengths, when disclosed by the manufacturer, tend to range between 5″ and 7″ long.
Material & Color
Shower heads come in a variety of materials and colors, which can have a significant impact on the overall durability and performance of the product.
The most common materials are chrome, brushed nickel, and polished chrome. Here's some key info for each:
Chrome: is a metal alloy of chromium and other materials, which is well-known for its corrosion and rust-resistant qualities, making it an ideal choice for shower heads.
Brushed nickel: is also a popular material for shower heads because it can be more easily cleaned from water spots and soap scum buildup. The material also offers a darker and more contemporary aesthetic than chrome.
Plastic: is commonly used in budget-friendly shower heads, as the material is easy to work with and results in a lower-priced product. Plastic can also come in a variety of colors, making it a good choice if you're looking for an alternative aesthetic.
When choosing a shower head, it's important to consider the material to ensure maximum durability and performance. Examples of popular shower heads range from the Glacier Bay 8467000HC, which features a white finish, to the Delta 75554C, made of chrome.
For those looking for an even more modern look, there's the Waterpik TAV-529E, which is made of brushed nickel, or the Pfister 015-WS-2TD2C, which has a polished chrome finish. No matter what material is chosen, it's important to consider the rust and corrosion resistance of the material to ensure maximum durability and a long-lasting product.
Price
When it comes to shower head prices, there can be a wide range to choose from.
When it comes to shower head prices, there can be a wide range to choose from. While the focus for this guide was solely on affordable options, you'll want to consider the features, warranty, and other markers of quality when choosing a shower head.
Cheaper shower heads may save money upfront, but they can come with a variety of issues, such as an inconsistent flow rate, poor water pressure, and an increase in your energy bills due to inefficient showers.
For example, you can get a basic Glacier Bay (8467000HC) shower head for under $22, while a more premium model like the Pfister (015-WS-2TD2C) is also under $22. Conversely, a model like the Delta (75554C) is almost $30.
Depending on your budget, you should still be able to find a shower head that is most suitable for you.
For instance, if you're looking for a basic shower head with good water pressure, the Glacier Bay (8462000HC) would be the perfect option for you, as it's an affordable model priced at under $13. On the other hand, if budget is not a major concern and you prefer a luxurious shower experience, then you might consider the Waterpik (YAT-933E) at $30 or the MOEN (20001) at $28.
Ultimately, you should choose the shower head that best fits your budget and needs.
Here's a chart of all the prices for the shower heads reviewed: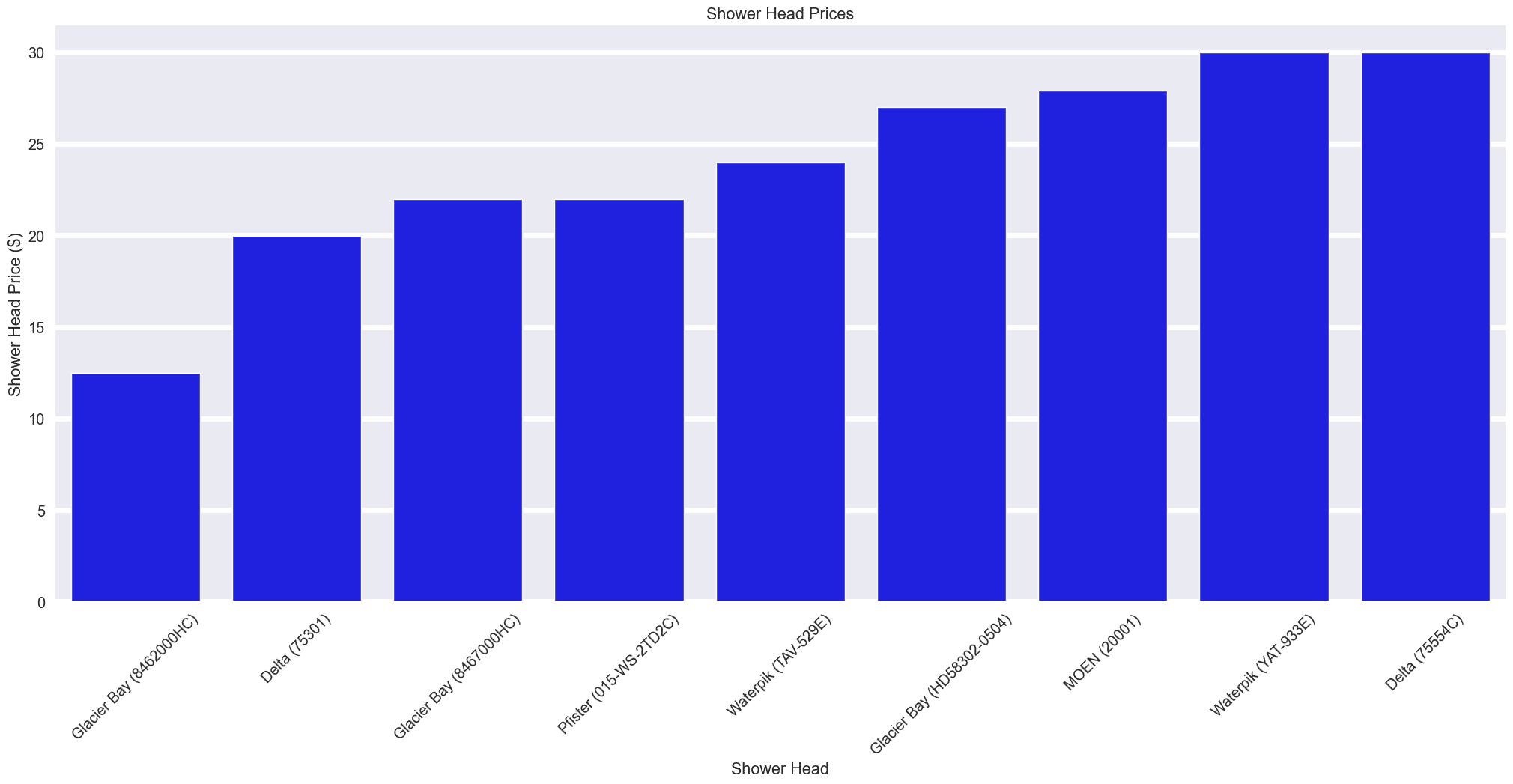 Warranty
Despite being at a much lower price point than some of the more luxurious models on the market, all the brands that we reviewed today offer a limited lifetime warranty for their shower heads.
It's important to keep in mind that these warranties only cover product defects or malfunctions. If you're looking for an extended warranty or a warranty that covers parts and repairs, you'll need to look for specific models that offer this type of coverage or purchase extra coverage provided by the retailer.
As a word of warning, we advise that you avoid knock-off brands as they may come without warranties, leading to a costly replacement if the product fails (leaking water in a home can cause major damage).
Ratings and Reviews
We love seeing what customers are saying about the shower heads they purchased. If you like reading reviews as much as we do, we recommend looking at structural concerns (i.e., leaking, malfunctioning components, etc.), user experience (does the user like the shower head?), and the customer service provided by the company.
Often these reviews will give a good insight into whether a product is worth its price or not, and you can decide if you want to take a chance on it or not.
Conclusion
We hope this review of the best cheap shower heads of 2023 has been helpful in your search for the perfect shower head for your home.
Whether you're looking for a powerful and clean shower experience or just a low-cost model, there's a cheap shower head on this list that'll suit your needs.
If you have any questions or need help finding the right shower head for your home, please contact us, and we'd be more than happy to help.