Corona, CA-based Sprite Industries has been manufacturing plumbing fixtures for the bathroom for 46 years. With over 23 patents, the company has a reputation for innovation. The Sprite SL2-CM shower filter is one of their latest products, and it's designed to remove chlorine and other contaminants from shower water.
Today, we will review and rate one of their most popular shower filters, the Sprite SL2-CM.
Let's begin:
Filtration Media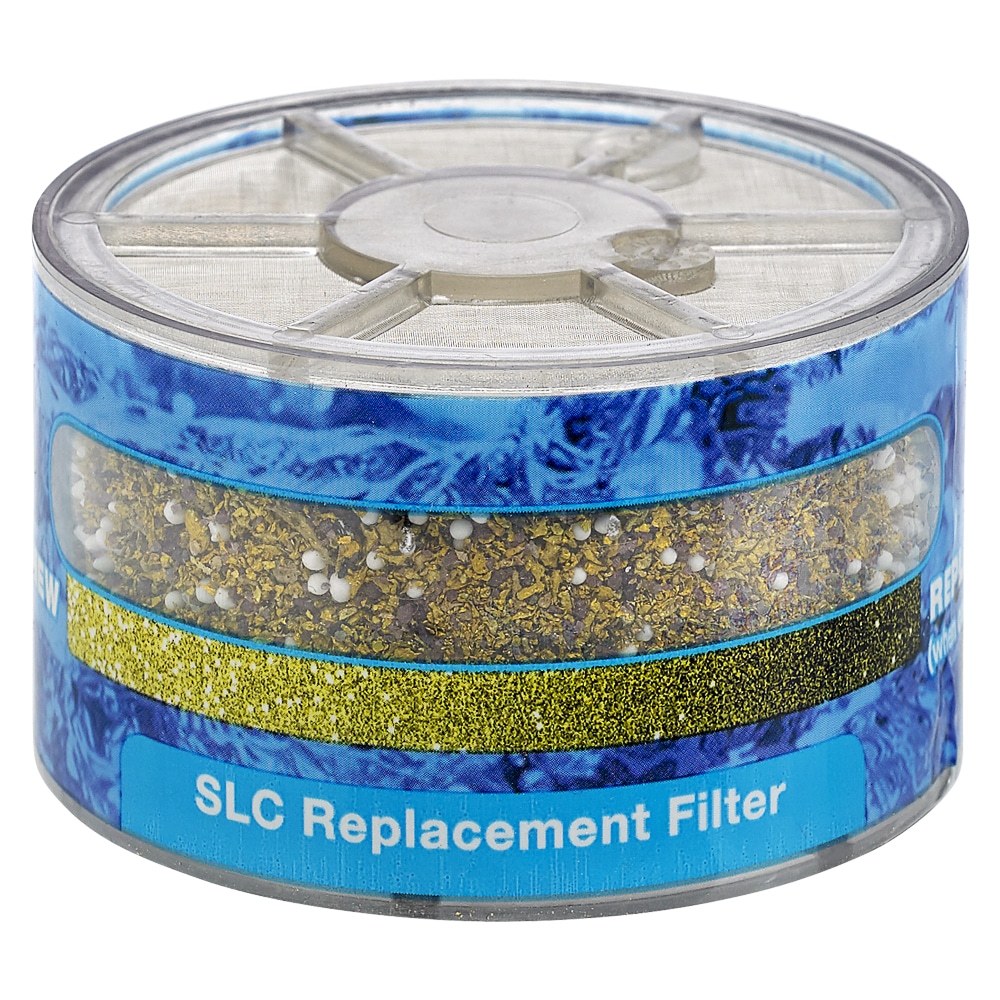 Relying on a proprietary filtration media, chlorgon, the Sprite SL2-CM can remove up to 99% of chlorine from shower water. This redox media also effectively removes other contaminants, such as dirt, rust, and sediment.
The Chlorgon filter relies on copper, zinc, and calcium sulfide to remove contaminants (source).
Unlike a traditional carbon filter, the chlorgon filter media can operate at temperatures up to120F. In addition, to ensure quality filtration, the SL2-CM complies with ANSI / NSF 177 standards.
Compatibility
With standard 1/2-inch connections, the Sprite SL2-CM is compatible with most shower heads and hand showers. In addition, the filter can be installed in minutes.
Installation
Like most shower filters, the Sprite SL2-CM needs to be installed at the point where water enters your shower. However, installation is straightforward and only requires a few minutes and additional items: Teflon tape and a plumbers wrench.
If you're not familiar with working with plumbing, don't worry – the Sprite SL2-CM comes with clear and concise instructions. We've also included a helpful video below:
Initial Cost
Compared to other popular shower filters on the market, the Sprite SL2-CM is very affordable. The list price is $34.95, but it's often available for less than $30. Given the quality of the filtration media and the ease of installation, we believe the Sprite SL2-CM offers excellent value.
Maintenance Costs
Aside from the initial cost of the filter, the replacement filters are also very affordable. A single filter cartridge will last for 6-8 months before it needs to be replaced, and replacement filters cost about $19.99 a piece (model SLC).
This equates to approximately $40 per year, or roughly $0.11 per shower – not bad!
But the Sprite Showers mobile app truly sets this shower filter apart from so many others we have reviewed. Available for both iOS and Android, this app allows you to track your shower filter's lifespan and receive alerts when it's time to replace it. We think this is a great feature and something that more manufacturers should consider incorporating into their products.
Design
The Sprite SL2-CM scores high marks in the design department. The unit is small and compact and can be easily installed out of sight behind the shower head. So whether you want to install it on a home, RV, or apartment, the SL2-CM will get the job done without drawing attention.
Additionally, the small size of the filter means that it can be installed in tight spaces or even with oversized rainfall showerheads and not get in the way like the Aquasana AQ-4100.
While finishes may be limited at some of the larger retailers where the Sprite SL2-CM is sold, if you head over to their website, you'll find a few different finishes to choose from, including brushed nickel, chrome, white, and a white and chrome trim combo. So you should have no problem matching the filter to your existing bathroom fixtures.
Warranty
Like many other manufacturers, Sprite offers a limited one-year product warranty. This covers the product from any defects in workmanship or materials but does not cover any damage that may occur during installation or normal use.
Alternative Sprite Models
Sprite has many other shower filter models, each with unique features. Here are just a few:
Filtered Shower Heads
With seven different models to choose from, Sprite has a filtered shower head to fit any need or budget. Prices range from $27 for the entry-level model up to $81.60 for the top-of-the-line model.
Notable differences are in the finish, spray settings, size, and filtration media.
You can view the entire line of Sprite shower heads here.
In-Line Shower Filters
While we looked at the SL2-CM model, which is installed at the point where water enters your shower, Sprite also offers in-line filters that can be installed directly on your existing shower head. Notable models include the SL3-CM, High Output 2, hand-held filter, and many more.
To see the full line of in-line shower filters, click here.
Other Brands
Aside from Sprite, many other manufacturers offer quality shower filters. We've reviewed Aquasana, Culligan, and Berkey products, just to name a few.
To see how the Sprite SL2-CM stacks up against some of its competition, check out our article on the best shower filters.
Additionally, we also wrote an article comparing the AquaBliss SF100 to the Sprite SL2-CM if you are deciding between these two models.
Overall
To summarize, the Sprite SL2-CM is a great shower filter that does an excellent job of removing chlorine and other contaminants from your water. In addition, it's easy to install, requires very little maintenance, and has several features that set it apart from other filters on the market.
Here's our rating:
| Dimension | Summary | Rating |
| --- | --- | --- |
| Filtration Media | A proprietary filtration media is used to remove chlorine, iron, and other contaminants from water. Expect to see a significant reduction in the amount of chlorine in your water and improved water quality and smell. | 95 |
| Compatibility | Standard 1/2-inch threading makes the Sprite SL2-CM compatible with most shower heads on the market. | 100 |
| Installation | The filter can be installed in minutes without needing any tools. | 100 |
| Initial Cost | At $34.95, the Sprite SL2-CM is quite affordable compared to other filters on the market. | 97 |
| Maintenance Costs | The filter will need to be replaced every six months, which is about average for most shower filters. The included mobile app for filter replacement reminders is a game-changer. | 95 |
| Design | Small and unobtrusive, the Sprite SL2-CM will blend in with most shower fixtures. | 100 |
| Warranty | Sprite offers a limited one-year warranty against defects in workmanship or materials. | 95 |
| Overall | The Sprite SL2-CM is a great shower filter that does an excellent job of removing chlorine and other contaminants from your water. It's easy to install, requires very little maintenance, and has several features that set it apart from other filters on the market. | 97.4 |