From shower heads to kitchen faucets, Moen is a brand rooted in innovation and quality. Customers have turned to Moen for over 75 years for their plumbing needs, and the company appears to be going strong.
As a result, we decided to take a closer look and review some of Moen's most popular products.
About the company
Founded in 1956 by Al Moen, Moen is headquartered in North Olmsted, Ohio. Presently, they are owned by Fortune Brands Home & Security.
The company's mission is "delight all of our consumers and decision-makers with the highest value innovative products and services," and they continue to strive to do so with every product they create.
Kitchen faucet reviews
The kitchen faucet is the most useful and visible appliance in any kitchen. With over 200 models available, Moen has just the thing for any home. As noted by reviewers, Moen's sleek designs, superior craftsmanship, and easy installation make them a great choice for any kitchen. Plus, most models come equipped with a high-arc spout, sensors, and spot-resistant finish, making clean-up a breeze.
Here are a few popular models that we particularly like:
Moen Reyes Kitchen Faucet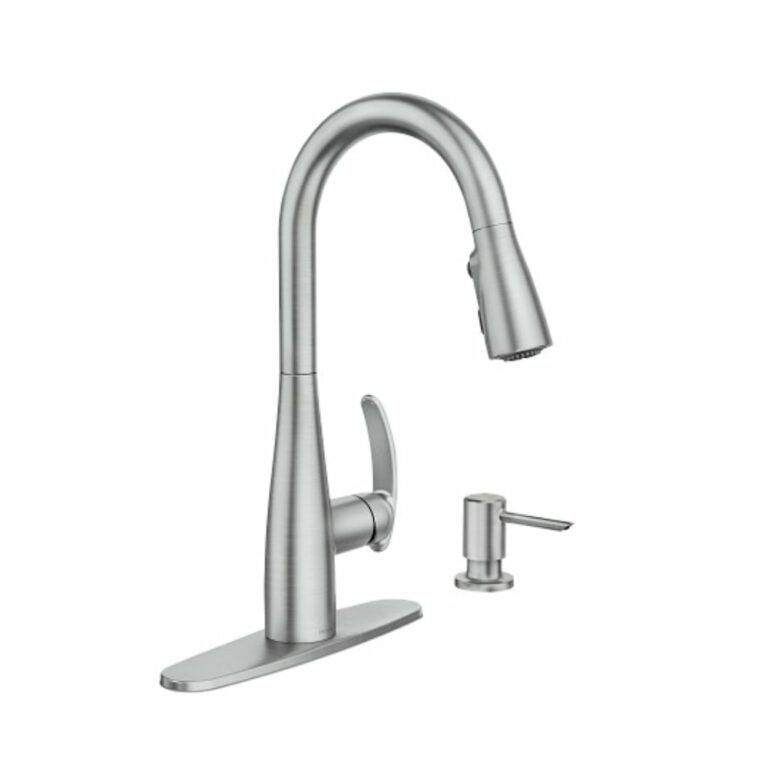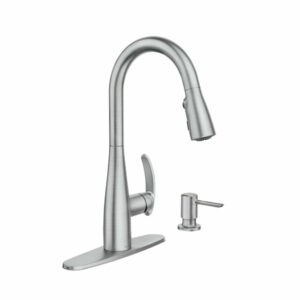 With a swooping high arc design and classic chrome finish, this beautiful faucet will add an elegant touch to any kitchen. Its pull-down hose makes it easy to fill up a pot or rinse off your dishes. To pull your kitchen decor together, Moen makes the Reyes available in three popular finishes – chrome, black, and spot-resistant stain steel – so there's something to fit any color scheme.
Moen Medina Kitchen Faucet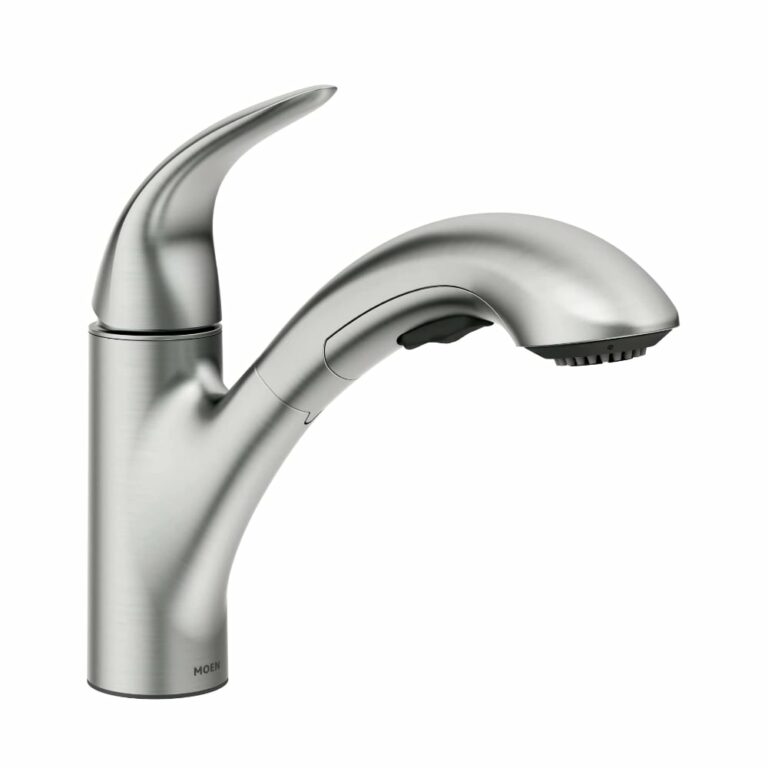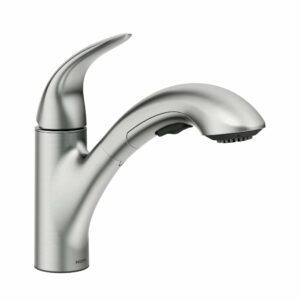 With a much shorter stature than the Reyes, this Moen Medina is great if you don't have a lot of room to work with. Despite the small size, this model packs the same features as other Moen faucets – a pullout design and spot-resistant finish. At half the price of the Reyes, this faucet is a great option if you're looking for an affordable and compact model.
What we also particularly like about this model is that it has the proprietary Power Clean spray technology. To help lift dirt and grime from dishes, pots, and pans, this feature offers up to 50 percent more spray power.
For folks with mobility issues, the faucet is ADA-compliant and has a single lever handle with a single-handed operation.
Bathroom faucet reviews
Like the kitchen faucets, Moen's bathroom faucets come in various styles and finishes. From a two-handle deck-mounted design to single-handle wall-mounted faucets, Moen has something to fit any bathroom's needs.
Here are some of the most popular Moen bathroom faucets that we think are worth a look:
Moen Wellton Bathroom Faucet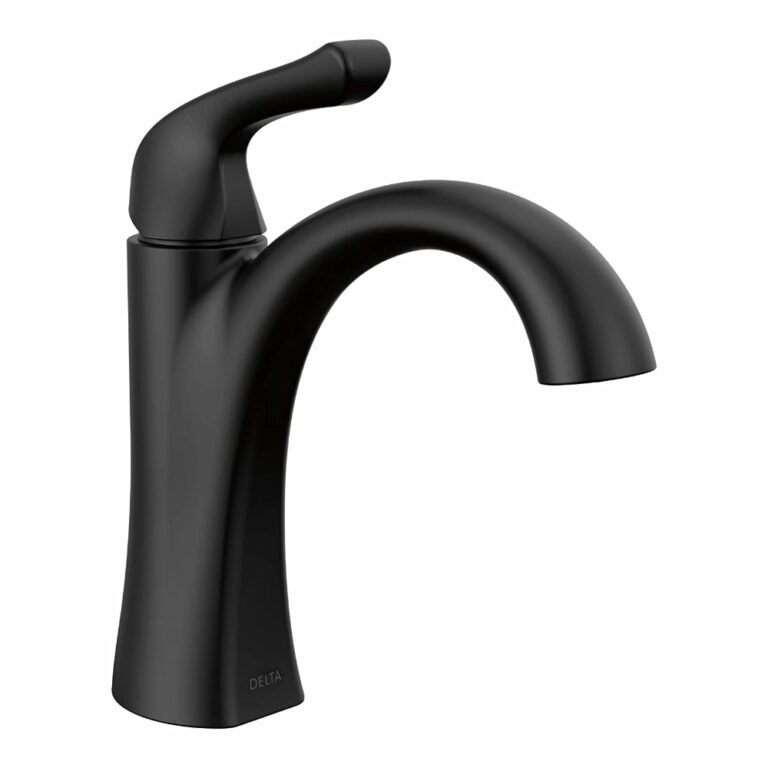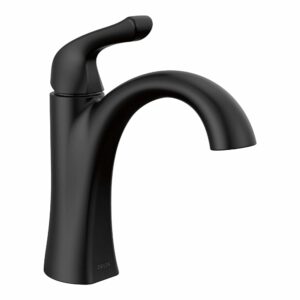 While Moen is typically associated with high-price points, their budget-friendly Wellton model is a great choice if you're looking for a high-end look at an affordable price. Priced under $75, we love this model for several reasons.
For starters, its single-handle design and spot-resistant finish make it a breeze even if your hands are coated with slick soap. Don't let the single-handle design fool you, though. With a simple twist of the faucet, you can easily adjust the temperature and water flow. While some folks find the design limiting, we think it makes it easier and quicker to get up and running each morning.
The aerated flow also helps conserve water, and the faucet is backed by Moen's lifetime limited warranty.
Moen Eva Bathroom Faucet with Drain Assembly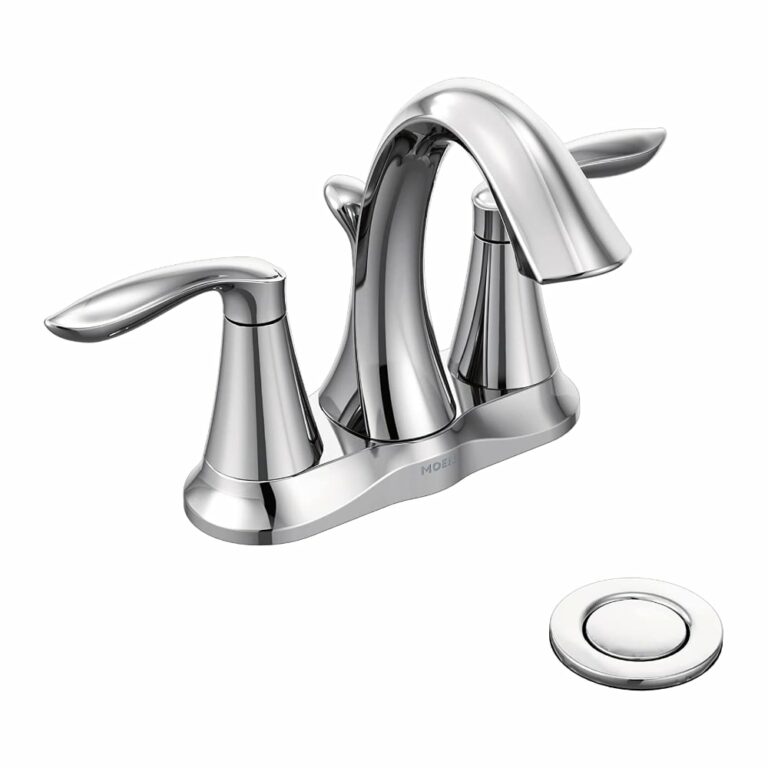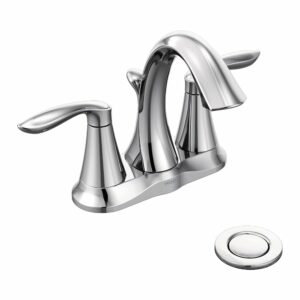 With over 2,000 reviews at popular online retailers, it's no wonder why this Eva model has been such a popular choice for folks looking to upgrade their bathroom.
This deck-mounted, two-handle faucet offers a clean, classic look that can easily blend into any bathroom decor. Available in brushed nickel, chrome, and oil-rubbed bronze, you can dress up your bathroom with a look that's both beautiful and sophisticated.
With a flow rate of 1.5 GPM, it carries the EPA's WaterSense certification, which helps to conserve water without sacrificing performance. Plus, its lever handles make it easier than ever to control the temperature and water flow.
Shower head reviews
There is nothing better than enjoying the satisfying feeling of a hot shower. Whether you're looking for a basic model, a luxurious rainfall head, or a high-pressure power-spray, Moen has got you covered.
Here are a few that particularly stand out:
Moen 26000 Shower Head with Magnetix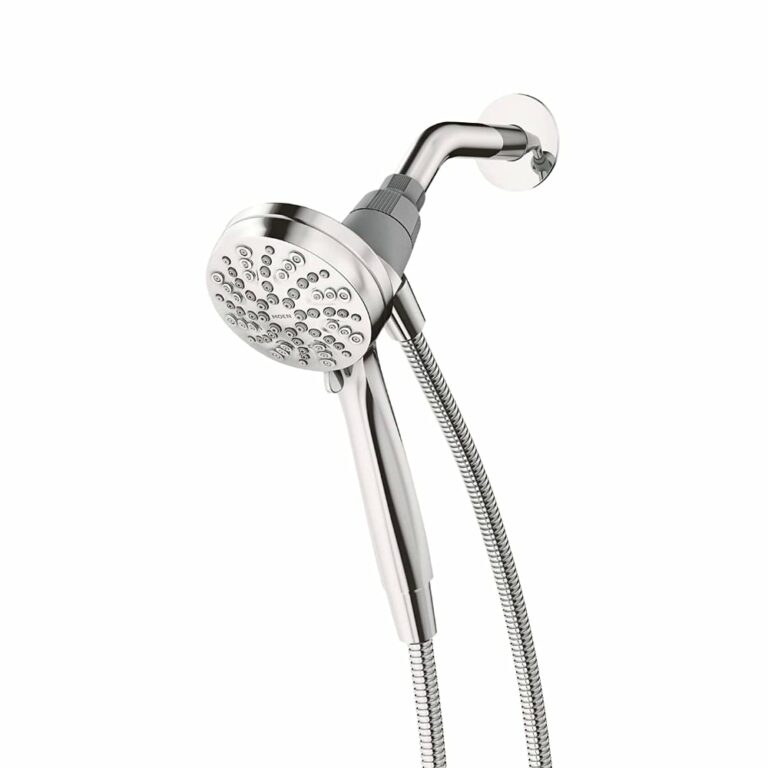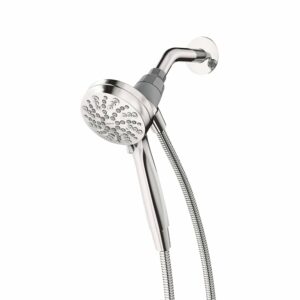 As we discussed at great length in our review of the Moen 26000, this is one of the most impressive models to come from the brand.
Rather than relying on an old-age docking system, this shower head boasts Magnetix technology which securely snaps into place with a "click" sound. The magnet reduces wear and tear, meaning the head will always stay in place – even if you accidentally drop it.
The head has six spray functions, including a massage setting for a more powerful spray. Perfect if you want to release muscle tension or set it to a gentle stream when washing small children.
At a flow rate of 1.75 GPM, it may be a bit too low for some folks. However, expect to see some savings on your monthly water bill.
Moen Adler High-Pressure Shower Head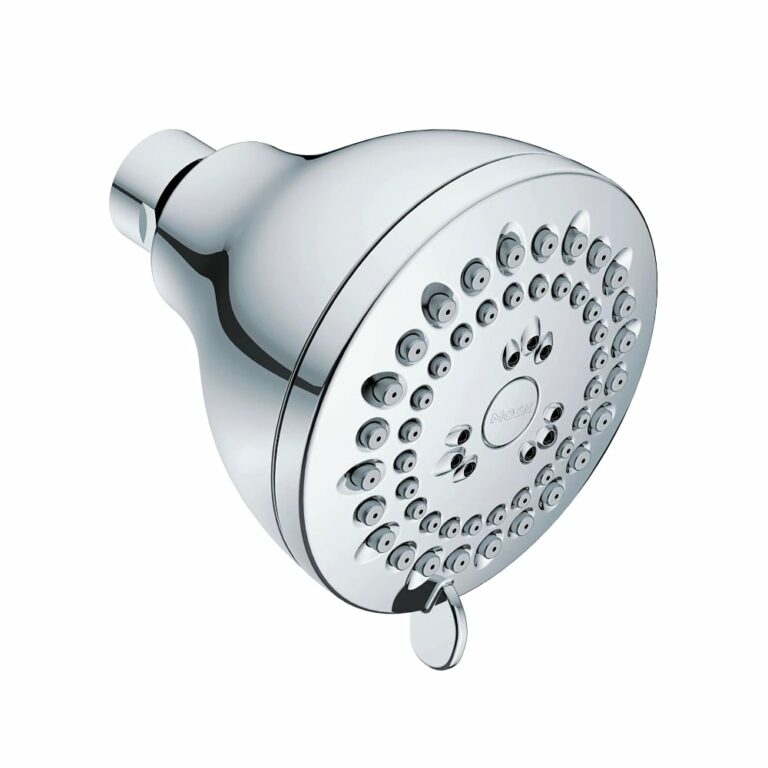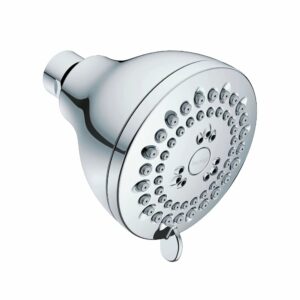 Not willing to compromise on pressure? Then check out the Moen Adler. This shower head carries a flow rate of 2.5 GPM and gives you a powerful yet luxurious shower experience.
For reference, 2.5 GPM is the highest legal flow rate for a shower head in the U.S. This flow rate is so high that it cannot even be sold in some states! So whether you want to relieve some deep-tissue tension or just get the job done quickly, this shower head won't disappoint.
Decor-wise, it is no-frills. The 3.5″ diameter face is modestly sized, and the chrome finish offers a classic look that blends into any bathroom's decor.
Lastly, it comes priced at under $20 to provide a high-end look without breaking the bank.
Smart home options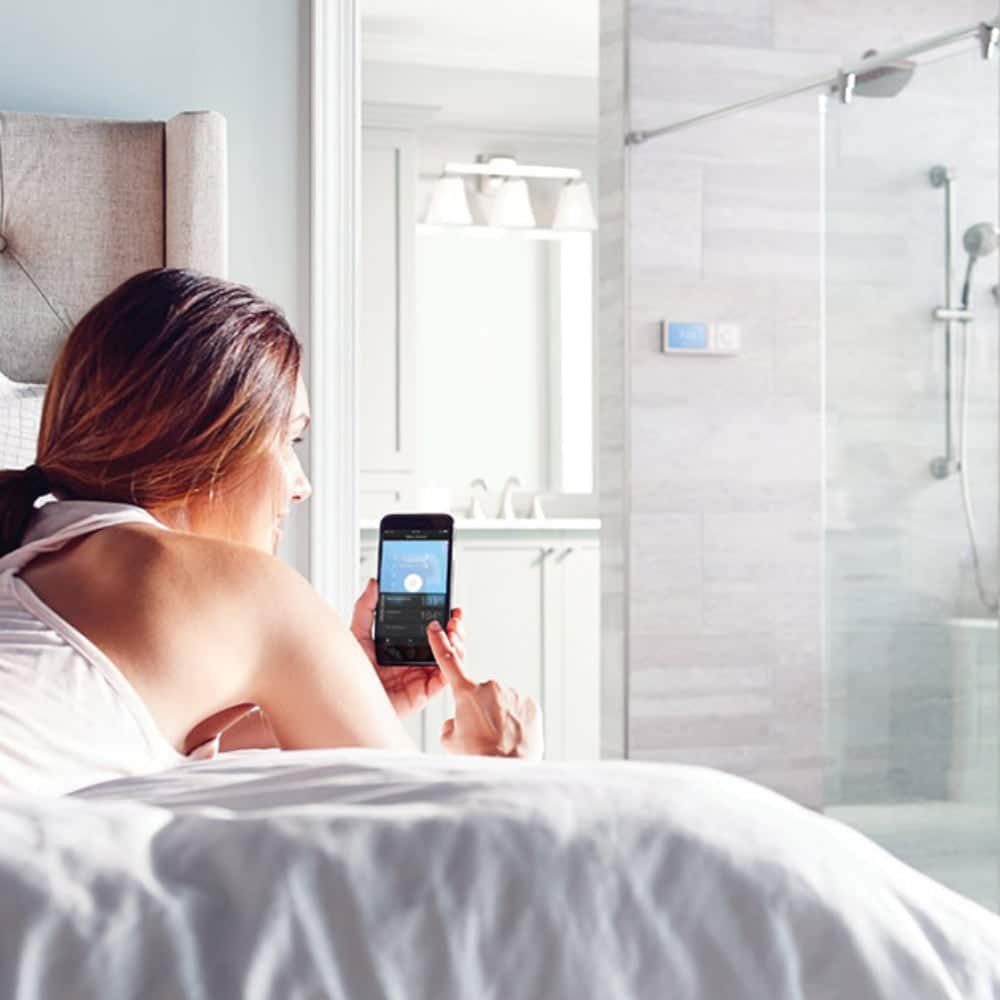 While we have discussed more of the traditional products from Moen, the company has been pushing into smart home technologies.
Their smart shower, in particular, is quite impressive. Whether you prefer using your phone or preferred voice assistant (Amazon Alexa, Google Home, or Apple HomePod), you can set the temperature and turn on the shower from anywhere using the Moen mobile app. You can also monitor water usage with the app to see how much you use in real-time.
Of course, this technology extends outside their shower system, supporting their bathroom and kitchen faucets, sump pumps, leak detectors, and more.
Other products
Aside from the products mentioned above, Moen has a vast lineup of products for your home. Moen has a product for nearly every need, from accessories and hardware to compliment the fixtures within the bathroom to more traditional offerings like toilets, sinks, filtration systems, and tubs.
Replacement parts
As with all things plumbing-related, cartridges, valves, and other parts eventually wear out, and a replacement is needed. This is where we think Moen shines above so many of its competitors.
Chances are that you probably don't have that instruction manual that came with your Moen faucet anymore, right?
They have a service portal that helps you identify which Moen model you have, then quickly search for the right replacement parts, and even have step-by-step videos illustrating and installation guides to help you through the process. Plumbers and DIYers alike will appreciate this feature.
One of the most common replacement parts will be the cartridge, which is the part that controls the flow of water. Moen has a special page dedicated to cartridge replacement that shares pictures of their most common cartridges and how to identify them.
Where does Moen make their products?
Being an international company, Moen makes their products around the world. Articles have shared that they have manufacturing operations in New Bern and Sanford in North Carolina and in Pine Grove, Pennsylvania in the United States.
Furthermore, some articles have also cited India, China, and Malaysia as countries that also make Moen products.
What do customers think?
When looking at customer reviews and feedback, Moen products are typically well-received. According to customers, Moen provides reliable products that are relatively easy to install and look great.
One such review on the Brecklyn Single-Handle Shower faucet stated the following:
We replaced our existing shower hardware that would not hold a consistent temperature. We would have to constantly adjust to keep from freezing or being scalded. The first shower with our new Moen Brecklyn Posi-Temp with Magnetix Combination was amazing. We had warm water following sooner, it kept a constant temp during the entire shower and water flow was better to boot. The fixed shower head provides ample coverage from it's large diameter and feels like you are under a water fall. The detachable wand has a nice selection of water flow options. Everything from Niagara Falls down to a mild trickle. The On/Off switch in the handle adds convenience when rinsing your hair (Good thinking from the design team). If you really want a lot of water you can use both heads at the same time. Looking forward to many years of incredible showers thanks to Moen

https://www.homedepot.com/p/MOEN-Brecklyn-Single-Handle-6-Spray-Tub-and-Shower-Faucet-with-Magnetix-Rainshower-Combo-in-Spot-Resist-Brushed-Nickel-82611SRN/306659560
Here's what one repeat customer had to say about their experience with Moen:
Very pleased with the clean design of the selection we chose. Great accents to our remodel. Replacing our 34 yr old Moen faucets we know we made the right choice with Moen once again.

https://www.walmart.com/reviews/product/174714883
Third-party reviews and ratings
Aside from customer feedback, we also looked at ratings from industry experts, Better Business Bureau, and if there were any recalls on the Consumer Product Safety Commission site.
Here's what we found:
Moen has an A+ rating on the Better Business Beauru
Moen shower heads, in particular, have been recommended by review sites like Wirecutter
The only government recall that mentions a Moen product was garbage disposal on April 11, 2017 (source).
Do Moen products go on sale?
When browsing the Moen website, we found that many items were reduced by a significant amount. However, no special promotion or discount code was mentioned.
We recommend keeping an eye on the Moen website and other retail sites; you can sometimes find great deals and discounts.
Warranty
One of the key reasons why Moen is so popular is because of their lifetime limited warranty. Many of Moen's most popular products, including kitchen and shower faucets, kitchen sinks, and accessories, are covered by this warranty. The warranty covers all manufacturing, material, and workmanship defects for as long as the original purchaser owns the home.
You can read more about what is and isn't covered on their website.
Alternatives
If you're looking for something different from Moen, plenty of alternatives are available on the market. The more popular brands include Delta, Kohler, Grohe, Pfister, and American Standard. Each of these companies offers comparable products and features at comparable prices.
On the other hand, if you want something unique, check out modern and designer faucets from companies such as Hansgrohe, Blanco, Graff, Waterstone, and Vola.