The SF100 is one of the most popular shower filters made by United Kingdom-based AquaBliss. It's a universal shower filter, which can be used with any shower head with a 1/2″ NPT thread.
With over 30,000 reviews across major online marketplaces and an average rating of 4.71 on their website, customers have earned the SF100 high marks.
In this review, we'll take a look at the key features of the AquaBliss SF100 shower filter and see how well it performs. We'll also compare it to similar shower filters on the market to help you decide if it's the right one.
Filtration Media
The SF100 has a multi-stage filtration system that combines filtration media and additives to help improve the quality of your water, resulting in smoother skin and healthier hair.
Within the filter AquaBliss, the water passes through distinct layers of filtration media: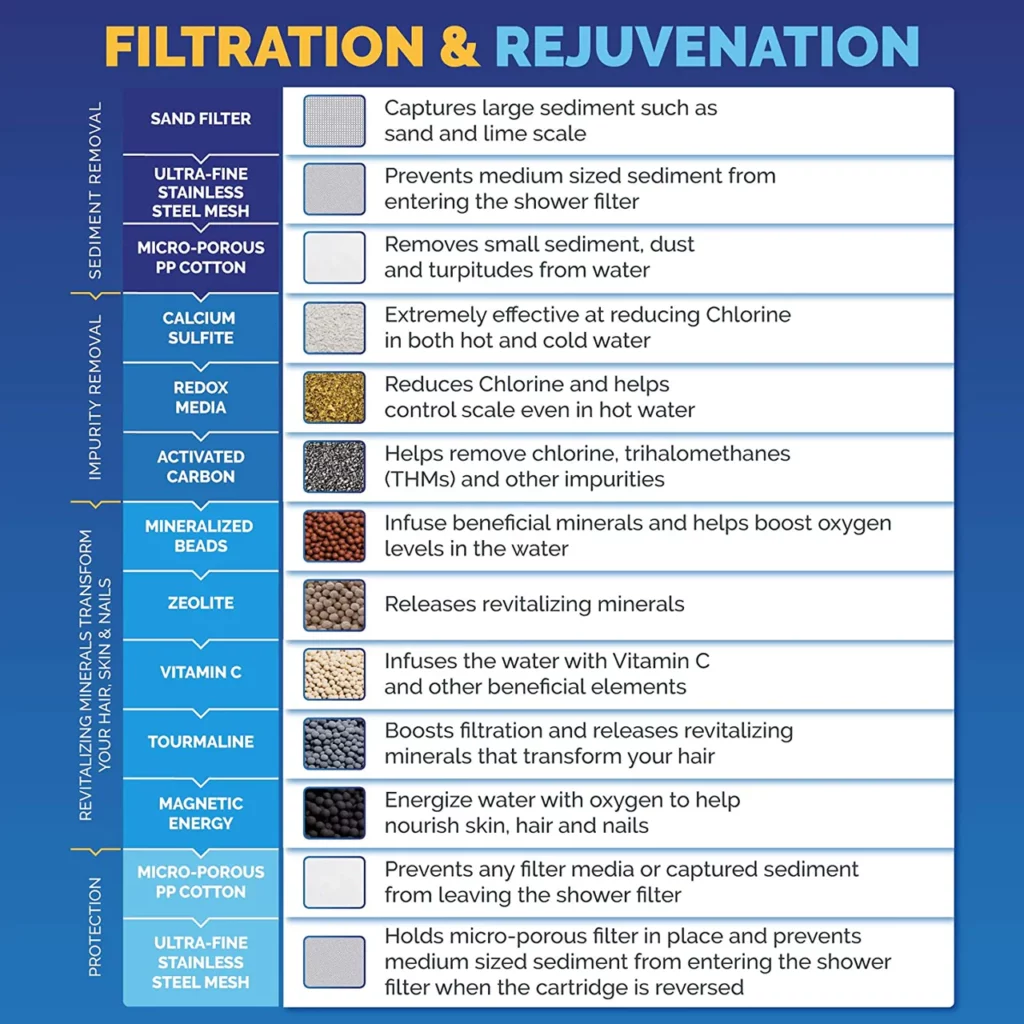 The first stage is a coarse sediment filter that will remove large particles such as dirt, rust, and sand from the water. AquaBliess relies on a combination of three different filters, including sand, stainless steel mesh, and cotton.
The second stage will remove impurities such as chlorine. AquaBliss uses calcium sulfite, redox media, and activated carbon in this stage.
The third stage adds beneficial minerals that your skin and hair love, including mineralized beads, zeolite, vitamin C, tourmaline, and magnetic energy balls.
The fourth and final stage is one last straining of the water to sift out any remaining particles.
Your tap water will go through 13 different filtration media before coming in contact with your skin.
Compatibility
The SF100 will fit any shower head with a 1/2″ NPT thread like most shower filters. This is the standard size for most shower heads, but if you're unsure if your shower head will be compatible, you can always measure the threading or contact AquaBliss customer support for assistance.
Installation
Installing the SF100 is easy. AquaBliss includes Teflon (plumbers tape) to ensure a water-tight seal. Simply place this shower filter between your shower arm and shower filter. Next, hand tighten the shower filter until it's snug, but be careful not to over-tighten as this can damage the threads.
The SF100 should be easy to install in any home or apartment.
Initial Cost
The AquaBliss SF100 currently retails for $35.86 on the AquaBliss website. This cost includes free shipping for orders over $20. When compared to other shower filters, the SF100 is reasonably priced.
Maintenance Costs
You should always consider the long-term maintenance costs when buying any shower filter. As we shared in our guide, shower filter cartridge replacement timeframes vary from one brand to another. For example, AquaBliss recommends changing the SF100 filter every 6-8 months, or sooner if you have hard water.
A cartridge costs $15.99, leading to an annual cost of approximately $32 for clean water for the entire year.
Design
As an in-line shower filter, the SF100 is a cylindrical chrome housing that is 4.65″ in length and 3.35″ in diameter. It should work well enough for a standard shower head or even an oversized rain shower head. However, as with any shower filter, the added length may cause your shower head to hang lower than normal – which could be problematic if you or anyone you share your shower with is taller.
The one downside to the SF100 is the limited color options. AquaBliss only offers the SF100 in chrome, unlike other shower filters on the market.
Warranty
It's always good to see when a company stands behind its product with a warranty. The AquaBliss SF100 comes with a 30-day money-back guarantee. Additionally, your product is covered by a 1-year limited warranty (read more). If you have any problems with your product, simply reach out to AquaBliss customer support for assistance.
Alternative AquaBliss Models
Aside from the SF100, AquaBliss also makes the SF220, SF400, and SF500. These units use the same filtration media but vary in price and design.
SF100 vs. SF220
Similarly priced, the SF220 is slightly more effective in chlorine reduction, according to AquaBliss. The SF100 adds beneficial minerals to your shower to help repair dry skin and hair. The SF220 is just a filter and contains no additional minerals.
SF100 vs. SF400
In the mid-range model, the SF400 is slightly more expensive than the SF100. The SF400 has a higher concentration of additive minerals to help with skin and hair repair. Additionally, the SF400 has a much bolder design. Lastly, the sediment pads are replaceable on the SF400 and contain waterproof sealants to prevent leaks.
SF100 vs. SF500
The top-of-the-line AquaBliss model, the SF500 is a heavy-duty filter that removes 99.9% of all contaminants from your shower water, including chlorine, heavy metals, pharmaceuticals, bacteria, and more. . Like the SF220, the SF500 doesn't add additional minerals to your shower water. However, it has a higher chlorine removal media concentration, making it more effective than the SF100 or SF220. The SF500 also has replaceable sediment and carbon filters to extend the life of your product.
Read More: AquaBliss Shower Filter Models SF100, SF220, SF400, and SF500 Compared
Other Brands
AquaBliss is the only brand of shower filter on the market. Several other companies make similar products.
However, for initial price and value, they are among the best. Some other brands to consider instead of the SF100 would be the following:
Aquasana: This multi-stage shower filter is one of the more expensive on the market but is also one of the most effective. We review the AQ-4100 here if you are interested.
AquaHomeGroup: Makes a 15-stage shower filter priced similarly to the SF100.
AquaYouth: Uses activated carbon filtration media, one of the more trusted brands.
Sprite Industries: Makes a slim and discreet shower filter that is easy to install.
Overall
The AquaBliss SF100 is an affordable, effective, and well-designed shower filter. Here's our rating:
| Dimension | Summary | Rating |
| --- | --- | --- |
| Filtration Media | The multi-stage filtration system dramatically reduces chlorine and adds beneficial minerals to the water. | 100 |
| Compatibility | The SF100 is compatible with all standard shower types, including fixed, rain, and handheld showers. | 100 |
| Installation | The universal connection and Teflon tape make installation a breeze. | 100 |
| Initial Cost | At $35.86, the AquaBliss SF100 is one of the more affordable shower filters on the market. | 98 |
| Maintenance Costs | Cartridges are inexpensive at $15.99 and must only be replaced every 6-8 months. | 97 |
| Design | Available only in a chrome finish, the SF100 may not complement all bathroom decors. However, the design is compact and discreet. | 90 |
| Warranty | The AquaBliss SF100 comes with a 30-day money-back guarantee and a 1-year limited warranty. | 95 |
| Overall | We like the delicate balance that the AquaBliss SF100 strikes between price, filtration quality, and design. It's an excellent choice for those looking for an affordable shower filter without sacrificing quality or style. | 97.1 |