The Jolie and Vitaclean offer some great features for those looking for a new shower head. However, there are some key differences between the two that you should be aware of before making your final decision.
In summary, the Jolie offers better aesthetics and relies on proven filtration technology, whereas the Vitaclean is slightly cheaper in both initial and maintenance costs while still providing three stages of filtration.
Let's take a closer look:
Highlights
Here's a table outlining some of the key differences between the Jolie and Vitaclean shower heads:
| Feature | Jolie | Vitaclean |
| --- | --- | --- |
| Design | All-in-One | All-in-One |
| Filtration Media | KDF-55, Calcium Sulfite | Vitamin C, Ceramic Balls, Microfiber Cloth |
| Annual Cost of Filters | $144 | $180 |
| Flow Rate | 1.8 GPM | – |
| Finishes | 6 | 1 (Silver) |
| Installation | Easy | Easy |
| Warranty | None | 1 Year |
| Price | $165 | $125 |
Design
Both the Jolie and Vitaclean offer an all-in-one design. This provides a more sleek and aesthetically pleasing look in your bathroom while still providing you with filtered water.
One notable difference in the design is that depending on the type of shower arm you have installed, the Jolie has limited movement due to the large casing. Therefore, trying to angle the shower head too much in one direction, you could potentially be limited.
The tapered design of the Vitaclean shower head allows it to swivel on most shower arms, giving you more control over the angle and flow of water.
Filtration Media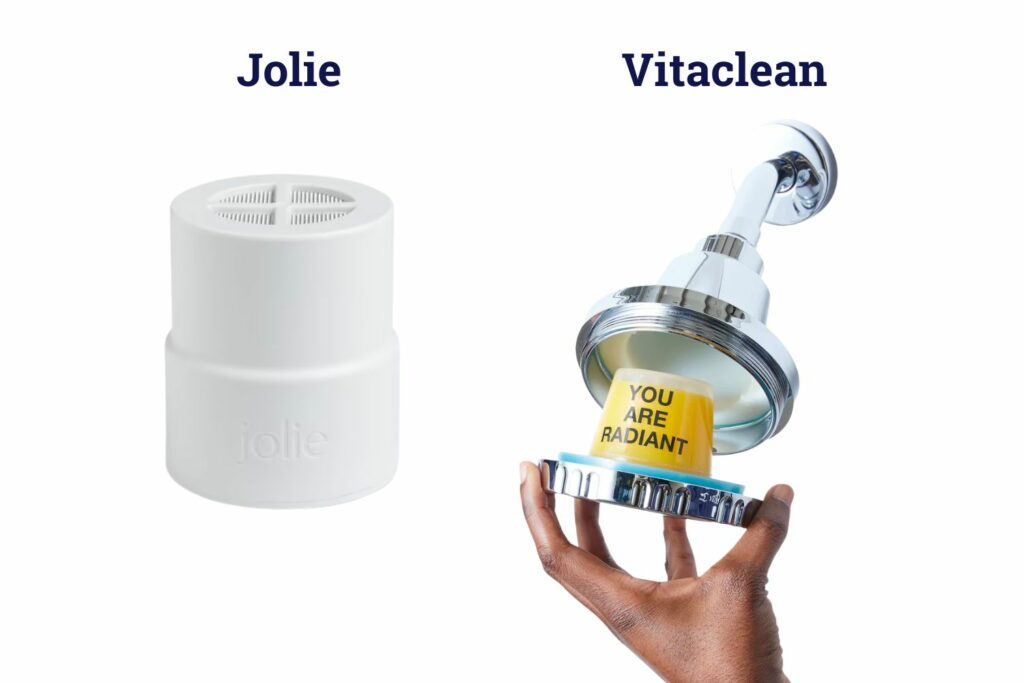 The Jolie shower head offers two stages of filtration with KDF-55 and Calcium Sulfite. KDF-55 media, in particular, has been proven effective in reducing chlorine, heavy metals, and bacteria (source). Whereas calcium sulfite further removes chlorine and other chemicals from the water.
The Vitaclean, on the other hand, offers three stages of filtration with vitamin C, ceramic balls, and a microfiber cloth. While both the vitamin C and ceramic balls work hard to remove chlorine, the microfiber cloth is designed to remove larger particles such as sediment and rust.
By and large, both filtration media effectively reduce chlorine levels and other contaminants in your water. As a result, you can expect a noticeable difference in the taste and smell of your water with either system. Additionally, your skin and hair will feel softer and less dry or brittle after using either shower head.
| Feature | Jolie | Vitaclean |
| --- | --- | --- |
| Filtration Media | KDF-55, Calcium Sulfite | Vitamin C, Ceramic Balls, Microfiber Cloth |
Annual Cost of Filters
Before buying any shower head filter, you should always consider the annual cost of replacement filters, as they can add up over time.
The Jolie Filtered Shower Head is pricey compared to some of the affordable alternatives on the market (AquaBliss, Aquasana, etc.). It costs roughly $144 annually if you change at the recommended intervals (every 90 days). Each replacement cartridge by itself costs $36.
While the Jolie filter is expensive, Vitaclean pushes the envelope more and costs $180 per year to maintain. The reason for the higher price is that Vitaclean recommends that you purchase each stage separately and replace them frequently. We break down all the costs in our in-depth review of the Vitaclean shower filter.
| Feature | Jolie | Vitaclean |
| --- | --- | --- |
| Annual Cost of Filters | $144 | $180 |
Flow Rate
The Jolie filtered shower head has a maximum flow rate of 1.8 GPM. To offset the reduced flow rate, Jolie increases the pressure of the water so you can still enjoy a nice, powerful shower.
Vitaclean does not disclose the maximum flow rate, but our research shows that it is likely 1.8 GPM as this shower head can be shipped to California (where the state enforces that all shower heads not exceed a maximum flow rate of 1.8 GPM).
Finishes
To ensure that your shower filter doesn't look out of place, it's important to pick one available in a finish that will match the rest of your bathroom fixtures. The Jolie is available in an industry-leading six different finishes, so you should have no problem finding one that fits your bathroom perfectly.
Where the Jolie shines, Vitaclean falls a bit short as it is only available in silver. While this should match most bathroom fixtures, it may not be perfect for everyone.
Installation
Installing the Jolie or Vitaclean shower head is super easy and can be completed in minutes with little effort. If you have never installed a shower head before, don't worry, we put together a step-by-step guide to help you out.
Jolie does score higher marks here as they do include a wrench for easy installation.
Warranty
While most items you may purchase, you never need to act on the warranty; it's still important to know what kind of coverage you have in case something goes wrong. With that being said, Vitaclean backs its product with a one-year limited lifetime warranty against defects in materials and workmanship. On the other hand, Jolie does not offer any warranty on its product.
Price
$40 sets these two shower heads apart, with the Jolie being the most expensive at $165. The increased cost of the Jolie comes partly due to the six different available finishes. Vitaclean is a more affordable option at $125.
Conclusion
So, which shower head is the best for you? If money is no object and you want a nice looking and modern shower head, then the Jolie is probably your best bet. However, if you're looking for an affordable option that still offers great filtration, the Vitaclean is a solid contender for your attention.