While Vitaclean may have a sleek design, compelling marketing, and a host of convincing testimonials that make you feel like you absolutely need one of these in your life, is it really worth the steep price of admission?
In short, kind of.
The design is strong and provides a pleasant showering experience, but the cost of refills is among the most expensive we've seen for a shower filter.
Today we'll break down each key feature of the Vitaclean Shower Filter and see if it's really worth your money.
Design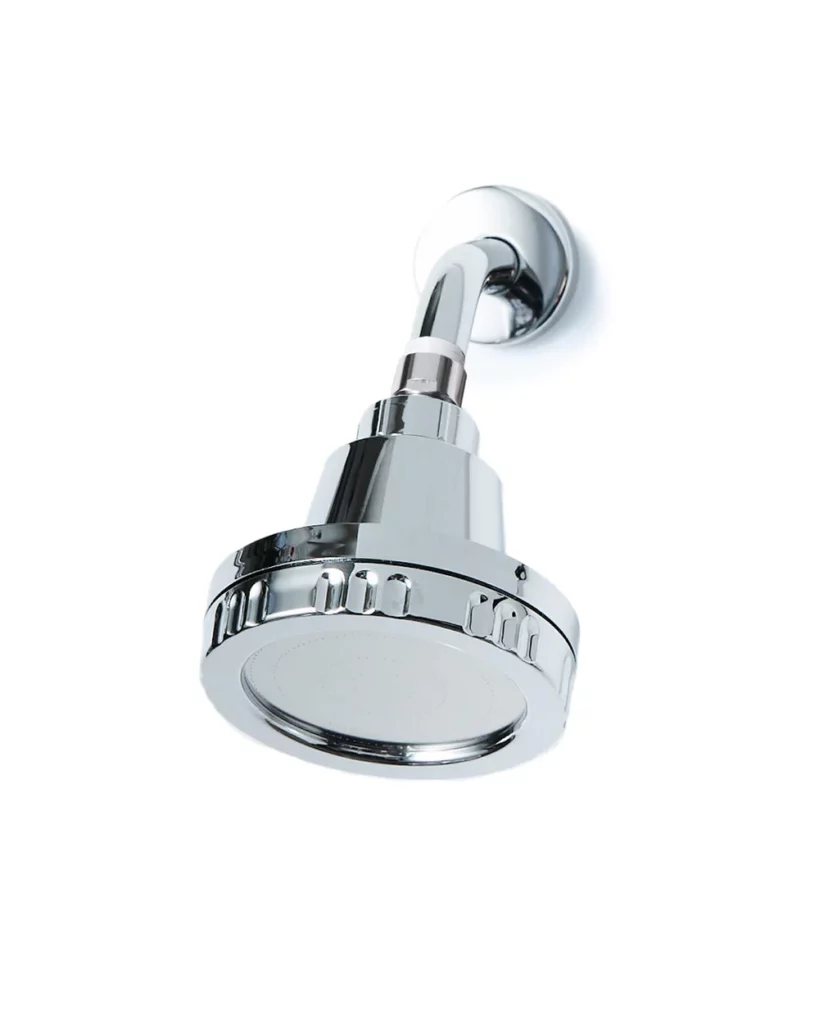 With an all-in-one design, the Vitaclean Wall Mount Starter Kit is an elegant, sleek showerhead and filter combo that will look great in any bathroom. In addition, it starkly contrasts some of the bulky units we have reviewed previously, including the Aquasana AQ-4100, AquaYouth 2.0, and even the AquaBliss SF100.
When installing this filter and shower head combo, you don't have to worry about it being incompatible with your existing shower arm or potentially lowering your shower head too much – making it uncomfortable for taller folks to shower under.
However, one notable downside to the Vitaclean is the lack of finishes. Unlike the Jolie Filtered Showerhead we recently reviewed, which had an impressive six different finishes, Vitaclean only makes their one model in silver. So, if you're looking for something a little more unique or that will better match your bathroom's current aesthetic, this shower head may not match up.
Filtration Media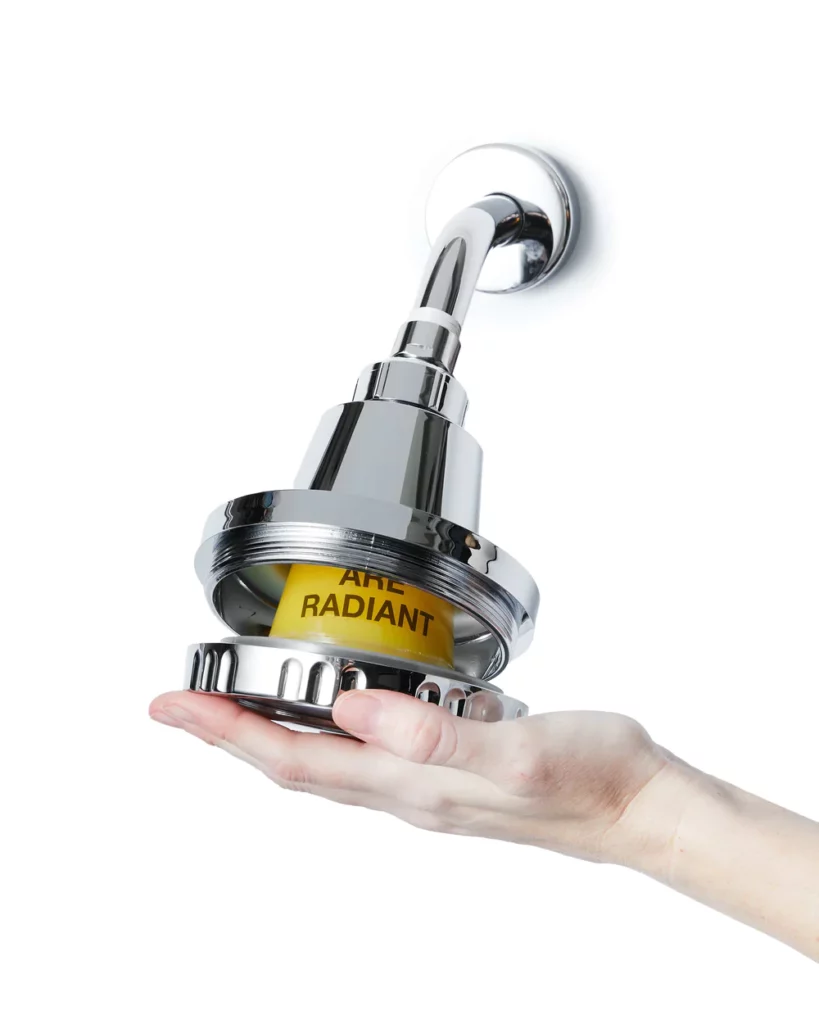 To deliver all the benefits advertised, Vitaclean relies on three filtration stages: a vitamin C shot, ceramic balls, and a microfiber cloth.
Here's how each of the stages will help aid in a better shower experience:
The Vitamin C Shot: The first filtration stage works in a few different ways. First, it infuses the water with ascorbic acid, neutralizing any chlorine in the water. Additionally, it adds a light citrus scent that is therapeutic and refreshing (if you want an unscented vitamin C shot, send a note to [email protected] with your purchase).
Ceramic Balls: The second stage of filtration features ceramic balls that work to reduce the number of bacteria that may have accumulated in your shower water when passing through the pipes.
Microfiber Cloth: Finally, the last stage features a fine cloth mesh that will remove any final impurities, including heavy metals, and leave you with only clean water.
While the total number of stages is significantly fewer than some of the other shower filters we have reviewed, these three stages still capture the bulk of what you want to achieve with a shower filter.
Related Reading: Do Vitamin C Shower Filters Work?
Compatibility
Thanks to a standard 1/2″ NPT connection, the Vitaclean is compatible with virtually any shower arm. So whether you plan to install this in an apartment, home, RV, or even an outdoor shower, there should be no compatibility issues.
Installation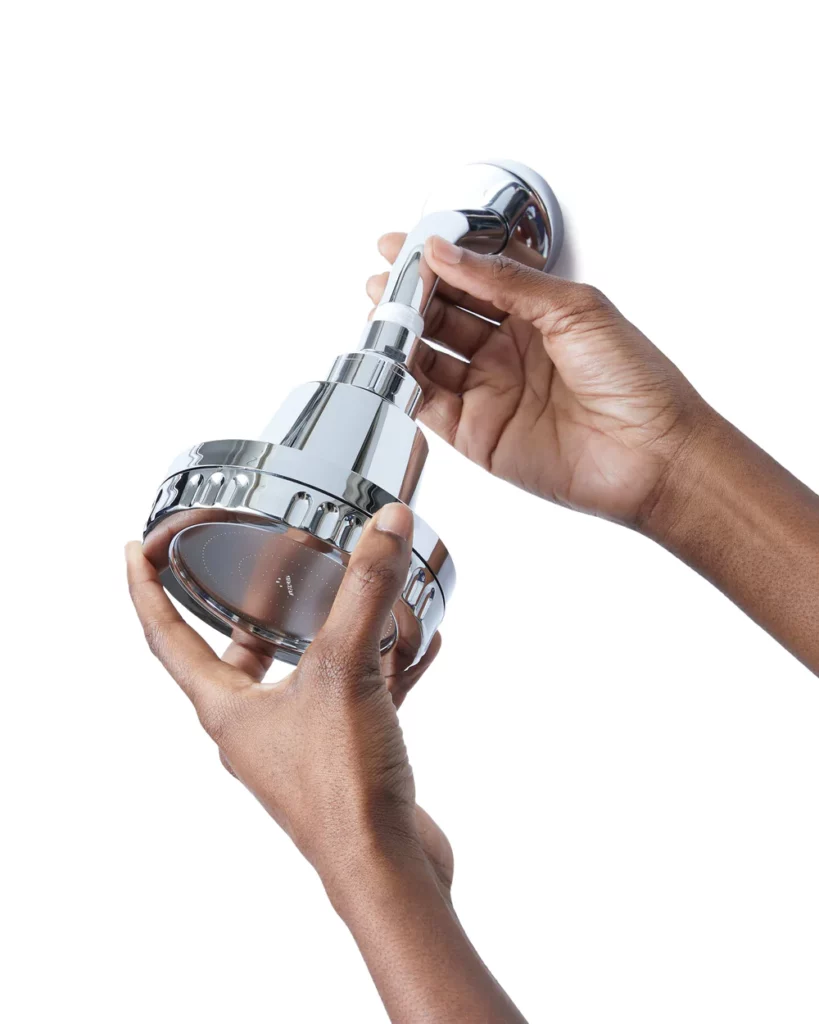 Like any shower filter, installing the Vitaclean is a relatively straightforward process that can be completed in minutes.
Simply follow these steps:
Unscrew your current shower head
Wipe clean any old Teflon tape that may be present
Wrap new Teflon tape around the shower arm threads (2-3 times should work) in a clockwise direction
Screw on your new Vitaclean shower head (again, in a clockwise direction) until it is hand-tight
Give the neck of the shower head a good 1/4 to 1/2 turn with a wrench to ensure a water-tight seal
Turn on the shower and check for any leaks
If there are no leaks, you're good to go!
If you want further guidance, check out this helpful video from the manufacturer:
Initial Costs
Priced at $125, the Vitaclean is relatively expensive compared to other brands, including AquaBliss, Aquasana, Brita, and others. However, compared to the Jolie Filtered Showerhead (its closest competitor), it is quite a bit cheaper – the Jolie costs $40 more.
Here's a table to compare the brands:
| Shower Filter | Price |
| --- | --- |
| Jolie Filtered Showerhead | $165 |
| Vitaclean Shower Filter | $125 |
| Brita In-Line Shower Filter | $35 |
| AquaBliss SF100 | $35 |
| Aquasana AQ-4100 | $75 |
It's important to point out, though, that this offering by Vitaclean is a shower filter and shower head combo rather than just a shower filter like some other brands.
Maintenance Costs
Aside from upfront costs, it's also essential to know how much it will cost to maintain your new shower filter over time. To put it simply, maintaining the Vitaclean is expensive. The reason is that each filtration stage must be swapped out regularly – all of which are sold separately.
Here's how the costs add up:
| Filter | Price | # of Uses | Annual Price |
| --- | --- | --- | --- |
| Vitamin C Shot | $18.99 | 90 | $75.96 |
| Antibacterial Filter (Ceramic Balls) | $7.99 | 90 | $31.96 |
| Microfiber Cloth | $17.99 | 90 | $71.96 |
| Total | | | $179.88 |
Roughly $180 per year, or nearly $0.50 per shower, it's among the most expensive point-of-source shower filters on the market today.
For context, some cheaper brands cost as little as $0.10 per shower.
Note: For the microfiber cloths, Vitaclean only sells a 3-pack, so we adjusted the number of uses to 90 (total number of uses within the pack). However, Vitaclean recommends replacing them every 30 days.
Warranty
We always love to see a good warranty, and luckily the Vitaclean has one. Offering a full one-year warranty, Vitaclean stands firmly behind its product. If anything happens within the first year, simply reach out to customer service, and they will take care of you.
You can learn more about the warranty here.
Alternative Models
Aside from the wall mount shower head we reviewed, Vitaclean makes a handheld model that is nearly identical in terms of function. Form aside, the price is also $35 cheaper with a price tag of $90. Like the wall mount, the handheld shower head is only available in silver.
However, the handheld does not come with a hose, so you'll need to purchase one separately or re-use your old one.
Flow Rate
Nowhere on the Vitaclean site could we find the flow rate (typically indicated by GPM). Instead, Vitaclean simply states that their shower head "optimises water pressure 1.5 times greater than other brands." So take that for what it's worth.
Other Options
While the shower filter market has many options to choose from, here are a few others that you might want to consider:
Jolie Filtered Showerhead: Similar in design and benefits, this all-in-one shower head and filter are available in many different finishes. Its only downfall is that it is more expensive than the Vitaclean.
AquaBliss SF100: This in-line shower filter provides 13 stages of filtration and can be used with any shower head.
Sonaki Rain Showerhead: Synonymous with vitamin C filtration, Sonaki is one of the most reputable brands in the business. This particular model is a rainfall shower head with a built-in filter.
Overall
The Vitaclean is a decent showerhead with a lot of features. However, its high price tag and expensive replacement filters make it less than ideal for most people.
Here's a summary of our review:
| Feature | Summary | Rating |
| --- | --- | --- |
| Design | The great overall design is both modern and sleek. However, the limited available finishes may not be for everyone. | 95 |
| Filtration Media | The three stages of filtration do an excellent job of removing chlorine, metals, and bacteria. | 92 |
| Compatibility | The body isn't poorly designed, and it features standard 1/2″ threads making it compatible with virtually anyone. | 100 |
| Installation | Simply twist off your old shower head and screw on the new one. Just be sure to have a wrench handy to tighten everything up. | 95 |
| Initial Cost | The initial cost is high. But it does include a nice-looking shower head. | 85 |
| Maintenance Costs | Among the most expensive shower filters to maintain. Each filtration stage must be swapped out regularly, and they're all sold separately. | 75 |
| Warranty | A strong warranty offering demonstrates that the company stands behind its product. | 90 |
| Overall | Decent shower head with a lot of features. However, its high price tag and expensive replacement filters may be a dealbreaker for some. | 90.1 |