Brita has been a household name regarding water filtration for years. While most people may associate Brita with their pitchers or faucet filters, that same great purified water can now be enjoyed in the shower as well…
Or can it?
Today we will take an in-depth look at the Brita In-Line Shower Filter to see if it is worth your money. We'll cover everything from installation to performance to help you make an informed decision.
So let's get started…
Filtration Media
It's no surprise that Brita relies on their tried and true activated carbon filtration media and KDF 55 to filter out contaminants in your shower water.
Activated carbon is excellent at reducing chlorine, bad tastes, and odors, while KDF 55 helps to remove heavy metals like lead and mercury. In addition to removing contaminants, the filter can eliminate foul odors such as sulfur and chlorine from your water.
However, the Brita isn't best in class regarding filtration media. This filter is considered a one-stage filter. When compared to the AquaBliss SF100 we recently reviewed, which contains an impressive 15 stages of filtration, the Brita falls a bit short.
Nevertheless, the filtration media used in this shower filter is still effective and will do an excellent job of reducing contaminants in your water.
Dive Deeper: What are KDF filters?
Compatibility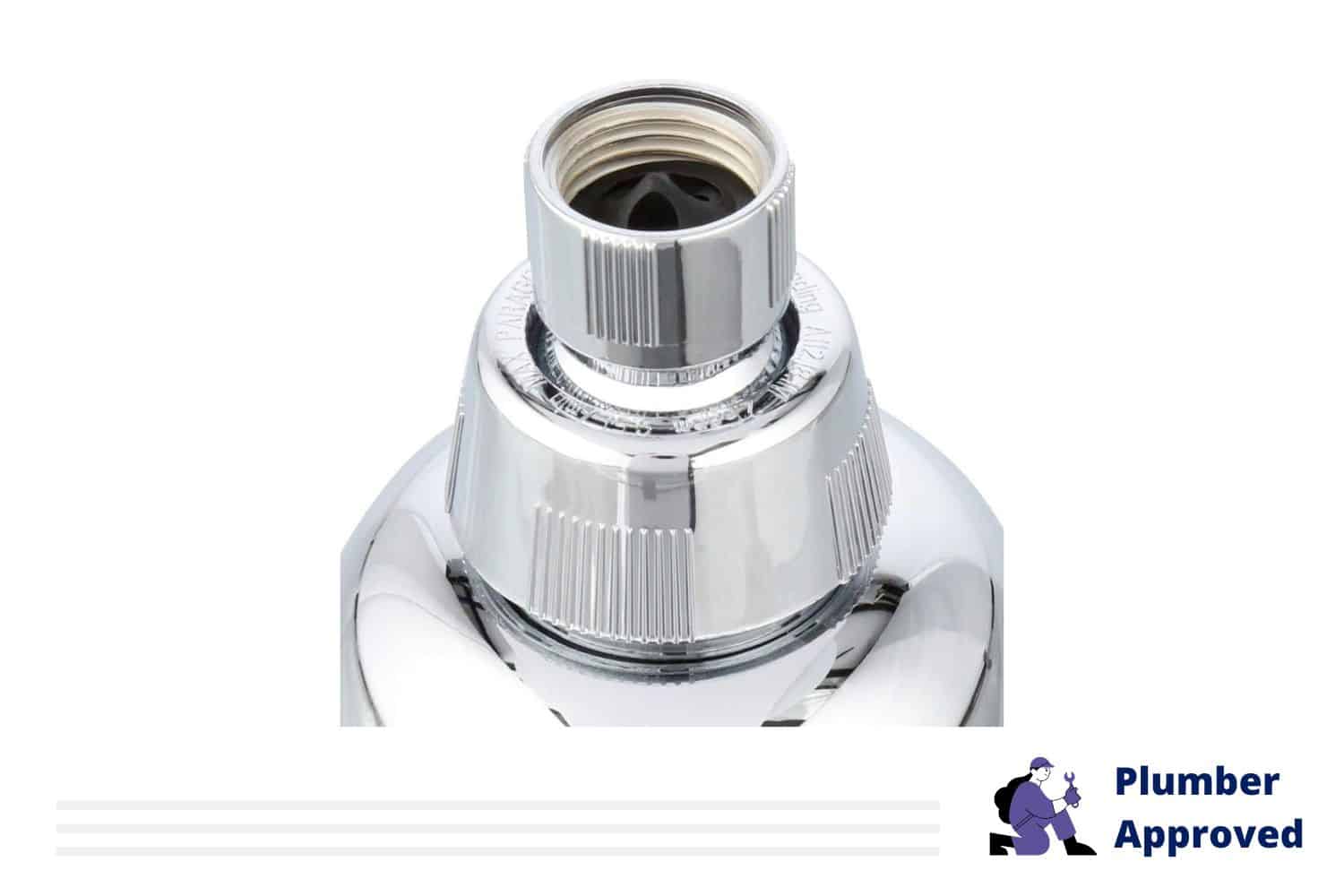 With standard 1/2″ NPT threads, the Brita In-Line Shower Filter is compatible with most shower heads and shower arms. No complaints here.
Installation
Installing the Brita In-Line Shower Filter is a breeze and should only take a few minutes. Simply remove your existing shower head, wrap the treads in plumbers tape, and hand screw on the shower head. Then, give it one final 1/4 or 1/2 turn with a wrench to ensure it's tight, and voila, you're done!
Given the all-in-one design, you don't have to worry about adapters or extra pieces. This is a big plus as it simplifies the installation process compared to some of the other shower filters on the market.
Initial Cost
As we recently gave Brita high marks in our round-up of budget-friendly shower filters, it's no surprise that the initial cost of this filter is very reasonable. At less than $25, the Brita In-Line Shower Filter is one of the most affordable options on the market.
Maintenance Costs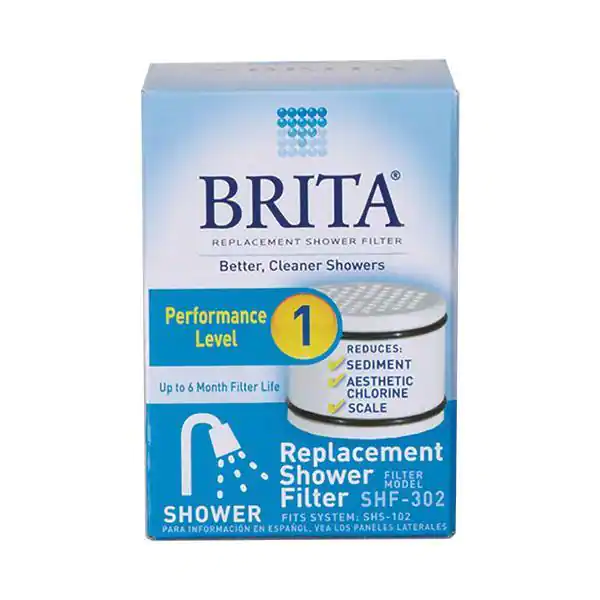 Aside from the initial cost of the filter, you'll also need to replace the filtration media every six months or 10,000 gallons. Replacement cartridges can be found for around $11, which comes to about $22 per year (or about $0.06 per shower if used daily).
However, there is one notable downside here. The shower filter, SHF-302, is actually quite hard to find. You may need to either purchase a replacement cartridge directly from Brita or hunt around online to find one. The most reliable source we came across was Home Depot, but even then, they only had a handful of filters in stock.
Design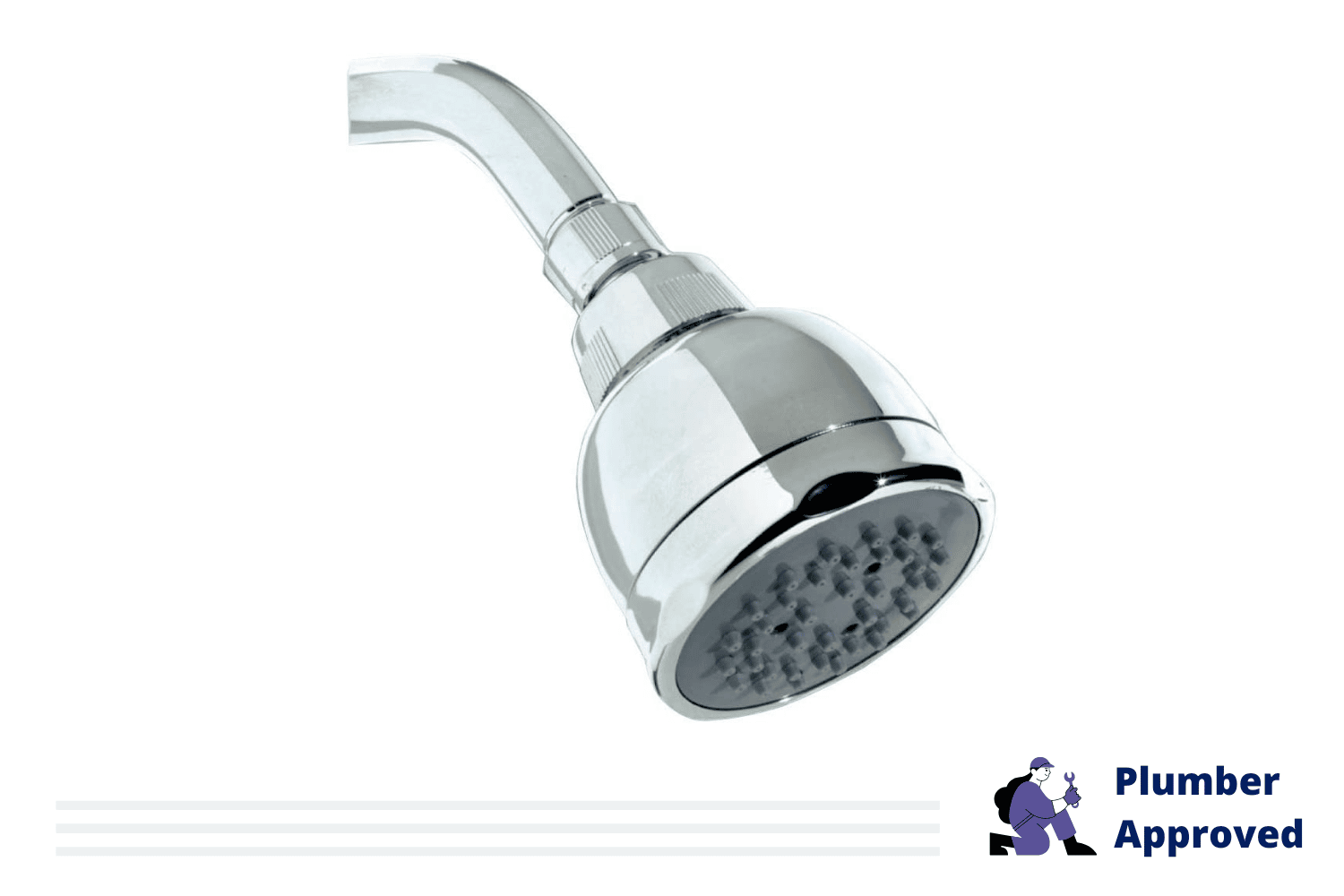 The aesthetics of this shower filter are nothing to write home about, but it's not an eyesore either. The chrome housing is rather plain, so it won't stand out in your shower but won't clash with your other fixtures.
But one significant advantage of this design over the other options, especially when compared to bulky filters like the SparkPod, AquaYouth 2.0, or Sonaki 300VPX, is that it doesn't add any additional length between the shower arm and shower head.
You see, when you install a bulky filter, it lowers the height of the shower head, which can make it quite uncomfortable for taller members of your household. However, this is not an issue with the Brita, as its small and compact design won't interfere with the height of your shower head.
Warranty
While Brita is a well-known and trusted name in water filtration, it's always good to see when a company stands by the products they make. Brita offers a standard warranty on this shower filter, backing it with a 1-year limited warranty.
Additionally, they offer a 30-day money-back satisfaction guarantee, so you can always return the shower filter if it doesn't meet your expectations.
Alternative Brita Models
While they have a reputation for filtration, they primarily specialize only in pitchers and faucet-mounted filters. So, the In-Line Shower Filter is their only option regarding shower filters.
Other Brands
The shower filter market has no shortage of options, and several other reputable brands make excellent products. However, if you are looking for an all-in-one shower filter with a shower head, we recommend checking out the following:
Speakman S-2005-HBF: It's quite an upgrade in both design and function. However, expect to pay double the price when compared to Brita.
Culligan WSH-C125: Very similar looking design to the Brita, but with slightly better filtration performance. However, it too will cost you a bit more.
Overall
We were pleased with the performance of the Brita In-Line Shower Filter, and it's a great budget-friendly option for those looking to improve the quality of their shower water. While it's not the most stylish option on the market, its compact design won't interfere with the height of your shower head:
Here are our final results:
| Dimension | Summary | Rating |
| --- | --- | --- |
| Filtration Media | The KDF 55 and carbon filters significantly reduce chlorine, bacteria, and other contaminants. | 80 |
| Compatibility | The shower filter is compatible with most standard shower heads and arms. | 100 |
| Installation | The installation process is quick and easy and doesn't require special tools or skills. | 100 |
| Initial Cost | Priced under $25, you'll be hard-pressed to find a reputable shower filter at a lower price. | 95 |
| Maintenance Costs | While the filters can be tough to find, they're relatively inexpensive, costing around $22 per year. | 90 |
| Design | It's not the most stylish option on the market, but its small and compact design won't interfere with the height of your shower head. | 85 |
| Warranty | The Brita In-Line Shower Filter has a 1-year limited warranty and a 30-day satisfaction guarantee. | 85 |
| Overall | We were impressed with the Brita In-Line Shower Filter, and it's a great budget-friendly option for those looking to improve the quality of their shower water. | 90.7 |