Is your bathroom in need of a desperate update?
Or perhaps you're renovating your entire home with a well-deserved refresh?
No matter the reason, there are many important decisions to make regarding your shower head.
This often overlooked accessory can make all the difference to your showering comfort and cleanliness. And we all know just how good a long, refreshing soak is at the end of a hard day.
One of those crucial factors is the material you choose: metal or plastic. Each has advantages and disadvantages that should be weighed against your personal preference.
Metal shower heads are often made of better quality, are more durable, appear more elegant, and some metals, like stainless steel, resist corrosion.
Plastic shower heads, on the otherhand, are budget-friendly, easy to maintain, and lightweight.
Today, we'll give you the facts and show you what to look out for when you decide which showerhead is right for you.
Comparison
Here's how plastic, brass, and stainless steel shower heads look next to one another: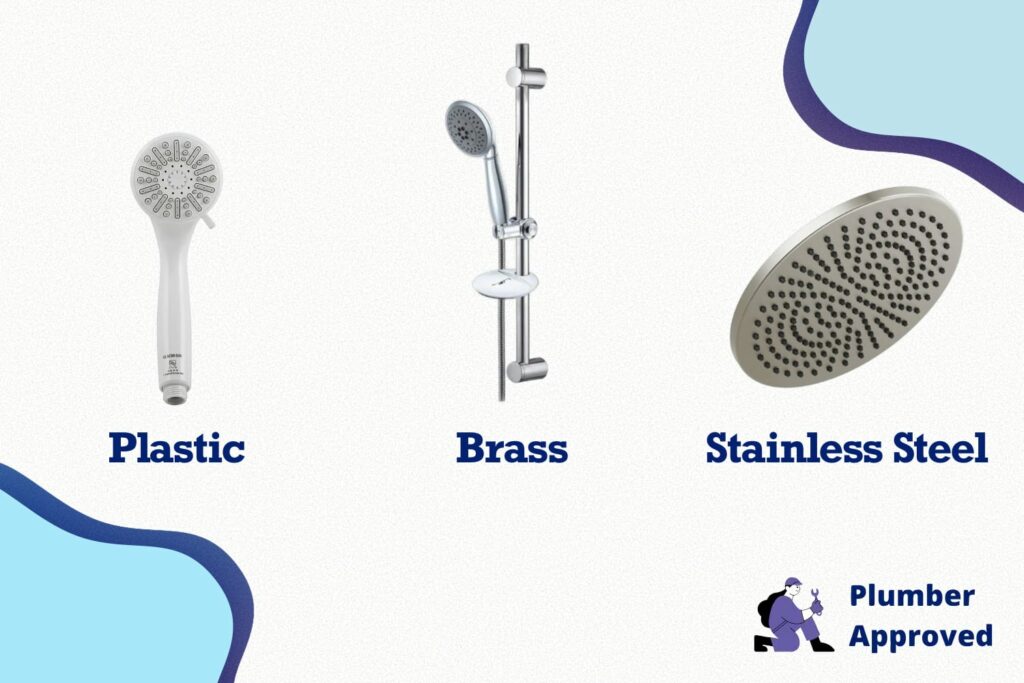 Here are some of the general pros and cons of each of these materials:
| Material | Pros | Cons |
| --- | --- | --- |
| Plastic | Cheap, easy to clean, and lightweight. | Won't last as long. Won't look as nice. Susceptible to chipping or cracking. Not environmentally-friendly. |
| Metal | Heavy weight feels solid in the hand. A cheaper composite metal that'll last for years. Relatively easy to clean. | Can be a bit too heavy, especially if in a handheld shower head. |
Metal Shower Heads
When choosing the right shower head, there's no secret that looks are vital. After all, if you're redoing your home, your shower needs to look the part!
Shower heads made from brass, stainless steel, aluminum, or another composite metal add an elegant touch that will flow through to the rest of your bathroom and, perhaps, your home. In addition, a metal finish and construction can withstand both rust and water stains, providing a much better value for money.
When it comes to cleaning, the amount of effort required to clean will vary largely depending on the shower head's finish.
Those with a more polished finish (i.e., chrome) usually need nothing more than a simple wipe-down with a cloth and a mild all-purpose bathroom cleaner to look like new. While brushed metal won't have noticeable water spots, they will likely show more soap residue. To clean these, a little bit of elbow grease will be necessary.
Plastic Shower Heads
Plastic shower heads are a fantastic choice if you are looking to save some money and are less concerned about style. Not only are they cheaper than metal and easier to replace, but plastic is lightweight – making it ideal for children and elderly folks alike. Plastic can also be a better or more temporary solution where you are less concerned about looks and more about functionality.
However, the trade-off with plastic is durability. Plastic heads are vulnerable to breaking over time or may become clogged with residue and sediment as time goes on. In addition, the extreme temperatures within a bathroom only shorten the lifespan of plastic shower heads even further.
Fittings
Aside from the overall construction of the shower head, you should also be aware of the fittings – specifically, the hose and threaded connection.
Hose: For handheld shower heads, the hose is the part that connects the wand to the shower arm. Surprisingly, when shopping for a shower head, the hose may often be made from a generic "metal" or even plastic. In general, we recommend going with a stainless steel hose. They are more durable and less likely to kink or break.
Threaded Connection: The threaded connection is the part that connects the shower head to the shower arm. This is where you will find the most variety in materials. What good is a metal shower head if the threaded connection is plastic and prone to breaking? Be sure the connection here is metal, so the shower head will last you for years.
Which One Should You Choose?
When renovating your home, your choice comes to your budget and personal taste.
If your renovations are already over budget, then tighten those purse strings with a plastic alternative and sacrifice a little on the looks side. However, spend a little more on premium material if you want to make a statement.
Frequently Asked Questions
Does the material impact how easy the shower head is to clean?
When cleaning a shower head, the smoothness of the finish tends to have a more significant impact than the material. A smoother finish allows you to easily wipe clean and buildup of minerals from the water.
Should the color of the shower head matter?
When picking out a color for your shower head, consider what goes well with the rest of the bathroom fixtures, such as the knobs on the mirror, door handle color, towel hanger, etc. You may want a color that stands out to make a statement or one that is more subtle and complementary.