When visiting the AquaBliss website, you are met with a plethora of shower filters making it difficult to decide which one is right for you.
When having too many options to choose from, you can quickly have analysis paralysis.
We're here to help cut through the cruft and help you quickly and easily compare each model side-by-side and make a decision.
Comparison
Luckily AquaBliss did much of the hard work for you and put together this nice comparison table that highlights all the differences between their models:
While seeing the filtration, function, and installation compared side-by-side is helpful, we wanted to call out a few key points between each filtration system.
Chlorine Reduction
AquaBliss states that all of their shower filters are effective at removing chlorine. Unfortunately, we cannot verify the exact % reduction as AquaBliss does not publish this data.
However, based on user reviews across all models, the reduction in chlorine appears to be significant, as homeowners have been fairly happy with the results.
Added Vitamins & Minerals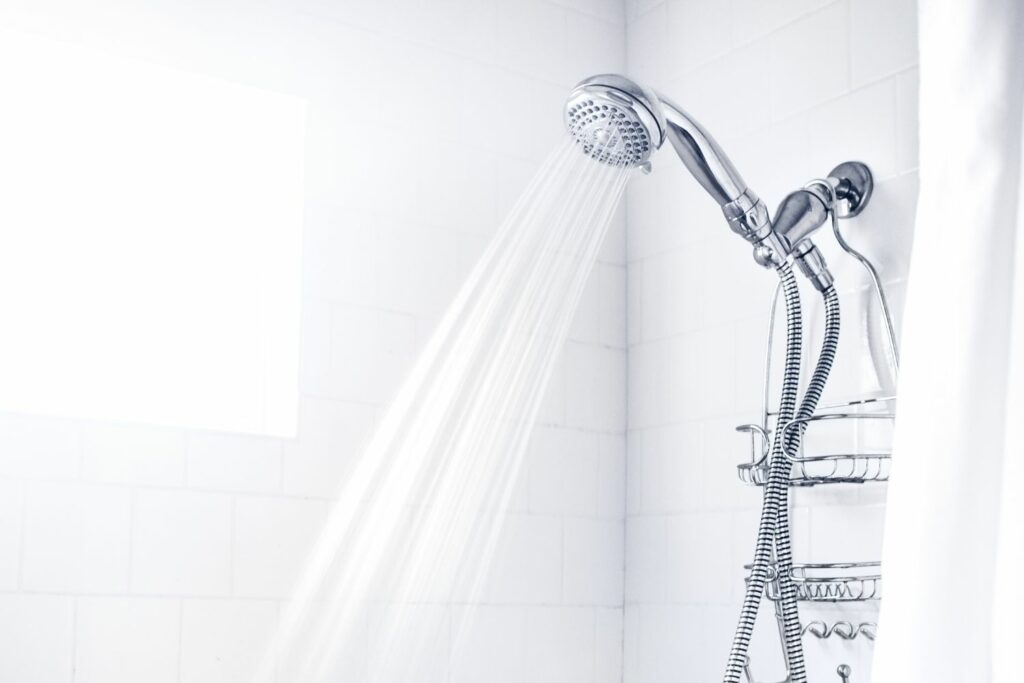 If the reason you are buying a shower filter is for skin and hair benefits, then consider the AquaBliss SF100 or SF400. In the SF100 and SF400, AquaBliss adds a few different vitamins and minerals within the multi-stage filtration system. Specifically, you will find zeolite, vitamin C, tourmaline, and magnetic energy beads.
The SF220 and SF500 do not have these added benefits; therefore, if this is something you are looking for, consider one of the lower-end models.
Related: Best Vitamin C Shower Filters
Size
All the models that AquaBliss makes are more or less the same size at about 4.5″ in length with a diameter of 3.3″. While the dimensions aren't necessarily overly large compared to other shower filters, any of the AquaBliss models will significantly lower your shower head.
So before you purchase, have the tallest member of your household stand in the shower and measure 4.5″ of extra length onto the shower head. This will give you a pretty good idea of how much lower the shower head will hang with one of these filters installed.
Ideally, you should have at least 6″ clearance between the top of the tallest person's head and the shower head.
| | SF100 | SF220 | SF400 | SF500 |
| --- | --- | --- | --- | --- |
| Dimensions | 4.65″ x 3.35″ | 4.65″ x 3.35″ | – | 4.76″ x 3.31″ |
Finishes
The SF100, SF220, and SF400 are only available in a chrome finish. While this shouldn't be a problem for most bathrooms, should you have a white, brass, or brushed nickel finish, the SF100, SF220, and SF400 will stand out.
With that being said, SF500 does account for a few different finishes as it is available in chrome, oil-rubbed bronze, and brushed nickel.
| | SF100 | SF220 | SF400 | SF500 |
| --- | --- | --- | --- | --- |
| Available Finishes | Chrome | Chrome | Chrome | Chrome, Oil Rubbed Bronze, Brushed Nickel |
Price (Initial Costs & Maintenance Costs)
Given that there are several models to choose from, one would think the price range will be just as diverse. However, that is not the case with AquaBliss, as all of their models fall between $35 and $38.
Additionally, the replacement cartridge is also nearly equal in price and ranges from just $15.99 to $18.99. AquaBliss recommends replacing the cartridges across all models once every six months.
| | SF100 | SF220 | SF400 | SF500 |
| --- | --- | --- | --- | --- |
| Price | $35.86 | $35.86 | $37.99 | $37.99 |
| Replacement Cartridge Cost | $15.99 | $15.99 | $18.99 | $18.99 |
| Annual Costs | $31.98 | $31.98 | $37.98 | $37.98 |
Filtration
The filtration media between the SF100, SF220, and SF400 are largely the same. In fact, some cartridges can be used interchangeably between the models (i.e., an SF100 cartridge can be used in the SF200 model and vice-versa).
However, one difference that sets the SF500 apart from all others is the inclusion of sediment pads. Sediment pads are an additional filtration layer to help remove things like dirt, sand, and other larger particulates from the water. This is especially helpful if you live in an area with hard water.
Additionally, the SF500 filter features a reported 25-30% more filter media than any of the other models. So if you are looking for the best possible filtration, the SF500 is the way to go.
| | SF100 | SF220 | SF400 | SF500 |
| --- | --- | --- | --- | --- |
| Targets Particulates | Yes | Yes | Yes | Yes |
| Sediment Pads? | No | No | No | Yes |
Dive Deeper: Do Shower Filters Soften Hard Water?
Multi-Stage Filtration vs. Single Stage Filtration
As we briefly touched on, all of the AquaBliss models feature multi-stage filtration. This is in contrast to some other brands that only offer single-stage filtration.
Multi-stage filtration will generally be more effective at reducing a wider range of contaminants. So whether you are concerned about chlorine, heavy metals, VOCs, or other particulates, multi-stage filtration will provide the best possible protection.
AquaBliss does a good job of encapsulating all the different types of filtration media into one filter.
Maintenance
With all AquaBliss models, you will need to backwash the filter every few weeks to keep it functioning properly. This is a simple process and only takes a minute or two.
We recently wrote a helpful guide outlining the steps for backwashing a shower filter that you should check out after purchasing the model that is right for you.
Installation
All AquaBliss models feature standard 1/2″ NPT connections allowing them to be easily installed on nearly any shower. So you don't have to worry about any sort of proprietary fitting when comparing one model to the next.
Here's a video by AquaBliss demonstrating how to install their filters:
Related: How to install any shower filter.
Warranty
AquaBliss offers a standard 12-month limited warranty on all of their shower filters. You can read more about the terms on their website if interested.
Conclusion
We hope you found this AquaBliss shower filter review helpful in choosing the right model for your needs. As you can see, each model offers a slightly different set of features to choose from.
If you have any questions or comments, please feel free to reach out to us and let us know. We would be happy to help you choose the best shower filter for your home.